20 Days Memorable China Tour with Yangzte Cruise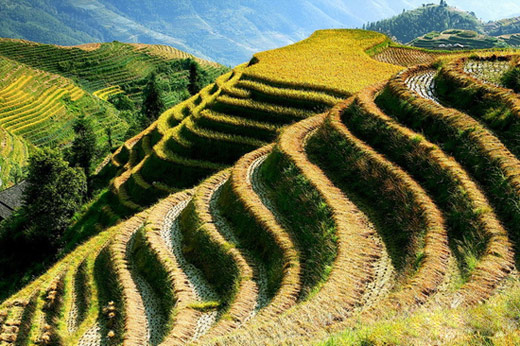 Tour Code: VOC-20100512-C
Destination: Beijing, Chongqing, Guilin, Hangzhou, Kunming, Lijiang, Longsheng, Nanjing, Shanghai, Xi'an, Yangshuo, Yichang
Client's Information: Tsu Chung Tye, Australia
Tour Starting Date: Wednesday, 12, May, 2010
Group Numbers: 2


Day by Day Itinerary
Day 1 Wednesday 12-May-10 Meal(s) (D) Shanghai to Yichang to Yangtze Cruise

Transfer via: by air FM9365 (12:45-14:40) (arranged by us)
Program: Our guide and driver will escort you from Shanghai hotel to Shanghai airport, Arrive in Yichang, before you boarding the ship, you will have a dinner. Then be transferred to the dock, boarding the ship at 19:00-22:00.

Accommodations: President No.4 ****


Day 2 Thursday 13-May-10 Meal(s) (B, L, D) Yangtze Cruise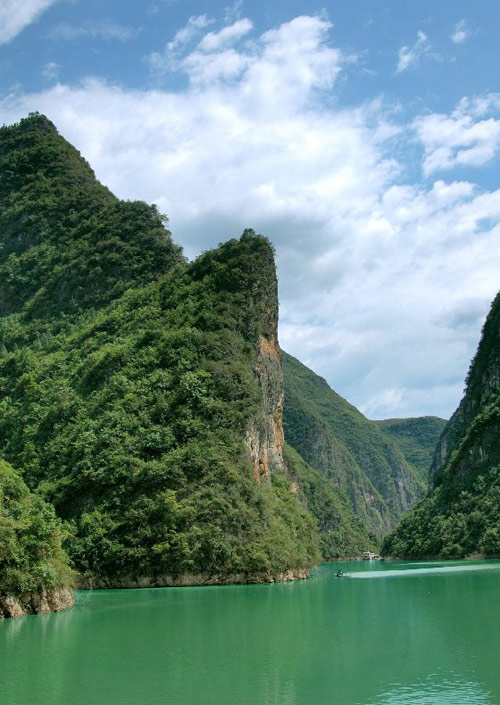 Program: Three Gorges Dam visiting.

Accommodations: President No.4 ****


Day 3 Friday 14-May-10 Meal(s) (B, L, D) Yangtze Cruise

Program: Shennong Stream visiting.

Accommodations: President No.4 ****


Day 4 Saturday 15-May-10 Meal(s) (B, L, D) Yangtze Cruise

Program: Fengdu visiting.

Accommodations: President No.4 ****


Day 5 Sunday 16-May-10 Meal(s) (B, L) Chongqing to Lijiang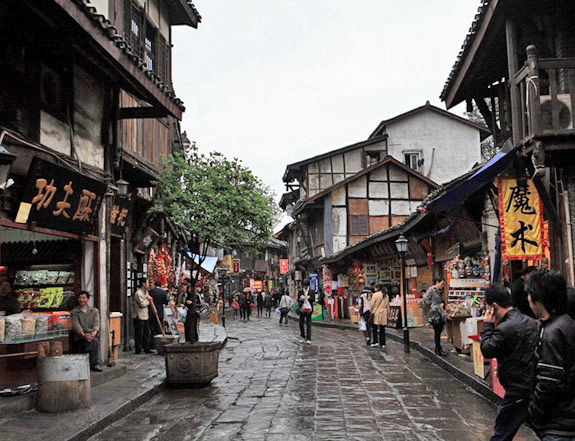 Transfer via: by air CZ8163 (20:50-22:30) (arranged by us)
Program: Arrival Chongqing at the morning 9:00AM, be met at the dock and transferred to city downtown, then visit Ciqikou old street, Chongqing Zoo, airport transfer (Chongqing), Arrive in Lijiang, be met and transferred to hotel.


-Ciqikou Ancient Town: It is an old town with traditional Chongqing style buildings, tea houses, and Sichuan Opera houses.
-ChongqingZoo: The Giant pandas & Lesser pandas & Golden hair monkeys & South China Tigers can be seen.

Accommodations: Lijiang Sanhe Hotel***
Tel: 0888-5120891, Fax: 0888-5120892


Day 6 Monday 17-May-10 Meal(s) (B, L) Lijiang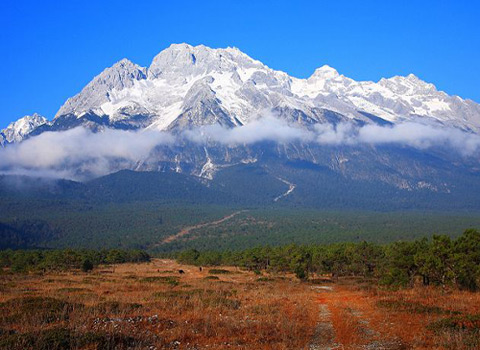 Program: Full day tour for Jade Dragon Snow Mountain, Yak Plateau (Round-way chairlift), Naxi Ancient Music.

-Jade Dragon Snow Mountain: The Mountain consists of 13 peaks. Among of them, the highest peak is 18000 feet above sea level. It is a treasure of wild plants and rare animals.
-Yak Plateau: It is the part of the Jade Dragon Snow Mountain, where the Yi and Zang Monority ethnic Tribes live.
-Naxi Ancient Music: It is a beautiful, elegant, fresh and old melody with rich colour of the Naxi people. People of Lijiang, both young and old, like it very much. And it plays and important part in their cultural life.

Accommodations: Lijiang Sanhe Hotel***


Day 7 Tuesday 18-May-10 Meal(s) (B, L) Lijiang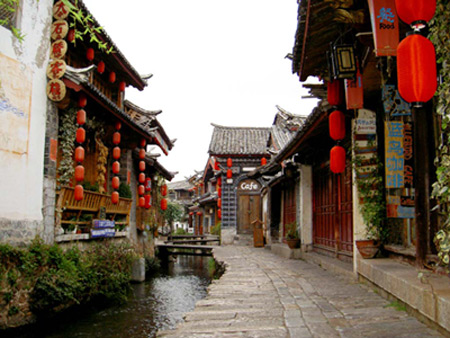 Program: Full day tour for Lijiang Ancient Town, Mu's Residence, Black Dragon Lake, Lion Hill.

-Lijiang Ancient Town: The town was built in the late Song dynasty and the early Yuan dynasty and was listed by the UNESCO on the list of the world's major cultural heritages in 1997.
-Mu's Residence: Mu's Residence is situated in the southwest of the Old Town of Lijiang. It is the Tusi Mu's Yamen of the Naxi Ethnic Group in Yunnan.
-Black Dragon Lake: The park holds the Black Dragon Lake and got it's name because of it. The pool is listed in the Collections of Famous Pools in China because of its beauty.
-Lion Hill: Both the hill and the wooden structure called Wangulou provide good views of the Old Town and the surrounding countryside.

Accommodations: Lijiang Sanhe Hotel***


Day 8 Wednesday 19-May-10 Meal(s) (B) Lijiang to Kunming to Guilin

Transfer via: by air MU5759 (08:35-09:30) from Lijiang to Kunming (arranged by us), contacting the flight from Kunming to Guilin MU5787 (1420-1545) (arranged by us).

Program: Be transferred to airport (Lijiang), when you arrive in Kunming, you will transfer the flight on your own from Kunming to Guilin, Arrive in Guilin, be met and transferred to hotel.

Accommodations: Hotel Universal, Guilin***
Tel: 0773--2828228, Fax: 0773-2824944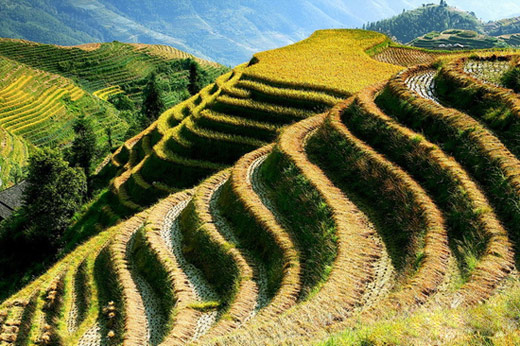 Day 9 Thursday 20-May-10 Meal(s) (B, L) Guilin

Program: Full day tour for Dragon's Backbone Rice Terraces, Yao Ethnic Tribes, acrobatic show- Dream of Li River at night.

-Dragon's Backbone Rice Terraces: Longji, as known as the Dragon's Backbone Rice Terraces, is located in Longsheng County, the mountainous region on the northeastern part of Guilin. They were first built in the Yuan dynasty (about 800 years ago) and completed in the Qin dynasty by Zhuang people.

Accommodations: Hotel Universal, Guilin***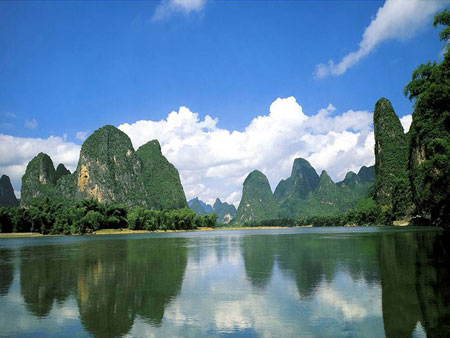 Day 10 Friday 21-May-10 Meal(s) (B, L) Guilin

Program: Full day tour for Li River Cruise, biking around Yangshuo countryside and visit local farmer's house.

-Li River Cruise: Depart from your hotel in the morning. Be transferred to the Zhujiang Pier(about 1 hour drive)for a 4.5 hours wonderful cruise.You will enjoy the picturesque mountains, peaceful green fields ,farms and villages with water buffalos, cows wondering around on both sides of the river bank. Disembark at the one-thousand-year-old town Yangshuo in the afternoon.

Accommodations: Yangshuo New West Street Hotel***


Day 11 Saturday 22-May-10 Meal(s) (B, L) Guilin to Xi'an


Transfer via: by air MU2308 (20:15-22:10) (arranged by us)
Program: Visit Reed Flute Cave, Elephant Trunk Hill, Fubo Hill, Be transferred to airport (Guilin), Arrive in Xi'an, be met and transferred to hotel.

-Reed Flute Cave: Known as "the Palace of Natural Arts" where you can see beautiful stalactites & stalagmites, learn how they are formed.
-Elephant Trunk Hill: Located at the conjunction of the Li River & the Peach Blossom River, the whole hill looks very much like a giant elephant with a long trunk, it is the symbol of Guilin city.
-Fubo (Wave-subduing) Hill: You can see lots of rock stone carvings & Buddha statues since Tang Dynasty. Have a wonderful bird's-eye view of Guilin city if you climb to the summit.

Accommodations: Citylion International Hotel***
Tel: 029-87632017, Fax: 029-87632211


Day 12 Sunday 23-May-10 Meal(s) (B, L, D) Xi'an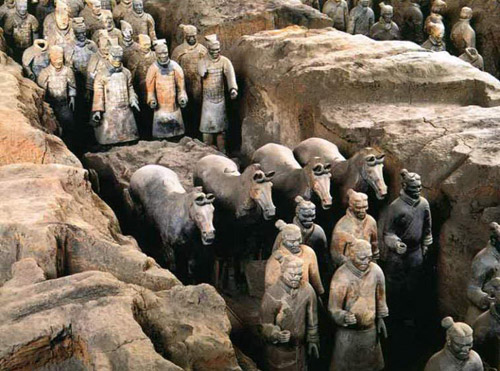 Program: Full day tour for The Terra-cotta Warriors and Horses, Big Wild Goose Pagoda, Huaqing Hot Springs, dinner is Dumpling banquet, the Tang Dynasty Dinner Show (our guide and driver will escort you from the hotel to the theater and back to hotel).

-Terra-cotta Warriors and Horses: The greatest archaeological findings of the century: the army of terra-cotta warriors and the bronze chariots entombed in vast underground vaults at emperor Qin's tomb.
-Big Wild Goose Pagoda: It is a well-preserved ancient building and a holy place for Buddhists.
-Huaqing Hot Springs: The Huaqing Hot Springs is located about 35 kilometers east of the city of Xi'an. Historically, during the Western Zhou Dynasty the construction of the Li Palace was undertaken on this spot.
-Tang Dynasty Dinner Show: This is a very spectacular and elaborate schow with dancing, traditional Chinese music and probably the most beautiful Chinese girls in town. A must-see.

Accommodations: Citylion International Hotel***


Day 13 Monday 24-May-10 Meal(s) (B, L) Xi' an to Beijing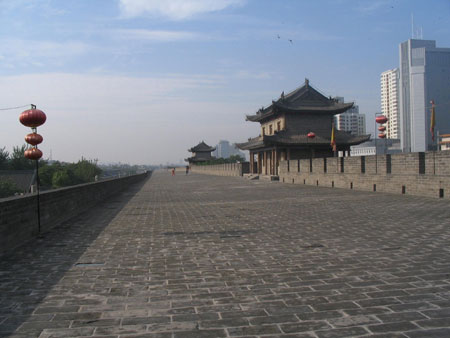 Transfer via: Over night train T44 (20:34-07:40) (deluxe cabin for 2 people with soft sleeper) (arranged by us)
Program: Visit the Ancient City Wall, Cycling along the Ancient City Wall, the Great Mosque of Xi'an, Forest of Stone Steles Museum, train station transfer (Xi'an).

-Ancient City Wall: It is the largest and best preserved present city wall in ancient China and is probably the best military battlement in the world.
-Great Mosque of Xi'an: It is the largest and best preserved of the early mosques of China. Built primarily in the Ming Dynasty when Chinese architectural elements were synthesized into mosque architecture.
-Forest of Stone Steles Museum: Forest of Stone Steles Museum was initially established in AD 1087 when some precious stone steles were moved here for safe keeping. With an area of 31,000 square meters, it has collections of more than 1000 stone steles dated from Han to Qing Dynasties (From 206 B.C to 1911 A.D) in Chinese history. Its contents can be divided into four groups: works of literature and philosophy, historical records, calligraphy and pictorial stones.

Accommodations: Stay on the train


Day 14 Tuesday 25-May-10 Meal(s) (B, L, D) Beijing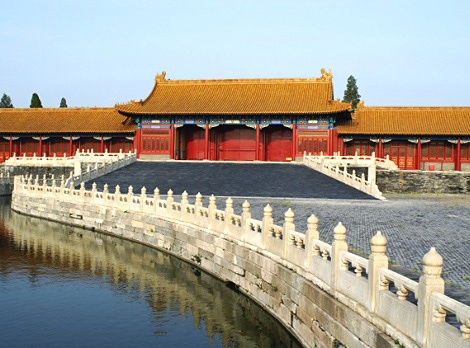 Program: Arrive in Beijing, be met and transferred to hotel, then visit the Forbidden City, the Tian'anmen Square, Hutong tour with rickshaw, Lama Monastery, dinner is Beijing Roast Duck (Our guide and driver will escort you from the hotel to the restaurant and back to hotel).

-Forbidden City: The largest imperial palace in China during the Ming and Qing dynasties with a history of around 600 years.
-Tian'anmen Square: The largest city square in the world.
-Hutongs: The old narrow paths where common people lived. All the Hutongs crisscross with each other, dotted with the Kindergarten, the Bell Tower, the Drum Tower, the Tea House, and the lake, House of Gong Infante and local people's houses among them.
-Lama Monastery: the largest 260-year-old monastery in Beijing of the Yellow sect of Lamaism.

Accommodations: Redwall Hotel*** (Deluxe room)
Tel: 010-51098666, Fax: 010-51098999


Day 15 Wednesday 26-May-10 Meal(s) (B, L) Beijing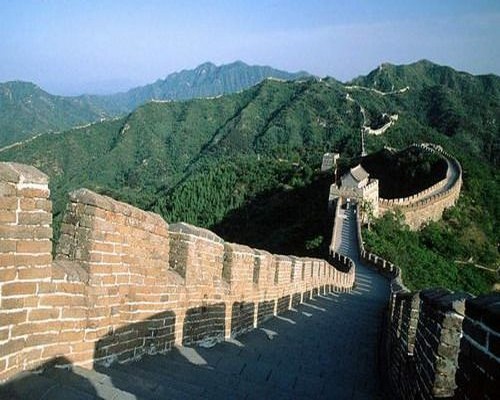 Program: Full day tour for Mutianyu Great Wall with round-way cable car, the Sacred Road, Chang Ling.

-Mutianyu Great Wall: This less-crowded section of the Great Wall is a pleasant drive 90km NE of Beijing. A cable car takes you to a good section (avoiding a very steep climb), where you can walk along the wall, through the watch towers and enjoy superb views as it snakes across the hills and mountains.
-Sacred Way: The way guarded on both sides with stone statues by which the ancient emperors went to hold a memorial ceremony for the ancestors.
-Chang Ling: It's the biggest one, first one and best preserved one of the thirteen tombs of the emperors in the Ming Dynasty.

Accommodations: Redwall Hotel*** (Deluxe room)


Day 16 Thursday 27-May-10 Meal(s) (B, L) Beijing to Nanjing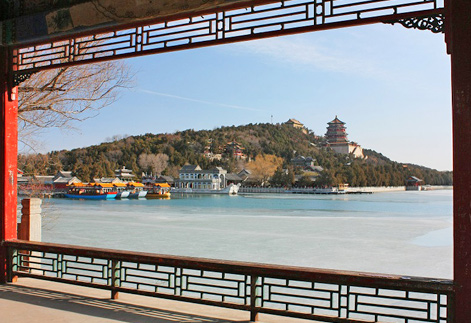 Transfer via: Over night train T65 (22:54-09:17) (deluxe cabin for 2 people with soft sleeper) (arranged by us)
Program: Visit the Summer Palace, take an exterior visit for both of the National Swimming Center (The Water Cube), Beijing National Stadium (Bird's Nest), The Temple of Heaven, train station transfer (Beijing).

-Summer Palace: The largest and best-preserved royal garden in China with a history of over 800 years.
-National Swimming Center (The Water Cube): The National Swimming Center, known as 'The Water Cube', was one of the most dramatic and exciting venues to feature sporting events for the Beijing Olympics in 2008.
-Beijing National Stadium (Bird's Nest): The Beijing National Stadium, also known as the bird's nest was the main track and field stadium for the 2008 Summer Olympics and host to the Opening and Closing ceremonies.
-Temple of Heaven: The place where the ancient emperors used to pray for the God's bless of the whole nation.

Accommodations: Stay on the train


Day 17 Friday 28-May-10 Meal(s) (B, L) Nanjing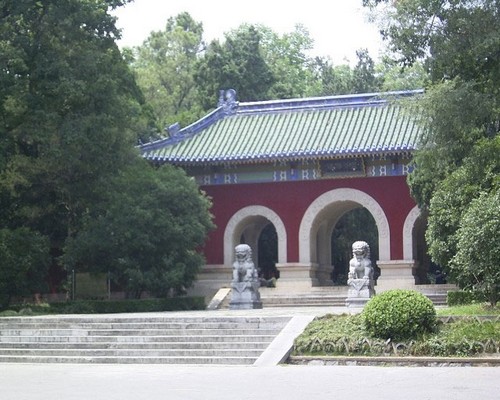 Program: Arrive in Nanjing, be met and transferred to hotel, then visit Ming Xiaoling Mausoleum, Dr. Sun Yixian (Sun Yat-sen) Mausoleum, Confucian Temple, Qinhuai River.

-Ming Xiaoling Mausoleum: Mingxiaoling Mausoleum is one of the biggest imperial tombs in China. It lies in the eastern suburbs of Nanjing City at the southern foot of Zhongshan (Purple) Mountain. Emperor Chengzu, Zhu Yuanzhang, the first emperor of the Ming Dynasty (1368-1644) and Queen Ma were buried there.

-Dr. Sun Yixian (Sun Yat-sen) Mausoleum: The building was designed to be more impressive than those of the emperors whom the father of the Chinese republic overthrew. The mausoleum, 158 meters above sea level, has 392 steps and a five-meter-high statue, and is well worth visiting.
-Confucian Temple: It is for consecrating and worshipping Confucius, the great thinker and educator of ancient China.
-Qinhuai River: it is the branch of the Yangtze River. The inner river of the river used to be the most flourishing place of Nanjing since it was the red-light district famous throughout the nation. Painted boats shuttled to and fro and music sounded all night. Many love affairs and romances spread from here.

Accommodations: Xihuamen Hotel, Nanjing***


Day 18 Saturday 29-May-10 Meal(s) (B, L) Nanjing to Hangzhou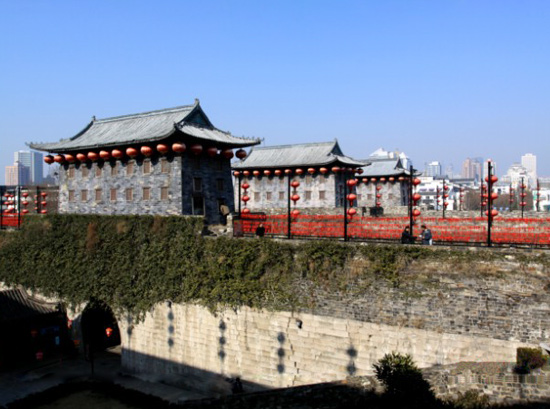 Transfer via: by express train for soft seat D5471 (12:27-16:41) (arranged by us)
Program: Visit Zhonghua Gate, Depart Nanjing, train station transfer (Nanjing), Arrive in Hangzhou, be met and transferred to hotel, free at the rest of the day.

-Zhonghua Gate: Zhonghua Gate, means Chinese gate, was the biggest and most splendid city gate of Nanjing city wall in the Ming dynasty (1368-1644).

Accommodations: Lily Hotel***or similar
Tel: 0571-87991188, Fax: 0571-87985706


Day 19 Sunday 30-May-10 Meal(s) (B) Hangzhou

Program: Free on your own.

Accommodations: Lily Hotel***


Day 20 Monday 31-May-10 Meal(s) (B) Hangzhou to Departure City

Program: Be transferred to airport (Hangzhou).


Service Ends!


Custom Tailoring: Design your own tour with our help to meet your unique interests. You don't have to compromise. Do exactly what you want to do! Let us assist you to tailor-make your own China experience.
What Our Customers Say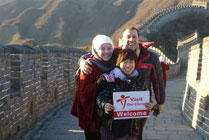 I hope this letter finds you well. We finally arrived home from our trip last Thursday the 17th. As promised I am writing to you about our experience in China and we thank you very much for your organizing. On the whole we had a wonderful time and were very well looked after...
Read more testimonials...