National Swimming Centre('The Water Cube') Beijing

More Photos

Chinese name: 国家游泳中心 (水立方) (Guojia Youyong Zhongxin – Shui Lifang)
Location: in Olympic Sport Park, No.11 East Tianchen Road, Chaoyang District, Beijing City.
Opening time: 09:00-17:00
Ticket: CNY30
How to get there:
- take subway No.8 and get off at the stop of Olympic Sport Center (奥体中心, Aoti Zhongxin) or the stop of Olympic Sport Park (奥林匹克公园, Aolin Pike Gongyuan);
- take buses No.839 or 510 and get off at North Beichen Bridge (北辰桥北站);
- take buses No.386, 407, 656, 660, 740, 753, 939, 944, 983 and get off at the stop of West Beichen Bridge (北辰桥西);
- take buses No.328, 379, 419, 425, 484, 518, 628, 751, 836, 851, 913, 949, 963 and get off at the stop of South Junction of Wali Road (洼里南口).
General Information about National Swimming Center (Water Cube)
Construction date: December 24th, 2003.
Completion date: January 1st, 2008.
Construction cost: CNY1.02 billion (CNY0.85 billion were donated from all walks of life).
Structure type: Membrane structure, steel frame structure.
Building area: 79532 square meters.
Floor space: 62950 square meters.
Building dimension: 177m×177m×31m.
Seating capacity: 17000, including 4000 (perpetual), 2000 (demountable), and 11000 (temporary).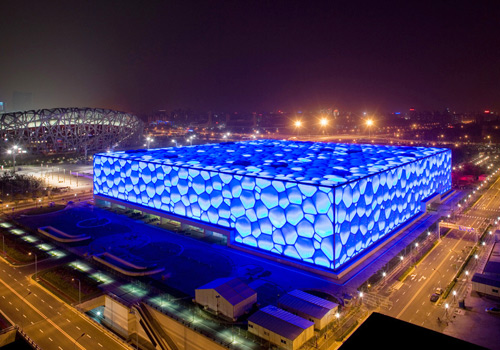 More about National Swimming Center of Beijing
The National Swimming Center, or Water Cube for short, is the major natatorium as well as one of the landmarks of the Beijing 2008 summer Olympic Games. The Water Cube (in square) with the Bird Nest (in round) in the opposite reflect a traditional Chinese philosophy that the sky is round and the ground is square (天圆地方), which is the basic regimen in Chinese culture - the achievement and completion are based on the formulated rules. And most of the Chinese architectures are built in square.
There are four floors in the National Swimming Center; the ground floor is the competition and working area, the second and third are sightseeing district and auditorium, while the fourth is reserved for business. During the 2008 Olympic Games, the Water Cube could hold 17000 audiences and served as the place for the competitions of swimming, diving, synchronized swimming and water polo.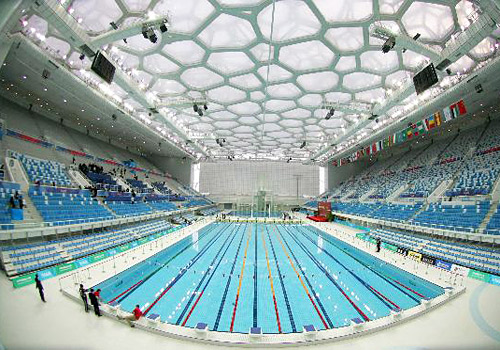 Being the largest project adopting membrane structure, the Water Cube of Beijing is designed novel according to the spread pattern of cells and the natural structure of soap bubbles. The construction material is the advanced ETFE (Ethyl Tetra Fluoro Ethlene), a hyaline membrane with great benefits in both environment protection and energy saving, which can introduce in a large amount natural lights. Furthermore, this kind of material is gifted with the function of self-cleaning and preferable resistance to pressure. It is seldom stained with dusts, and dusts can be washed away if met with rainwater. More to the point, this 7.9-hectare-building is erecting steady without any rebar and concrete, and just connected by steel tubes with 12 000 panel points.
After the closing of the Beijing 2008 Olympic Games, the National Swimming Center has been transformed to an advanced world standard center of swimming, fitness and relaxation. It is the largest water park in Beijing offering various recreational water activities for people of all ages. Today, it has leisure Water Wolrd, the fashion Heath Zone, hydrotherapy SPA, themed restaurants and bars related to water, such as hubble-bubble bar, overwater cybercafé, pottery bar, book bar, etc. and a business area with diversified commodities of the Water Cube, the history of Water Cube and the swimming competitions of Olympic, and the latest information about fashion, relaxation and entertainment concerning water.
Quick Questions
Our team is waiting for your questions. Please feel free to ask us any questions you might have about our China package tours, Chinese culture, or the sites available. We will gladly help you with any special needs you might have and all questions, like our trip designing is completely free of charge.