Terms and Conditions
Here are our terms and conditions for our China tours. Please read them carefully, before making reservations for your China tour and tour-related products.
By reserving a China tour or tour-related product, you agree that you have read, understood, and agreed with the following terms and conditions and consent to be irrevocably bound by them, including any updates. Visit Our China has the right to change the terms and conditions, in whole or in part, at any time without prior notice.
Terms and Conditions
Privacy Policy
Visit Our China takes your privacy very seriously. Information such as; your name, contact information, travel preferences, special needs, and anything else pertaining to you will not be shared, unless it is necessary to do so to book flights, hotel rooms, make reservations, obtain insurance, and etc.. It is your responsibility to inform the other members of your group of our privacy policy. Visit Our China will NEVER sell, share, or rent your information to any outside parties, except as outlined in our privacy policy.
Itinerary Making

You may only use this website for your own personal use or for purposes legitimately connected with purchasing our products and services. You are not allowed to access, use or copy any material or information on this website for any commercial purpose or for any purposes which are unlawful. If you wish to include a link to our website, unless you have our written permission, you may only do so to our homepage.
Step 1:
Choose your tour product(s) on our website or submit your inquiry by E-mail to us.
Step 2:
After receiving your inquiry, we will reply you by email within 1 working day.
Step 3:
Make free changes on your itinerary, and then pay VisitOurChina non-refundable deposit which is equal to 30%-50% of the tour fee to initiate a reservation process (When some events happen or at some festivals, the full payment is required as the deposit).
Step4:
You will receive a confirmation email from us, suggesting the proposed flights, hotels and tours should be available at the time of confirmation. VisitOurChina reserves the right to make changes and provide you with the similar alternative options when any conditions change after the confirmation.
Step 5:
Full payment-15 days prior to your departure date.
* 30%-50% of the total tour fee is required at the time of booking. After the trip has begun, there will be no refund for unused services due to your early departure, late arrival, or missed days on tours.
Payment methods
We provide 3 payment methods as below:
1. Online Payment Via Paypal
If you wish to use Paypal as your means of payment, our Paypal account is paypal@VisitOurChina.com. Note: If you choose to pay via Paypal, you will need to pay Paypal's service fees in addition to your Visit Our China fees.
2. Wire transfer
Our Bank Information for all foreign currencies:
Bank Name: Bank Of China GuiLin Branch
Bank Add: NO.2 Zhong Shan Road Central, Guilin, Guang Xi, China
Account: 6223 5788 7566
Swift code: BKCHCNBJ49C
Account Holder: GUILIN TIANYUAN INTERNATIONAL TRAVEL SERVICE CO., LTD
Company Add: Room 5-10, Guilin International Conference and Exhibition Shopping Park Business Building, No. 26 Lijiang Road, Guilin, Guangxi, China

Or:
Bank Name: CHINA MINSHENG BANKING CORP.LTD NANNING BRANCH
Account: 630 465 298
SWIFT BIC: MSBCCNBJ055
Account Holder: GUILIN TIANYUAN INTERNATIONAL TRAVEL SERVICE CO., LTD
Company Add: Room 5-10, Guilin International Conference and Exhibition Shopping Park Business Building, No. 26 Lijiang Road, Guilin, Guangxi, China
* If the name of our Account Holder is too long to be filled in while transferring the money due to word limit of your banking system, do please write the full name GUILIN TIANYUAN INTERNATIONAL TRAVEL SERVICE CO., LTD in the remarks column, without the full name of our Account Holder the payment cannot reach our account successfully.
* Please include your booking code on the transfer sheet when you are making wire transfer in the bank.
* After you have made the wire transfer, please make a copy of the transaction receipt or stub issued by the bank, write your booking code on the copy, and fax us the copy of the transaction receipt. Our fax number is; 0086-773-5817771). Once we have received your payment fax, we will start to secure your booking.
* Wire transfers from other countries to China generally take more than 1 week. Once we receive your payment, Visit Our China will inform you by E-mailing you a recept.
3. Western Union
We also accept Western Union Money Transfers.
Receiver's Name: Wu Rui (the money beneficiary)
Note:
Please note that "Wu" is the surname (family name), and "Rui" is the given name.
Once you have payed via Western Union, send us the Money Transfer Control Number and the full name, including any middle name, of the person who made the payment. Without this information, we cannot receive the payment.
Tour Amendments
Before your booking has been processed, you can still make changes of your itinerary free of charge. We do this to ensure that your itinerary is absolutely perfect for you. We work hard to ensure that your China tour will be exactly as arranged. We reserve the right to make amendments by altering, postponing, and/or canceling tours due to reasons beyond our control, such as weather, riots, or natural disasters. This conditions are incredibly rare, but we wish to inform you of this possibility. If such an incident arises, the the changes to the tour will be recalculated and charged accordingly. If any China tour is changed because of the client's needs or wishes, the client will be responsible for any additional costs which may arise.
Cancellation
Your deposit will initiate our reservation process. We will confirm with you via E-mail within one to two business days. If your reservation can not be confirmed for any reason, we will fully refund your money without any additional charges.
If it is necessary for you to cancel your tour to China, we will refund your entire payment to Visit Our China, except any applicable cancellation fees.
Our cancellation fee policy is as follows:
20 or More Days Prior to Departure Date: 10% of the tour Cost but can be applied for your next reservation within 12 months
19-8 Days Prior to Departure Date: 30% of the tour Cost
7-4 Days Prior to Departure Date: 50% of the tour Cost
3 Days Prior to Departure Date; No show guests: 100% of the tour Cost
* Note:
Payments for Yangtze River Cruises will not be refunded if the cancellation is received less than 35 days prior to the cruise date. After a cruise has begun, there will be no refund for unused days, or services due to your early departure, late arrival, or missed days.
When some events happen or at festivals, the cancellation fee will be less than or equal to your full payment.
Travel Documentation
All clients must be in possession of a valid passport and visa or permits at the commencement of travel. All documents are the sole responsibility of the client. Visit Our China may assist you in applying for the necessary travel documents upon request. We accept no responsibility or liability for the failure of clients to obtain appropriate documentation
Health Requirements
All clients should familiarize themselves with health requirements applicable to the areas they intend to visit. The client is solely responsible for checking the safety and security conditions, vaccination, and other health requirements in countries visited. Due to the extreme high altitudes, the individual traveler to Tibet is required to provide a doctor's certificate stating that the he/she is fit to travel and his/her blood pressure and heart condition are normal.
Communications
You may feel free to contact us for any reason. You can contact us via E-mail, fax, or telephone. If for any reason, you fail to receive any reply from us in regard of your tour status within 2 business days, please contact our Customer Service at service@VisitOurChina.com or telephone us at 0086-773-5833156.
Luggage Allowance
In accordance with regulations of the General Administration of Civil Aviation of China, the free baggage allowance within China is 20kg for the economy class, 30kg for business class, and 40kg for first class, plus limited carry-on luggage. Excess baggage charges are the sole responsibility of the client. Regulations within China specify that all suitcases must have a locking device attached. Failure to follow this regulation may result in refusal by airport staff to load suitcases onto the aircraft.
Insurance
After confirming a tour with Visit Our China, you will be automatically covered by the China Life Tourism Accident/Casualty Insurance.
Note:
This insurance is not applicable to the sole hotel or flight booking.
Complaints and Claims
If for any reason you are unsatisfied with any service we have provided, contact your local tour guide, or travel consultant immediately to ensure similar issues do not occur again during your China tour. In the event of a complaint, or claim for compensation, you must inform us by E-mail, regular mail, or facsimile within 15 days from the end of your tour. Relevant receipts and substantiating evidence must be attached to the letter of claim.
Responsibility
Visit Our China shall not be liable for any loss, injury, or damage to person, property in connection with climatic conditions, fire, breakdown of machinery or equipment, acts of government or other authorities, wars whether or not declared, civil disturbances, strikes, riots, thefts, epidemics, quarantines, medical or customs regulations, terrorist activities, or any other actions, omissions or conditions beyond Visit Our China's control. Neither Visit Our China nor any of its affiliates or subsidiaries shall be or become liable or responsible for any additional expenses of liability sustained or incurred by the tour member as a result of any of the aforementioned causes. Visit Our China shall not be responsible for any wrongful or negligent acts, omissions, or the failure of any equipment operated by any suppliers such as transportation carriers, cruise, and hotels, or any other party not directly owned or controlled by Visit Our China.
About Our Company
China Travel Resources
What Our Customers Say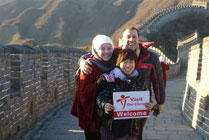 I hope this letter finds you well. We finally arrived home from our trip last Thursday the 17th. As promised I am writing to you about our experience in China and we thank you very much for your organizing. On the whole we had a wonderful time and were very well looked after...
Read more testimonials...