Lijiang Ancient Town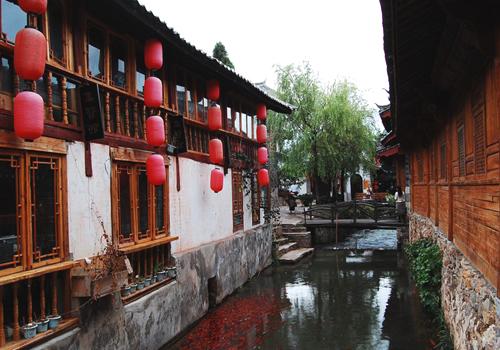 More Photos

Chinese name: 丽江古城 (Lijiang Gucheng).
Location: Gucheng District, Lijiang City, Yunnan Province.
Opening time: all day long.
Ticket: No admission fee is charged, but CNY80 is expected for maintenance fee of Lijiang Ancient Town.
How to get there:
-- A taxi from the Lijiang Airport to Lijiang Ancient Town costs around CNY80. Another way is to take a shuttle bus (CNY15) to Lijiang Blue Sky Inn and then take a taxi to the town (2 km).
---Bus No.13 brings people from railway station square to Lijiang Ancient Town. A taxi from there costs around CNY20 to CNY30.
Best time to visit: Autumn is the best season to visit and summer the second. Spring of Lijiang is pleasant with abundant flowers. Winter is also good with enough highland sunshine.

Lijiang Ancient Town, a dreamlike old town at the foot of Yulong Snow Mountain


Lijiang Ancient Town is located in the Lijiang City of Yunnan Province in southwest China. It is famed as one of four best-preserved ancient towns along with Langzhong Old Town, Pingyao Old Town, Shexian County. Old Town of Lijiang takes up an area of 3.8 square kilometers and was first built in late Song Dynasty (860-1279). It is located on Yunnan-Guizhou Plateau with an elevation of 2400 meters. Most of its dwellers are Naxi people. It is an old city with shinning culture of ethnic groups. On December 4, 1997, Lijiang Ancient Town was included into UNESCO's World Heritage Lists. With ubiquitous bridges and canals, elegant wooden houses, charming inns and bars, Lijiang Old Town is hailed as the ''Oriental Venice'' and "Suzhou in Highland".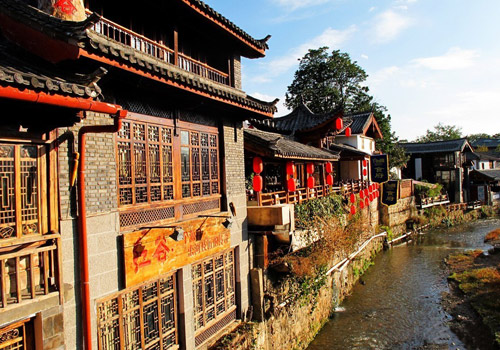 Detailed information about Lijiang Ancient Town


Old Town of Lijiang is also called Dayan Old Town. It is the only old town without a city wall among all famous historical and cultural cities of China. Some people explain that the ruler of ancient Lijiang is surnamed ''木'' (Mu) , if the city is enclosed by city wall, it turns to ''困'' which means the Mu family will get into trouble. Residential houses of the town adopt the essential architecture arts of Naxi, Bai, Tibet, and Han nationalities. Most of them are wood-tile structures without the usage of nails each with a courtyard that is planted with trees and flowers.


Scientific usage of water is a great feat of the local people. When the flowing water of Yuquan River encounters the Yudai Bridge (Jade Belt Bridge) of the town, it is divided into three streams to form a special water system which not only meets the demand of dwellers but also add natural beauty to the town. Because of the water system, the old town is crisscrossed by canals and bridges. Lots of pools and wells are still in use now. And most of dwelling houses stand in front of or against a stream with willow trees caressing flowing water.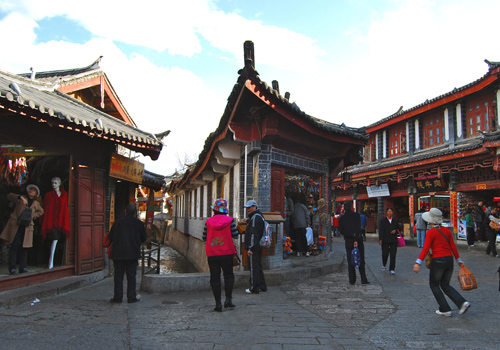 History and culture of Lijiang Ancient Town


Lijiang Old Town's history goes back to 800 years ago as it was an important town of Song Dynasty. It has long been an important political and military town in western Yunnan and a hub for economy and culture communications between Han, Tibet and Naxi nationalities. Lijiang ancient town is called ''Gong Ben Zhi'' in Naxi language, literally meaning trading port for food.


In early Yuan Dynasty the old town was at least inhabited by more than one thousand households. Since then Lijiang has a long history related to Mu family who had extraordinary luxurious palace in the town. Mu's Mansion was built in Yuan Dynasty (1271-1368) as the office and home of chieftain. In Ming Dynasty (1368-1644), the old town was thriving with well-developed streets and fair trade. It was not until Qing Dynasty (1644-1911) when the emperor Yongzheng put an end to the Mu family's hereditary ruling of the town. Today, Mu's Residence is still visible in the town.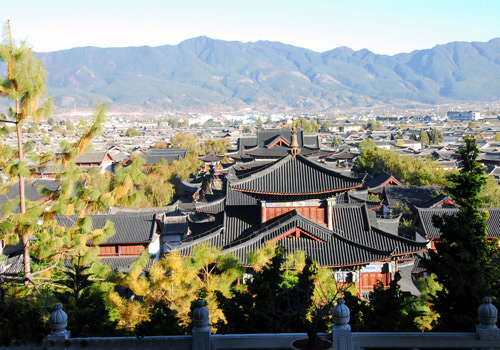 Lijiang was the heart of ancient Naxi Kingdom. Famous Dongba Culture refers to old culture of Naxi ethnic group. Naxi classical music and Dongba Language Wood Carving are artistic treasures of the world.


Sights to see in Lijiang Old Town

---Ancient streets


The eye-catching waterwheel is the icon of Lijiang Old Town. In the town the streets follow the contour of mountains and rivers and are paved with red breccias engraved with elegant floral designs. The center of the old town is the Square Street (Sifang Street), which used to be the communication hub of Ancient Tea Horse Road (Southern Silk Road, an ancient road for tea-trading) and the haunt of Naxi traders in the past. Now it is lined up with stores and inns. In addition, Lijiang has a Bar Street which links Sifang Street with the water wheel at the entrance of the old town. The street is quiet in daytime but bustling with lights and music of pubs at night.


---Age-old bridges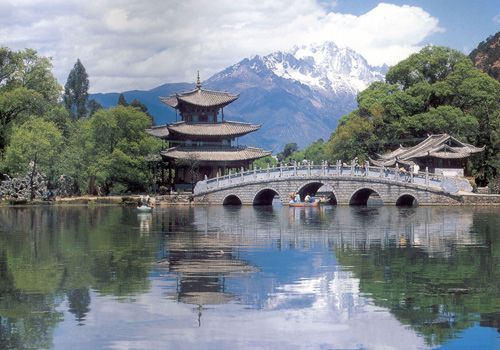 Above the water system in the old town, there are totally 354 bridges, almost 93 bridges in each square kilometer. Most of them are roofed bridges (Wind and Rain Bridges), stone arch bridge, slab bridge, plank bridge, etc. The most famous ones were built during Ming and Qing dynasties, including Locking Green Bridge, Great Stone Bridge, Wanqian Bridge, Southern Gate Bridge, and Saddle Bridge. The Great Stone Bridge is the most famous of the lot. Located 100 meters east of Square Street, it was built by a chieftain. Beneath of the bridge, the reflection of Yulong Snow Mountain is visible in the water. The bridge floor is paved with fiver flowers stones, quite beautiful.


---Mu Family's Mansion


A visit to Lijiang Old Town is not completed without visiting the Mu Family's Mansion. The mansion is the former home of a Naxi chieftain. The Mu family had been hereditary managed Lijiang since Yuan Dynasty. It experienced wars and chaos. After an earthquake in1996, it was renovated and turned into a museum of the old town. Tourists have sound reasons to visit it because it's just like as smaller Forbidden City.


---Black Dragon Pool Park


The Black Dragon Pool Park is also called Jade Spring Peak. The pool has crystal-like clear water at the foot of Xiangshan (Elephant Hill) on the northern edge of the old town. The park offers lots of attractions to see, such as The Five Phoenixes Hall, Dondba Culture Museum, and Locking Green Bridge.
Quick Questions
Our team is waiting for your questions. Please feel free to ask us any questions you might have about our China package tours, Chinese culture, or the sites available. We will gladly help you with any special needs you might have and all questions, like our trip designing is completely free of charge.