Panda Room in Chongqing Zoo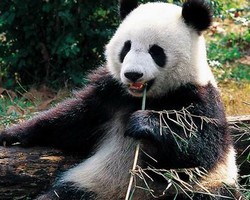 More Photos
Chinese name: 重庆动物园熊猫馆
Location: No.25 Xijiao Road, Yangjiaping, Jiulongpo District, Chongqing
Opening time: 8:30-18:00
Ticket: CNY30
How to get there: Bus routes to Chongqing Zoo include No.148, 204, 226, 232, 310, 341, 412, 416, 419, 454, 463, and 962.
Best time to visit: 08:30-10:30. The period is the feeding time.
Information about giant panda: The endangered giant panda is one of the most protected rare animals in the world. Most of them are found in the forests of China's Qilian Mountain and Sichuan Province. The life span of giant panda is typically 20 years in the wild and 30 years in captivity. In addition, giant panda shares the characteristic of solitary; they only mate during estrus.

Brief introduction to the Chongqing Zoo and Panda Room in it

Located in the western suburb of Chongqing, Chongqing Zoo covers an area of 45 hectares and is a large-scale zoo in China. With rolling mountains and fresh natural environment, Chongqing Zoo is home to some 230 different animal species such as pandas, golden monkeys, South China Tigers. In addition, it is well-equipped with Children's playground, dry skating arena, open stage, restaurant and so forth. The Panda Room in it is undoubtedly the most visited place in Chongqing Zoo. With lush foliage, the Panda Room is not only an idea habitat for pandas but also a panda breeding center. There are a few giant pandas in the Panda Room. They are called: Xin Xing, Ling Ling, Ya Ya, You You, Er Shun, Lan Xiang, Liang Liang, and Chuan Xing. Visitors to the Panda room can see lovely giant pandas and their offspring roaming among bamboos, eating bamboos, playing and sleeping.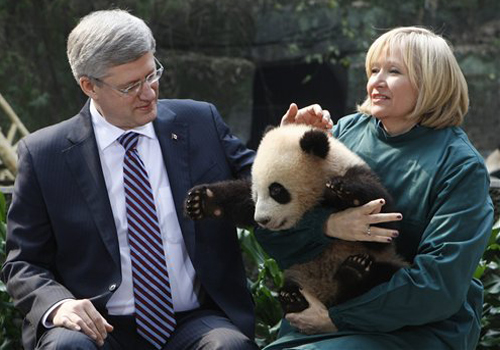 The stars of pandas in Panda Room
- Ya Ya
Ya Ya is a female panda. She was born in 1999 in Chengdu Research and Breeding Base of Giant Panda and placed in Chongqing Zoo in April, 2001. She was mated successfully with Ling Ling in 2006 and has given birth to You You and Er Shun in 2006 and 2007. Er Shun was born in 2007 in Chongqing Zoo. Er Shun is an artificial fed panda. His Mother is Ya Ya and father is Ling Ling. It has been rented by Canada with a panda in Chengdu and be a guest in Canada for ten years. The prime minister of Canada attended the signing ceremony in February 2, 2012. The two pandas have been placed separately in Toronto Zoo and Calgary Zoo.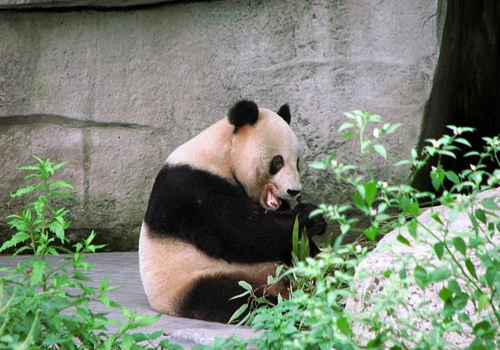 - Xin Xing
Xing Xing has been 30 years old in August 2012. According to scholars, a 30 years old panda amounts to a 100 years old human. Xin Xing is the oldest mother panda in the world. She has born six panda cubs: Le Le, Ling Ling, Qing Qing, Cong Cong, Chuan Xing, and Xiao Xiao. Only her eldest daughter is still with her in Chongqing Zoo. Her son Le Le is now on exhibition in Japan and others are in Chengdu and Wolong. Xing Xing has fiven birth to many famous offspring, including the one called Tuan Tuan in Taiwan. Xin Xing is the grandma of Tuan Tuan whose father is Ling Ling, the second son of Xin Xing.
- Lan Xiang

Lan Xiang was born in Wolong Panda conservation Center on September 2012, and was placed in Chongqing zoo in December 2013.

Quick Questions
Our team is waiting for your questions. Please feel free to ask us any questions you might have about our China package tours, Chinese culture, or the sites available. We will gladly help you with any special needs you might have and all questions, like our trip designing is completely free of charge.