Naxi Ancient Music

More Photos

Chinese name: 纳西古乐 (Naxi Guyue)
Location: Lijiang City, Yunnan Province.
Performance time: 20:00.
Entrance fee: CNY 160 for ticket A (seats on 1st to 14th rows). CNY 140 for ticket B (seats on 15th to 20th rows). CNY 120 for ticket C (seats on two sides and near stairs).
How to get there: Walk along the East Street (东大街, Dong Da Jie) to Dayan Ancient Music Association (大研古乐会, Dayan Guyue Hui).
Best time for visit: All year round
Brief Introduction to Naxi Ancient Music
In the music culture of Naxi minority ethnic group in Lijiang, there is a famous music called Naxi Ancient Music which is the oldest music in Yunnan dating back to 14th century. As one of the oldest school of music in China, Naxi Ancient music is a combination of Naxi minority ethnic group and Han minority ethnic group which is affected by Confucian and Taoism culture. Naxi Ancient music is composed of Baisha Orchestral Music (白沙细乐), Dongjing Music (洞经音乐) and Huangjing Music (皇经音乐) which combining religious rites music in Taoism, ceremony music of Confucian, poetry writing of Tang, Song Yuan Dynasty and Qupai Tune Music(曲牌音乐) into its own music style. With three characteristics, say ancient melodies, ancient instruments and aged musicians, Naxi Ancient Music is praised as the fossil of music. In Lijiang Ancient Town, the performance of Dayan Naxi Ancient Music attracts visitors in and abroad every night and becoming one of the highlights during trip to Lijiang.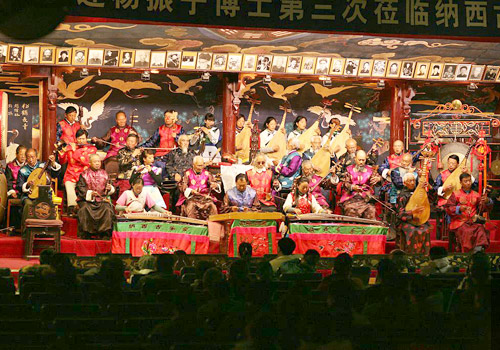 Baisha Orchestral Music
The exact history of Baisha Orchestral Music is hard to trace for there are many different ideas between local historical materials and historians. The popular saying is that it has existed since Yuan Dynasty (1271-1368) brought to Yunnan by Mongolian. Baisha Orchestral Music once disappeared before the founding of People's Republic of China but reproduced by culture department of Lijiang by studying materials and visiting musicians. The music style of Baisha Orchestral Music is mainly slow melodies or soft fluent melodies expressing plaintive and using scales of five tunes, six tunes or seven tunes. Instruments of Baisha Orchestral Music is mainly use Naxi music instruments which also reflect combination of different minority ethnic groups. The instrument can divide into three groups according to playing system: the first group is blowing instrument with flute as the main instrument and clarinet, Bobo (Naxi music instrument made from bamboo) as secondary instrument; the second group is stringed instruments with Chinese lute (琵琶), Chinese zither (筝, which is barely use nowadays in Naxi Ancient Music) and Sugudu (苏古笃, stringed instrument of Naxi minority ethnic group which also called Hubo or Huobusi); the third group is just Erhuang (二簧, stringed instrument of Naxi minority ethnic group which looks like urheen in Han minority ethnic group). The arrangement of instruments is subject to occasion and capital differs from three or four musicians to more than ten musicians with aged ones in the front and younger ones in the back. Before the founding of People's Republic of China, Baisha Orchestral Music is almost played as funeral music while nowadays it also can be found in other type of ceremonies. The funeral of Naxi minority ethnic group lasts for three days, so that Baisha Orchestral Music also played for three days in different orders and melodies.
Dongjing Music
Dongjing Music in Lijiang is a combination of music from Taoism, Confucian and local Naxi music with a long history in Naxi minority ethnic group. The first characteristic of Dongjing Music is the combination of Taoism and Confucian music which is similar to rites music in Taoism while not using Suona (唢呐, looks like trumpet) forming a delicate style like the music in Confucian. The second characteristic of Dongjing Music is that it preserving some poetries and Qupai Tune Music which is already disappeared in central China that they were original created. For example, Bagua (八卦, the Eight Diagrams) in Dongjing Music, is proofed to be originated from the two Toism music, say Nichang Yuyi Dance Music (霓裳羽衣舞曲) and Ziwei Bagua Dance Music (紫微八卦舞曲), in 741 promulgated by Li Longji (李隆基, the emperor of Tang Dynasty ruled during 712-756 who led the country to its most prosperous period), the former has already disappeared while music part of the latter one is still existing in Dongjing Music. The representative of Dongjing Music is Lang Tao Sha (浪淘沙) which is created according to the poetry writing by Li Yi (李煜, emperor of South Tang ruled during 961 to 975 who has high accomplishments in art aspect) presenting solemn and magnificent melody.
Musicians of Naxi Ancient Music
Inheriting Naxi Ancient Music is quite strict that passed from masters to disciples or fathers to children in oral form one tunes to another. The present chairman of Dayan Ancient Music Research Association (大研古乐研究会) is a 70 years old man called Xuan Ke (宣科) who explains the background of music to be played in Chinese and English during the performance. Mr. Xuan had led the group of Dayan Ancient Music Research Association, including the oldest musician who is more than 80 years old, to visit United Kingdom, France, Norway, Finland and other 10 countries and regions to present Naxi Ancient Music and gained warm welcome and high praise. With old musicians passing away, there are more and more young musician join the association to carry forward Naxi Ancient Music.
Quick Questions
Our team is waiting for your questions. Please feel free to ask us any questions you might have about our China package tours, Chinese culture, or the sites available. We will gladly help you with any special needs you might have and all questions, like our trip designing is completely free of charge.