Reed Flute Cave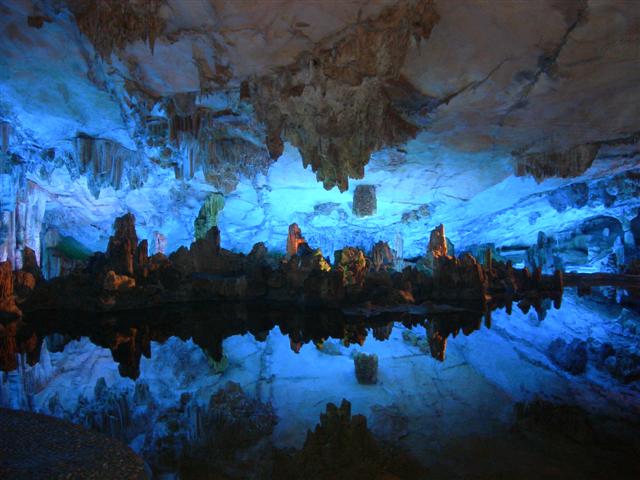 More Photos
Location: 5 kilometers northwest of the city center, on the south side of Guangming (Bright Light) Hill, Guilin city, Guangxi Zhuang Autonomous Region (aka Guangxi Province).
Opening time: 08:00 - 17:30 (1 to 3 hours for a visit)
How to get there: private coach, or by bus No. 3 or 58
Best time for visit: all year long
A noteworthy highlight on any Guilin city tour
Being a city of wonders that ranks on the top list of destinations for its numerous heaven-like landscapes, Guilin is without any doubts the city where to enjoy different kinds of sceneries among which the enigmatic Reed Flute Cave is one of the most renowned one. Comprising different kinds of natural rock formations, Reed Flute Cave (芦笛岩Lu Di Yan) is the most important and sightworthy cave of Guilin vicinity for its length of 240 meters and its many stalactites, stalagmites and rock formations in weird and wonderful shapes appealing to everyone"s imagination. As a typical Chinese habit for giving names to rock formations, the origins of the cave's name comes from the reed grass growing outside the cave and used by the locals to make flutes and pipes producing a melodious sound. More than just a random cave, the Reed Flute Cave is a Guilin top attraction that visitors should discover.
Formation and history around the Reed Flute Cave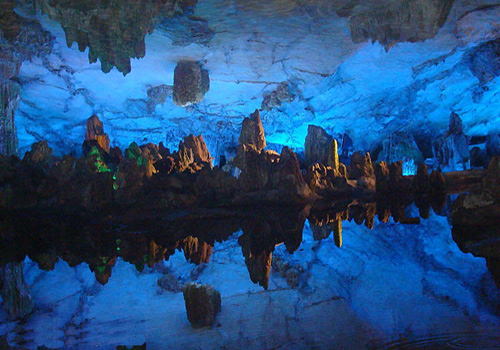 The Reed Flute Cave was formed about 600,000 years ago, a period of time when it was still an underground lake according to some geological researches. As a consequence of the mountain's enhancement and the Earth's decline of the water level, the lake gradually turned into a cave, giving to the calcium carbonate in the rock a long course of dissolution and crystallization. Several years of deposit accumulations after, the cave was discovered by man and used as a secret and magical place. The more than 70 aged ink inscriptions discovered are a testimony of the cave's occupation already in the Tang Dynasty (618-907), a precious discovery giving to the place a tremendous fame in Guilin vicinity. Due to its main entrance anciently covered by reeds, the cave was used during modern times as a perfect hiding place for war times. During the World War II (1939-1945) and Sino-Japanese Wars (1894-1895, 1937-1945, Japan's invasions of China), local people used to hide in the cave, a natural and solid refuge where some newspaper, hospitals, and printing companies settled for more safety. This was only in 1962 that the cave was officially opened to public even though records already attest of the cave's tourist activity during the Tang. Since then, millions of tourists have visited the cave with the same wonder about its natural beauty.
What to see at the Reed Flute Cave?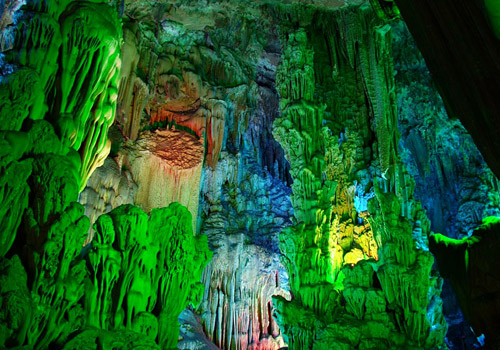 Rating as one of Guilin city's top four tourist sites, the Reed Flute Cave impresses every visitor. By first entering the site, a large park with zigzag paths, pavilions, ponds, bridges, plants and garden structures are at the disposal of the visitors looking for some typical Chinese scenery. Visiting the cave is a matter of a minimum of one hour, the eyes feasted by multicolor lighted speleothems while listening to the guide's interesting and uncommon stories about them. This typical Chinese manner of enhancing the rocks' shapes with bright colors, music and stories gives a totally different impression of a cave visit compared to what is usually done in western countries.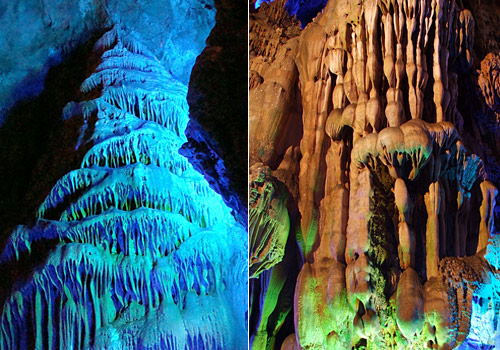 Renown as a dazzling underground palace or "Nature's Art Palace", the Reed Flute Cave visit is the opportunity to discover the many stone pillars, stalactites, stalagmites, stone flowers, curtains, mushrooms, human figures and so forth with a bunch of personal imagination! The Crystal Palace, Virgin Forest, Dragon Pagoda Flower and Fruit Mountain, etc… the cave embodies the Chinese habit for poetic names and nature's master. Quite funny English translation sometimes: "A Bumper Harvest of Melons", "Fish Tail Peak", "Red Silk Mosquito Net" or "Listening to Flute Music from a Secluded Place", the site is still a great highlight giving birth to our imagination and children's heart. At the Crystal Palace as well as Flower and Fruit Mountain spots, tourists have the possibility to make professional souvenir photos (special equipment and illumination) for a few RMB. Fascinating natural stone gallery located in Guilin city, the Reed Flute Cave visit will not let its visitors down. Typical souvenirs will remain some reed flutes and pieces of stone, for a memorable visit of one of Guilin's top attractions.
Quick Questions
Our team is waiting for your questions. Please feel free to ask us any questions you might have about our China package tours, Chinese culture, or the sites available. We will gladly help you with any special needs you might have and all questions, like our trip designing is completely free of charge.