Qinhuai River Bazaar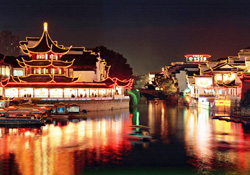 More Photos

Chinese name: 秦淮河商业街 (Qinhuai He Shangye Jie)
Location: in Zhonghua City Gate, Qinhuai District, Nanjing City, Jiangsu Province.
Ticket: free
Opening time: all day long, especially bustling in the evening.
How to get there:
- take buses No.4, 7, 40, 44, 49, 62, 304, or tourist bus No.1, 2 and get off at Fu Zi Miao (夫子庙, Confucius Temple);
- take buses No. 2, 14, 16, 23, 26, 33, 43, 46, 63, 81, 87, 101, 102, 103, 106, 305 and get off at Chang Le Lu (长乐路, Changle Road);
- take bus No.301 and get off at Zhan Yuan Lu (瞻园路, Zhanyuan Road).
Introduction to the Qinhua River of Nanjing
Being the largest river in Nanjing City, the Qinhuai River, a branch of the mighty Yangtze River, is divided into inner river (in the city gate) and outer river (outside the city wall). With a length of 110 kilometers, the Qinhuai River is the cradle of the Nanjing civilizations which nurtured the earliest ancestor of the area as early as in the Stone Age.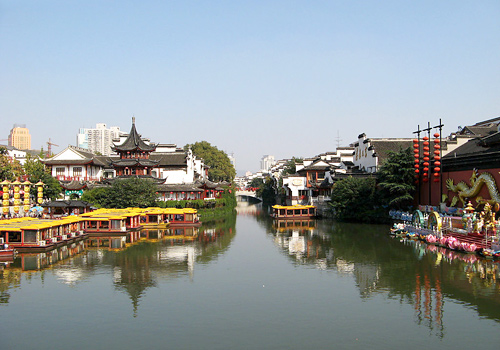 Along both banks of the inner Qinhuai River, it was the prosperous sowntown which has become extremely famed since Wu Kingdom (222-280, one of the kingdoms of the Three Kingdoms). From the early of 3rd century to the end of 6th century, the area was the gathering place for nobles, merchants, scholars and Confucians. Though gradually declined during Sui and Tang dynasties (518-907), the Qinhuai River revived and became a cultural center of the south regions of Yangtze River in Song Dynasty (970-1279). It reached it speak in Ming and Qing dynasties (1368-1911) and best known as red-light districts with exquisite halls and pavilions, coquettish pretties, flourishing music and dances, and dreamlike views of lights and boats in the evening. As a result of the wars in modern time, buildings along the banks of the river were destroyed and the prosperity has passed out of existence. It is since 1985 that the government had the area be repaired, and the inner river of Qinhuai River nowadays becomes a celebrated tourist attraction.
About Qinhuai River Bazaar
The repaired Qinhuai River Business Street is Confucius Temple-centered and embraces numerous attractions of Zhan Garden, Bailuzhou Park, Zhonghua City Gate, etc, and serves as a glamorous assembly of historical sites, gardens, painted-boats, street bazaar, pavilions, dwellings and folk customs. Being compared to Nanjing Road of Shanghai, the flourishing bazaar around Qinhuai River is lined with stores, bars and restaurants, where a range of items are found from diversified souvenirs to local specialties. It is a popular haunt not only known to locals but also to visitors.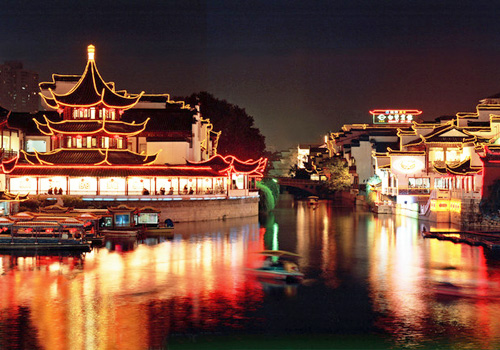 The Qinhuai River Bazaar is rather busy and colorful in the evening which always creates a very impressive scene. The whole area is lit up, ornately-decorated boats with red lanterns shuttle to and from, and various stalls and vendors dot the street. To take a leisurely stroll along the riverside, to do treasure hunts with vendors, to try out local cuisines or just to board a leisure boat flowing through the edge of the river are all memorable experience worth doing. In this lively bazaar, many famous snacks of the city are on offer, steam buns with stuffing of pork or other delicate fillings, jelly bean curd added with eight flavors, salty duck, roasted beef, chicken wings and legs, and so on.
Quick Questions
Our team is waiting for your questions. Please feel free to ask us any questions you might have about our China package tours, Chinese culture, or the sites available. We will gladly help you with any special needs you might have and all questions, like our trip designing is completely free of charge.