Special Topics - China Guide
No matter whether it is your first China experience and how much you know about the country, our expert staff will strive to help you create the perfect tailor-made itinerary. VisitOurChina will spare no effort to give you a happy and memorable time together!
View our 2019 China tours, see where your story starts and where the journey could take you. Life is but a walking shadow, take a tour in China once and you'll be hooked for life! 2019 China Tours with VisitOurChina, Great sights. Great Moments. Great Friends.

Choosing a perfect time and destination for a vacations to China, from short staying itineraries to multi-destination travels in China, we hope the recommended destinations and tours will help customers to find their ideal vacation place.

All highlight tours to China at a lower price, you will have chance to visit the most famous destinations like Beijing, Xi'an, Shanghai, Tibet, Yangtze River, Silk Road etc. Enjoy our special discount and find a place for a family vacation (2-5 pax).
Top Special Topics in China
Chinese Spring Festival
Chinese Spring Festival is the most important and ceremonious festival in China. It is the first day of Chinese lunar calendar, a holiday for family reunion. To know the celebrations of Chinese New Year.
2015 Sheep Year
2014 Horse Year
Zhangjiajie is especially renowned for Wulingyuan Scenic Area, which was inscribed on the World Heritage List by UNESCO. Zhangjiajie National Forest Park, Tianzi Mountain, Tianmen Mountains, Zhangjiajie Great Canyon and other attractions are so fabulous that making it a hot destination in China.

Yangshuo, a world famous fairyland, embraces the most typical karst landscape in the world. A universally recognized saying goes that landscape in Guilin is the best under heaven, yet that in Yangshuo is even more beautiful. Each single peak and each drop of water here are labeled with romance.
The Chinese phrase Four Great Ancient Capitals of China traditionally refers to Beijing, Xi'an, Luoyang and Nanjing. Few cities in the world besides Beijing have served as the political and cultural centre of an area as immense as China for so long.

Guilin has been a famous tourist city enjoying 2000 years history since Emperor Qin Shihuang period, renowned for its picturesque landscapes. We've made exclusive interview with the foreigners in China. Let's get to know them now!

The world-famous ancient city of Loulan, situated to west of the Lop Nor, was the hub of communications in the Western Regions and occupied a very important position on the ancient Silk Road.The Loulan Kingdom was established in 176 B.C. and vanished in 630, existing for over 800 years. But the exact location of the Loulan City remained unknown for about 1,000 years. ...
Keep Reading Other Former Topics:
Search China Tours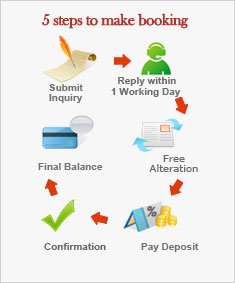 What Our Customers Say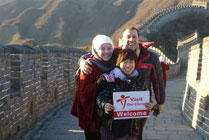 I hope this letter finds you well. We finally arrived home from our trip last Thursday the 17th. As promised I am writing to you about our experience in China and we thank you very much for your organizing. On the whole we had a wonderful time and were very well looked after...
Read more testimonials...