Yulong Snow Mountain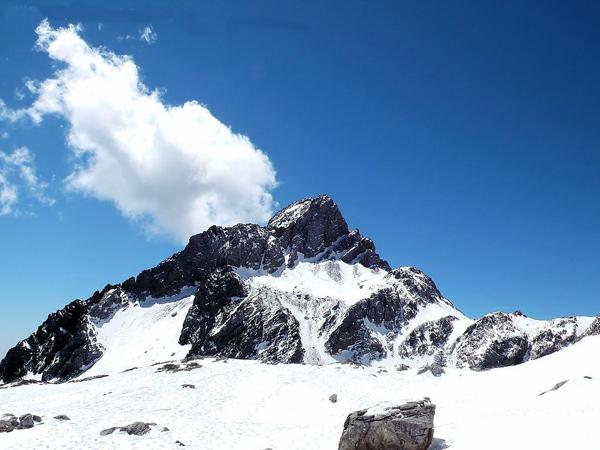 More Photos

Chinese name: 玉龙雪山 (Yu Long Xue Shan).
Location: 20 kilometers north from Lijiang, Yunnan Province, China.
Opening time: 09:30-16:00.
Ticket:
---Admission fee: CNY105. And a maintenance fee of CNY80 for Lijiang Old Town is expected.
---Cableway (round-trip) to Glacier Park: CNY170; cableway to Spruce Meadow; CNY75; cableway to Yak Meadow: CNY80.
How to get there: Take a bus No.7 (CNY15) to Yulong Snow Mountain at the Red Sun Square of Lijiang City.
Best time to visit: Autumn and winter.
Tips: The landscapes vary in different seasons, and heavy fog may obscure the snow mountain in October. The scenery is at its best in winter with heavy snow on the mountain, Lijiang is warm in winter. When you go to the mountain, remember to bring or hire a down coat.

Brief introduction to Jade Dragon Snow Mountain


The Jade Dragon (Yulong) Snow Mountain is noted as the southernmost snow mountain in Northern Hemisphere. As a must-see attraction in Lijiang City, Yulong Snow Mountain is made up of 13 peaks with the highest one, Shanzidou, rising 5596 meters above sea level. The mountain range stretches 35 kilometers from north to south and 15 kilometers from west to east. The snowy and fog-shrouded mountain looks like a giant jade dragon seen from Lijiang Old Town, hence the name ''Jade Dragon Snow Mountain''. Yulong Snow Mountain is also called ''White and Black Mountain'' because the mountain is mainly composed of white limestone and black whinstone.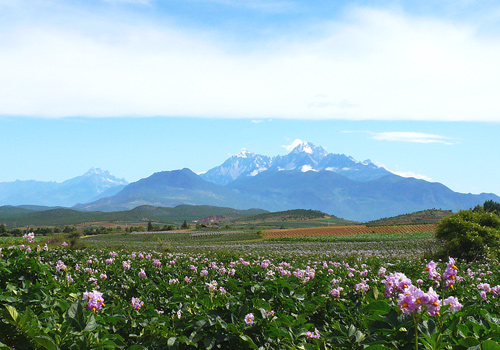 Jade Dragon Snow Mountain is regarded as a holy mountain by Naxi people. According to Naxi nationality's legend, it is the embodiment of Sanduo, the god of Naxi ethnic group. The mountain is blessed with natural landscapes of subtropical, temperate zone and cold zone, such as meadows, glaciers, canyons, waterfalls, blossoms, etc. It is also home to a number of rare animals and plants. In the year of 2007, the Yulong Snow Mountain scenic area is approved by the National Tourism Administration as a national 5A–class scenic spot.


Major sights to see in Jade Dragon Snow Mountain


The must-see tourist attractions in the Yulong Snow Mountain scenic area include Glacier Park, Ganhaizi Meadow, Yak Meadow, White River (Blue Moon Valley), and Spruce Meadow. Tourists can walk or rent a horse from Ganhaizi to Yak Meadow. In addition, there are three cableways in the scenic area, respectively to Glacier Park, Spruce Meadow and Yak Meadow.


---Glacier Park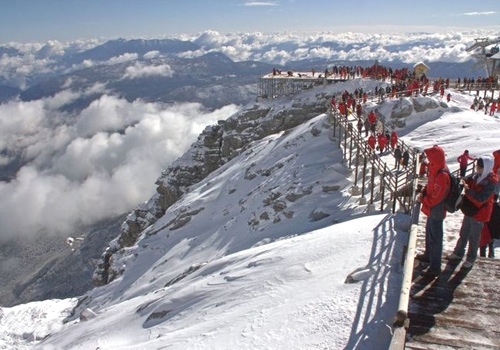 Glacier Park is located on the Shanzidou Peak. There are totally 19 oceanic glaciers on the peak, including hanging glaciers and cirque glaciers. White Water Number.1 is the most-visited glacier. It looks just like a hanging waterfall from the heaven seen from the foot of the peak. The iceberg forest on the glacier tongue looks like knifes piercing into the sky. In addition, there are some remnants of glaciations, including the Ganheba Valley, which is a typical Alps-style glacier valley. Tourist can take a cableway to the Glacier Park. The cableway to the glacier park is the one of the heist elevation in Asia with a length of 2914 meters and a vertical drop of 1150 meters. After walking out of the cableway, tourists can walk to the highest viewing platform of the mountain (4591 meter above sea level).


---Ganhaizi Meadow
Ganhaizi is the gateway to Yulong Snow Mountain. It refers to a vast grassland on the east side of soaring Yulong Snow Mountain, the meadow is located 2900 meters above sea level, measuring 4 km in length and 1.5 km in width. Ganhaizi is a natural pasture. In spring, herders of Tibet, Yi, Naxi ethnic groups can be seen wearing felt hat on horseback and grazing their yaks, sheep, and cattle on the pasture.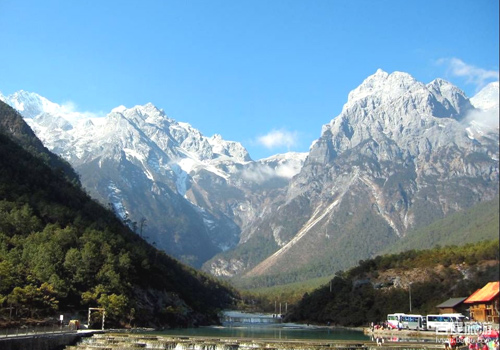 ---Spruce Meadow


Spruce Meadow is on the eastern hillside of Yulong Snow Mountain. At an elevation of 3240 meters, it is the holy land of Naxi. According to legends, it is the gateway to ''Yulong Third Country'', which is believed to be a Utopia. Another legend goes that if a young couple suicide at the Spruce Meadow, they spirits will enter the Third Country of Yulong and get eternal happiness. The Spruce Meadow is also the location of the live show, Impression Lijiang, which is directed by Zhang Yimou, the director of 2008 Olympics Games Opening ceremony.


---Yak Meadow


The Yak Meadow is called ''Ban Nong Guo'' in Naxi Language, meaning ''beautiful and mysterious paradise''. In summer, the meadow is dotted with blossom and yaks, presenting the most beautiful and peaceful scenery. From the Yak Meadow, the 13 peaks of Yulong Snow Mountain are visible.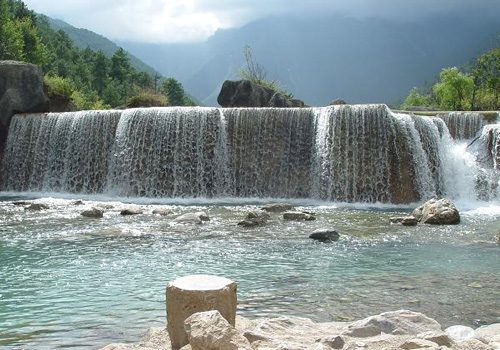 ---White River


Between Ganhaizi and Spruce Meadow lies a deep valley (Blue Moon Valley). The White River runs on the bottom the valley and cascade into several calcified pools. The river is so named because of the river bed is made up of white marbles. The water is good iced drinking water for it is sourced from unpolluted glaciers.
Quick Questions
Our team is waiting for your questions. Please feel free to ask us any questions you might have about our China package tours, Chinese culture, or the sites available. We will gladly help you with any special needs you might have and all questions, like our trip designing is completely free of charge.