Tang Dynasty Dinner Show

More Photos

Chinese name: 西安唐乐宫仿唐歌舞宴
Location: No.75, North Chang'an Road, 2 km south of downtown Xi'an, Shaanxi Province.
Entrance fee: there are different options at different prices for visitors to choose.
1. Tang Dynasty Music and Dance Show (20:30-21:40): 220 Yuan / person.
2. Jiaozi (dumpling) Feast (18:30-20:10) + Tang Dynasty Music and Dance Show (20:30-21:40): 370 Yuan / person.
3. Tang Imperial Feast (18:30-20:10) + Tang Dynasty Music and Dance Show (20:30-21:40): 500 Yuan / person.
How to get there: take bus No.12, 14, 26, 31, 36, 521, 603, K605, K618, tourist bus No.6 or 8, get off at the stop of 草场坡 (Cao Chang Po) and then walk for about 210 meters.
About Tang Music and Dance
Tang is a powerful feudal empire dynasty in Chinese history. During its reign from 618 to 907, China stepped into an unprecedented age of unity and solidarity, took the lead in Asia even in the world and impacted its neighboring countries much especially Japan in many aspects. It is under such a flourishing and peaceful circumstance that exquisite Tang imperial feast with music and dance emerged and developed.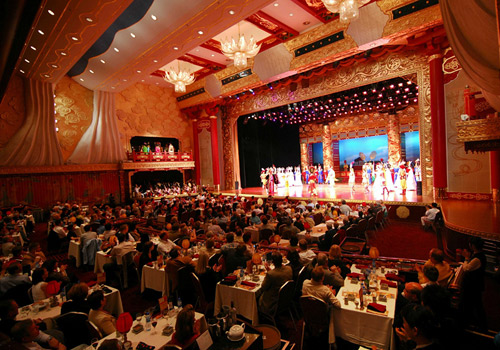 Introduction to Tang Dynasty Dinner Show in Xi'an
The Tang Dynasty Dinner Show is put on at the Tang Dynasty Music Palace in Xi'an, which is a large-scale theatre with characteristic catering. The whole palace has a total area of more than 11,000 square meters which allow about 1300 people to dine at a time.
The theater located on the first floor of the palace covers 2700 square meters, including an 820-square-meter stage and a dining area which allows about 650 dining seats. It has received more than 600,000 people including leaders of many countries since its opening in June of 1988.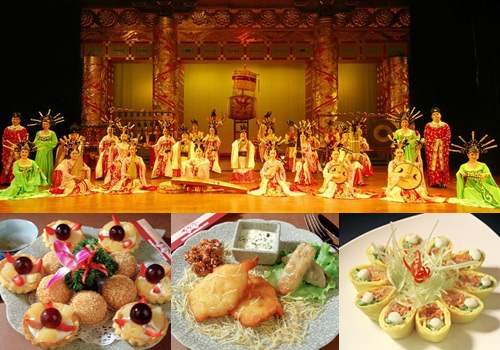 The whole performance in the Tang Dinner Show is made up of 8 parts, in which the actors and actresses are dressed in Tang costume and dance accompanied with music by a classical Chinese orchestra and ancient Chinese poems. The amazing performance and classic music by traditional musical instruments will lead the audiences back to a dreamlike imperial feast of Tang Dynasty.
Quick Questions
Our team is waiting for your questions. Please feel free to ask us any questions you might have about our China package tours, Chinese culture, or the sites available. We will gladly help you with any special needs you might have and all questions, like our trip designing is completely free of charge.