Tour Summary
Day by Day Itinerary
Reviews
| Tour Dates | Destinations | Services Provided | Meals Included |
| --- | --- | --- | --- |
| Day 1 | Lanzhou | Arrive in Lanzhou, be met and then be transferred to hotel. Visit White Pagoda Hill and Gansu Provincial Museum . Details... | / |
| Day 2 | Lanzhou/Xining | Tour Bingling Temple Caves . Then take a coach to Xining. Details... | B,L |
| Day 3 | Xining | Visit Qinghai Lake and Ta'er Lamasery. Details... | B,L |
| Day 4 | Xining/Zhongwei | Tour Dongguan Mosque. Take evening train to Zhongwei. Details... | B,L |
| Day 5 | Zhongwei/Yinchuan | Arrive Zhongwei, proceed to Shapotou Scenic Spots and visit Gaomiao Temple, 108 Pagodas. Take a coach to Yinchuan. Details... | B,L |
| Day 6 | Yinchuan | Tour Sand Lake natural scenic spot, Western Xia Mausoleum, Western Xia Film and Television City. Details... | B,L |
| Day 7 | Yinchuan/Erdos | Visit the Temple of Haibao Pagoda, Nanguan Mosque, and Ningxia Museum. Then take a coach to Erdos. Details... | B,L |
| Day 8 | Erdos/Baotou | Tour Genghis Khan Mausoleum, Resonant Sand Bay. Coach to Baotou. Details... | B,L |
| Day 9 | Baotou/Hohhot | Tour Wudangzhou and take a coach to Hohhot. Visit Five Pagoda Temple and Zhaojun Tomb. Details... | B,L |
| Day 10 | Hohhot | Free at leisure until your guide pick you up from your hotel and then transfer to airport for your flight departure. Details... | B |
1. Normally hotels allow a maximum of 3 adults per room with an extra bed, at extra charge. Some hotels will allow three adults and a small child.
2. Tour price is indicative only, please enquire for a detailed quotation.
3. More people more discounts. Please enquire for more details.
Price Inclusions and Exclusions
Price Include
A. Entrance fees:To scenic spots as listed above in the itinerary.
B. Meals: All meals as specified in the itinerary.
C. Private Transfers: Among airports, hotels and scenic spots while sightseeing in the above cities by the private air conditioned vehicle.
D. Guide and Driver: As outlined in the itinerary, a well selected English-speaking guide and driver will accompany you throughout the entire tour in that city. They do not fly with you from one city to another.
E. Hotels: Hotel Based on two persons sharing one room with twin beds. All hotels as listed in the above itinerary serve daily western or Chinese breakfast. All rooms are air-conditioned with private facilities unless specified.
F. Luggage Transfers: Between airports and hotels.
G. Service Charge & Government Taxes.
H. Travel insurance in mainland China during the above travel period.
I. Arrangements: The tour cost includes planning, handling, operational and communication charges.

Price Exclude
A. Entry or Exit China International Airfare or train tickets.
B. Visa Fees.
C. Excess Baggage Charges.
D. Personal Expenses: Expenses of a purely personal nature such as laundry, drinks, fax, telephone call, optional activities, sightseeing or meals which are not included in the itinerary.
E. Meals: Any meals which are not specified with "B", "L" or "D".
F. Single Room Supplement.
G. Insurance coverage of personal loss, illness or damages incurred during your trip.
H. Gratuities, Tips to Guides and Drivers.

Day 1 Lanzhou Arrival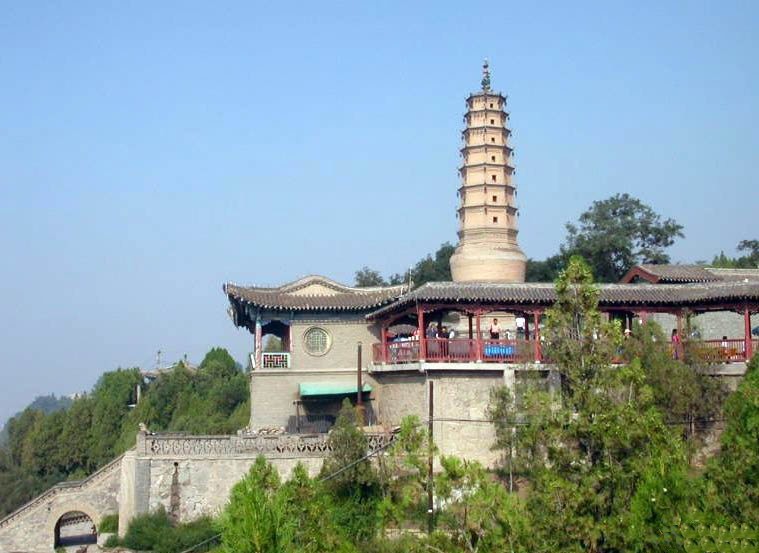 Transfer via: Flight on your own arrangement
Sightseeing: White Pagoda Hill, Gansu Provincial Museum

When you arrive in Lanzhou, your local English speaking guide will meet you and then transfer you to your hotel. After a rest, we will first visit White Pagoda Hill. Located on the north bank of the Yellow River with a white pagoda temple on its height, it is a large, quiet area for strolling. The pagoda is structured in 7 terraces with an octagonal body and 17-meter in height. Golden City Pass and Jade Folding Pass are at the foot of the Hill.

Then we will visit the Gansu Provincial Museum. It has an excellent selection of exhibits relating to Gansu and the Silk Road. 75,000 cultural relics including natural resources and historical exhibits are exhibited here.
Day 2 Lanzhou / Xining (B, L)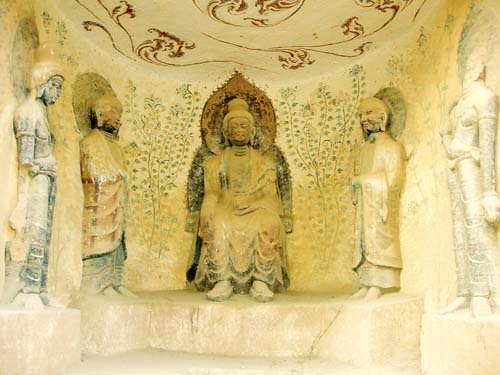 Transfer via: Coach on our arrangement
Sightseeing: Bingling Temple Caves

Today you will have an excursion to the Bingling Temple Caves. Located on the north bank of the Yellow River, Bingling Temple Caves is one of the six famous Buddhist caves started by some Buddhist monks from as early as the year of 265-316. After many years' work, there are 183 caves with 694 stone statues, 82 earth statues and 900 square meters murals existing.

Then take coach to Xining.
Day 3 Xining (B, L)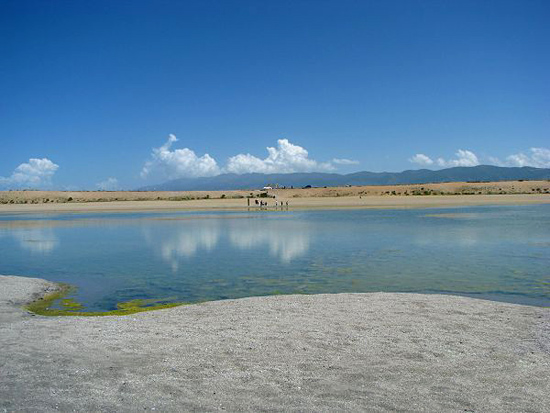 Sightseeing: Qinghai Lake, Ta'er Lamasery

Today you will visit to the Qinghai Lake and have a cruise on the lake. It is a saline lake situated in the province of Qinghai, and is the largest lake in China. It is located about 100 km west of the provincial capital of Xining at 3,205 meters (10,515 feet) above sea level in a depression of the Tibetan Plateau in the traditional Tibetan province of Amdo. Twenty-three rivers and streams empty into Qinghai Lake. Scenery in Qinghai Lake varies according to seasons. Summer and autumn are the most comfortable weather conditions and the lake's scenery is most beautiful during these seasons.

Then Visit the Ta'er Lamasery, It is one of the six great monasteries of the Yellow Hat sect of Tibetan Buddhism, built in 1557 on sacred land. Still quite active with 600 monks. It is the birthplace of Tsong Khapa, founder of the Yellow Hat (Gelupa sect), and is known for its sculptures of human figures, animals and landscapes carved out of Yak Butter.
Day 4 Xining / Zhongwei (B, L)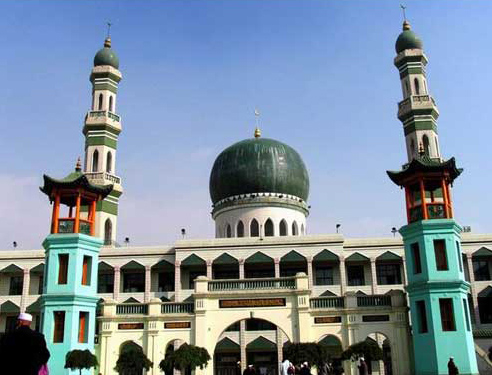 Transfer via: Train on our arrangement
Sightseeing: Dongguan Mosque

We will go to the Dongguan Mosque. It's the biggest mosque in Qinghai Province. It was built in 1380, and now boasts a history of more than 600 years. The mosque is not only famous for its magnificent architecture but also as a religious education center and as the highest learning institution of Islam.

Then you will be transferred to railway station to take evening train to Zhongwei.
Day 5 Zhongwei / Yinchuan (B, L)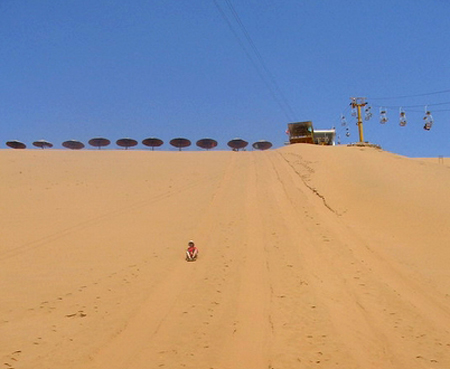 Transfer via: Coach on our arrangement
Sightseeing: Shapotou Scenic Spot, Gaomiao Temple, 108 Pagodas

Today we will first enjoy the Shapotou Scenic Spot. Located in Zhongwei County, this area is famous for the Yellow River running through the desert, the desert control project, and the singing sand, one of the four singing sands in China. Sung down, one can hear the magic sound of the sand. One can also draft along the Yellow River by sheepskin rafts, and adventure on the desert on camelback.

Visit Gaomiao Temple. Gaomiao, located in Zhongwei County and built in the Ming Dynasty, is a building complex with 260 to wers and pavilions on a 4,000-meter-tall terrace. Bridges link most of the towers and pavilions. It is a sacred place for Confucianism, Taoism, and Buddhism, and is one of the large ancient building complexes in Ningxia Hui Autonomous Region.

Then, we will go to see 108 Pagodas in Qingtongxia. The main attractions of the scenic Qingtongxia Reservoir on the western shore of the Yellow River are 108 Buddhist pagodas. They range in height from 3.5 to 2.5 metres, fashioned in three shapes (pyramid, gourd, and vase), and arranged on a rising mountain slope in rows of increasing odd numbers to form a colossal triangle. A major scenery by the Yellow River.

Then you will take coach to Yinchuan.
Day 6 Yinchuan (B, L)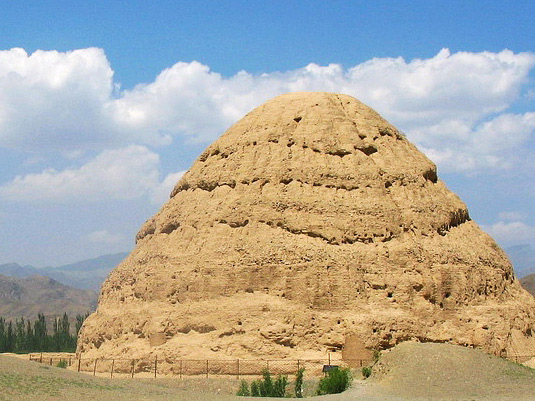 Sightseeing: Sand Lake, Western Xia Film and Television City, Western Xia Mausoleum

Morning transfer to the Sand Lake for relaxation, this lake covers more than 80 square kilometers and the area is composed of sands, water and hills.

Afterwards, you will visit the Oriental Pyramid - Western Xia Mausoleum. The Western Xia tombs are a well-known travel site. It is located at the eastern foot of Helan Mountain, close to Yinchuan City in Ningxia Hui Autonomous Region, measuring 10 kilometers north to south, 4 kilometers east to west; the Mausoleum contains the tombs of emperors of the Western Xia. There are eight tumulus and over 70 annex tombs in this area.

Visit the Western Xia Film and Television City, where 60 movies have been made since the 1980s. China West Film Studio, known as the Western Film and Television City, is located in the northwest of Yinchuan city. Since the 1980s more than eighty movies have been filmed in the China West Film Studio. China West Film Studio is the very best choice of location base to shoot Western China and Ancient China theme movies' outdoor scene...
Day 7 Yinchuan / Erdos (B, L)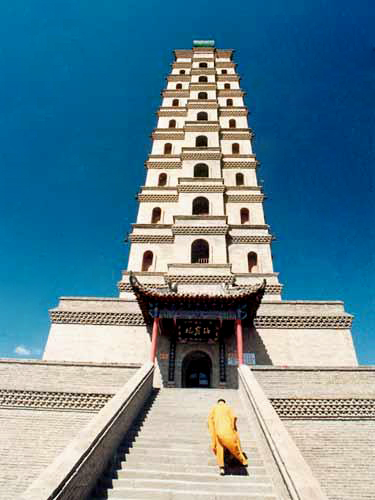 Transfer via: Coach on our arrangement
Sightseeing: the Temple of Haibao Pagoda, Nanguan Mosque, Ningxia Museum

Today we will first visit the Temple of Haibao Pagoda, a 53.9-metre-high 11-floor pavilion like brick structure with a history of 1,500 years, Haibao Pagoda is the city emblem of Yinchuan. A wooden stairway inside the pagoda conducts to the 9th floor for a look at the city's landscape.

Then we will see the Nanguan Mosque. The Nanguan Mosque is one of the largest mosques in the Ningxia Hui Autonomous Region in North China. It is located in Yinchuan City and has a high status among the Hui people. The Nanguan Mosque has a history of hundreds of years. The mosque covers an area of about 10,100 square meters, and the construction area is more than 2,000 square meters. The main hall is 26 meters high. The second floor of the main hall can accommodate 1,300 people. There are bathrooms, worship halls, women's worship halls, the imam's dorm, and reception rooms, etc., in the first floor. There is one large and four small domes on the top of the main hall. Two minarets of 30 meters high stand on both sides of the main hall, and a fountain with 15 meters in diameter in the center of the courtyard. The whole building complex has compact layout, magnificent decorations.

Finally, visit Ningxia Museum. Housed in Chengtian Temple in the old part of Yinchuan, Ningxia Museum has a collection of nearly 10,000 cultural artifacts. The 1,000 objects on display are of high historical and cultural value.

After the tours, you will take coach to Erdos. When you arrive at Erdos, be met and transferred to your hotel.
Day 8 Erdos / Baotou (B, L)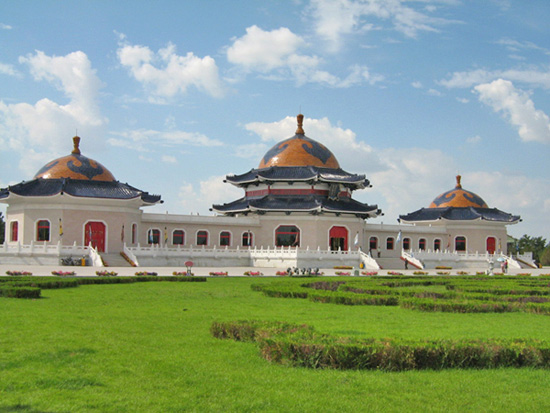 Transfer via: Coach on our arrangement
Sightseeing: Genghis Khan Mausoleum, Resonant Sand Bay

Leave for the Genghis Khan Mausoleum in the morning. After about 1 hour's drive, arrive and visit the mausoleum, the main structure of which is made up of three connecting palaces in Mongolian yurt style. In the main hall is a 5-meter-high statue of Genghis Khan; on the walls are frescos on different themes about this ancient emperor, including his birth, misfortunes, conquering west and east, unifying the Mongolian tribes. Then continue to visit the Genghis Khan Mausoleum Tourist Area, which is known as "the largest site of showing Mongolian custom in China". During lunch time, you can enjoy the large show "Eternal Genghis Khan" at your own expense if you like (RMB 120/per person).

Then we drive to visit the Resonant Sand Bay, 45km from Baotou emits a sound like the purring of a car or an aircraft engine whenever someone is sliding down the top of its 90-metre-high slope with a 45-degree gradient. Visitors may also go horseback or camelback riding or enjoy local folk singing and dancing.

Continue drive to Baotou.
Day 9 Baotou / Hohhot (B, L)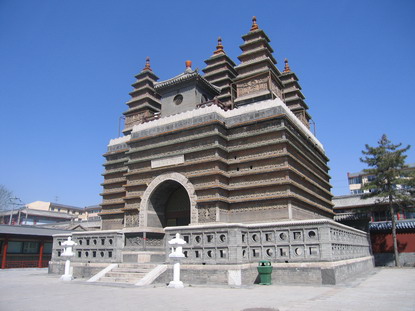 Transfer via: Coach on our arrangement
Sightseeing: WudangZhao, Five-Pagoda Temple. Zhaojun Tomb.

This morning, we will tour WudangZhao, Seventy kilometers from the city of Baotou. Wudangzhao is the largest and best preserved monastery in Inner Mongolia. It was built during the reign of Emperor Kangxi of the Qing Dynasty, after the model of Tashihunbu Monastery in Tibet. It is hemmed in by mountains and trees. In front of the monastery there is a clear, crystal stream. Covering 200,000 square meters, the monastery encompasses six halls, three apartments for living Buddhas, and 2,538 rooms.

Drive to Hohhot. When you arrive in Hohhot, you will be met and then head for Five Pagoda Temple. Five Pagoda Temple (Wuta Si), which is also called Jingangzuo Sheli Baota, is located in Hohhot City. As there are five small dagobas on the pedestal of the pagoda, it is named Wuta Si. Wuta was originally a building of the temple constructed during 1727-1732. Now the temple has disappeared, but the pagoda has remained.

Then tour the Zhaojun Tomb, which was also called Green Mausoleum in history (Note: Zhaojun, a beauty of Han Dynasty, is famous for her contribution to the solidarity between Mongolian people and Han people in ancient China).
Day 10 Hohhot Departure (B)
Transfer via: Flight on your own arrangement

Free at leisure until your guide pick you up from your hotel and then transfer to airport for your flight departure.
Custom Tailoring: Design your own tour with our help to meet your unique interests. You don't have to compromise. Do exactly what you want to do! Let us assist you to tailor-make your own China experience.
Top China City Tours
What Our Customers Say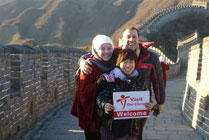 I hope this letter finds you well. We finally arrived home from our trip last Thursday the 17th. As promised I am writing to you about our experience in China and we thank you very much for your organizing. On the whole we had a wonderful time and were very well looked after...
Read more testimonials...
Popular City Tours