Bingling Temple Caves

More Photos

Chinese name: 炳灵寺石窟 (Bingling Si Shiku)
Location: in Xiaojishi Mountain, 35 km southwest to Yongjing County, Lanzhou City, Gansu Province.
Opening time: only opened from July to November every year.
Ticket: CNY50
How to get there: take yacht at Lianhua Wharf (莲花码头, Lotus Wharf) with around 1.5 hours and CNY150, and go through the Liujia Gorge.

Introduction to Bingling Temple Caves
A famous Buddhist caves, Bingling Temple Caves is one of the Four Most Famous Caves in China and just second to Mogao Grottoes of Dunhuang. Bingling, is the transliterating of the Tibetan "thousands of Buddhas". Originally built in 420 in Western Qin Dynasty (385-400), the Bingling Temple Caves was continuously dug in later dynasties, and some painted decorations even done in Yuan Dynasty (1271-1368) and Ming Dynasty (1368-1644). Today, there are existing 183 caves, 694 stone statues, 82 clay statues and about 900 square meters frescos, stretching 200 meters along west bank of Temple Channel on a 60-meter-high cliff. With the giant Buddha of No.169 Cave being the main part, the 183 caves are scattered in upper temple, lower temple, temple channel as well as the Buddha terrace.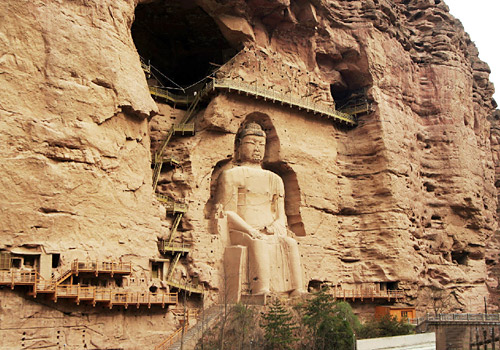 Distinct from the Mogao Grottoes of Dunhuang which is famous for murals, the Bingling Temple Caves gets its fame from skilled stone carvings. Being listed in key heritage sites under state protection, Bingling Temple Caves is characteristic with countless stone statues and relievo pagodas which is rare seen in other temple caves; in addition, it is equally rare that in Bingling Temple Caves, extra caves are dug in the upward side of a cave and enshrine another reclining Buddha; what is more, there are numerous Esoteric Buddhism murals are found which reflects the thriving of Tibetan Buddhism during Yuan Dynasty. According to the famous Chinese historian Fan Wenlan, the Bingling Temple Caves is imbued with vital historical and artistic values on a par with Mogao Grottoes and Maiji Caves of Tianshui.
Main caves in Bingling Temple Caves
No.169 Cave

No.169 Cave is a natural cave which is the largest and earliest one with richest contents. It is the essence of Bingling Temple Caves. Seated above the giant Buddha made in Tang Dynasty (618-907), No.169 is 50 m away from the ground with a height of 15 m, a width of 26.75 m and a depth of 19 m. Among the 24 niches in the cave, No.6 and No.7 are the most representatives. No.6 Niche is in the north wall which has one Buddha and two Bodhisattvas enshrined, above of which are ten painted Buddhas in two rows. Below the No.7 Niche which also located in the north are three exquisite groups of murals that were created in Western Qin Dynasty.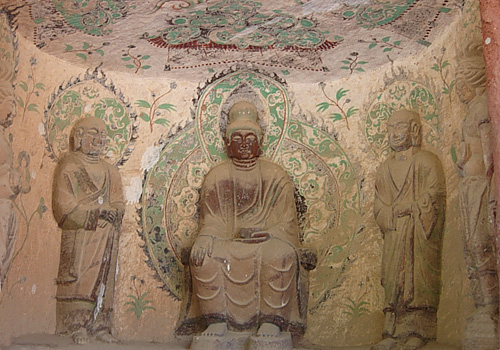 No.126 Cave
It was dug in Northern Wei Dynasty (368-534) with a height of 3 m and a depth of 2.9 m. It is the cave with most statues with a quantity of 112, and from the top to the bottom of its all walls are covered basso-relievos. On the main wall of the cave are enshrined two sitting Buddhas and two Bodhisattvas. The Buddhas are 2.04 m high. And all statues in this cave are carved with high skills in typical Chinese Buddhist style with elegant appearance. An inscription given in 513 can be found in the cave.
No.6 Cave
Originally dug in Northern Zhou Dynasty (557-581), it is the representative of the period with a height of 2 m and a depth of 1.9 m. On both south wall and north wall are a standing Bodhisattva which holds Buddhist bottle and beads. On the walls are also painted treasured tree and thousand-Buddha, as well as a story portray of Monkey King who sacrifices himself for his monkeys during a escape. It is extremely precious and seldom seen in caves that with an intact fresco.
No.3 Cave
Originally built in Tang Dynasty, No.3 cave was painted in Ming Dynasty with a height of 3.5 m and a depth of 3.1 m. The significance of this cave is a square pagoda with slope crests dug in the central of the cave. The pagoda is 2.23 m high and has a base width of 1.4 m. There are oillets on four sides of the pagoda and an arc-shaped path in the front; the body is a timber structure with statues possibly enshrined in the past. From the proportion and shape, it can be concluded that the pagoda is an imitation of the one in the temple hall. The pagoda is a style of Tang Dynasty and is beneficial for the researches of architecture and Buddhist caves of the time. Furthermore, its unique top, which equipped with a common vasculiform shape that ingeniously absorbed from Indian pagodas, is also distinctive from other Chinese caves.
Quick Questions
Our team is waiting for your questions. Please feel free to ask us any questions you might have about our China package tours, Chinese culture, or the sites available. We will gladly help you with any special needs you might have and all questions, like our trip designing is completely free of charge.