White Pagoda Hill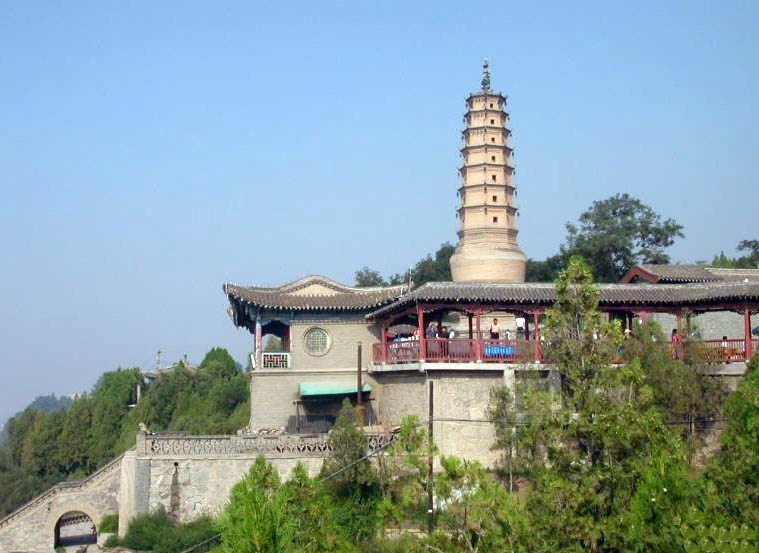 More Photos

Chinese name: 白塔山 (Bai Ta Shan)
Location: Central Beibinhe Road, north of Lanzhou City, Gansu Province.
Ticket: CNY6
Opening time: 06:00-18:00
Recommended time for a visit: 1-2 hours.
Best time for visit: in spring, summer and autumn.
How to get to White Pagoda Hill:
- take buses No.20, 35, 53, 108, or 131, and get off at the station of Bai Ta Shan Gong Yuan (白塔山公园, White Pagoda Hill Park);
- take buses No.9, 11, 15, 26, 34, or 136, and then get off at the station of Huang He Tie Qiao (黄河铁桥, Iron Bridge of Yellow River) to appreciate the beauties of the Yellow River when walking along the bank to get to the White pagoda Hill;
- take buses No.1, 4, 6, 75, 106, 107, 113, or 137, and then get off at Xi Guan Shi Zi (西关什字), the most bustling business quarter of Lanzhou, and then walk north for 15 minutes to get to White Pagoda Hill.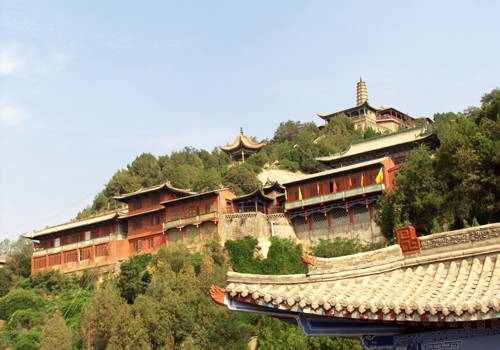 Introduction to White Pagoda Hill of Lanzhou
Seated on the northern bank of Yellow River, the White Pagoda Hill is named after a white pagoda on its hilltop. The towering White Pagoda Hill is 1700 m high above the sea level, and has two passes at its foot, the Jincheng Pass and Yudie Pass, both of which are key ancient military fortresses; while the White Pagoda is about 17 m high with 7 storeys and 8 faces, which has a round base, a green top, carved Buddhas on each face and iron bells on eaves. With painted white lime liquid on the surface, hence its name of the pagoda. Opened as a park in 1958, the White Pagoda Hill Park covers more than 8000 square meters with three layers of architectures, most of which are built with overhanging eaves and red columns and connected by pavilions and winding corridors. Furthermore, the White Pagoda Hill originally boasted for Three Treasures, an elephant hide drum, a bronze bell and a Chinese redbud tree, though the tree dries up today.
After verdurization for years, the twisted paths, secluded spots and thick woods in White Pagoda Hill offer a perfect resort especially in summers to avoid summer heat. On the top of the hill, full view of Lanzhou City and the vigorous and magnificent spectacle of the winding Yellow River and the iron bridge over it can be well appreciated. In addition, the characteristic Yellow River Fancy Stone Exhibition and the unique acceptation tent in the style of the Yugur (Yellow Uighur) ethnic group are both peculiar appeals of the park.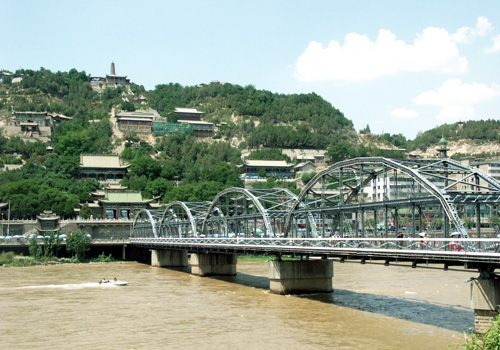 A brief history around the White Pagoda
According to legend, in late Song Dynasty (970-1279) and early Yuan Dynasty (1271-1368), the White Pagoda Hill and its surroundings were occupied by Western Xia Regime (1038-1227). Genghis Khan (1162-1227), the founder of the Mongol Empire which was the former of the Yuan Dynasty, once wrote to Sakyapa in Tibet for a peaceful meeting to accomplish the unification of China; later, the Sakyapa appointed an eminent Lama to pay a formal visit to Mongolia, who was unfortunately died of illness when he arrived in Lanzhou. To memorize the Lama, Yuan Dynasty had the White Pagoda and a temple built after the downfall of the Western Xia Regime and the inclusion of Lanzhou in its territory in 1226. It is to be regretted that the pagoda was destroyed in late Yuan Dynasty, and the existing White Pagoda was rebuilt during the rein of Emperor Jingtai (1450-1456) of Ming Dynasty (1368-1644). And in 1715 in Qing Dynasty (1644-1911), the temple was expanded and named as Ci'en Temple.
Quick Questions
Our team is waiting for your questions. Please feel free to ask us any questions you might have about our China package tours, Chinese culture, or the sites available. We will gladly help you with any special needs you might have and all questions, like our trip designing is completely free of charge.