Nanguan Mosque

More Photos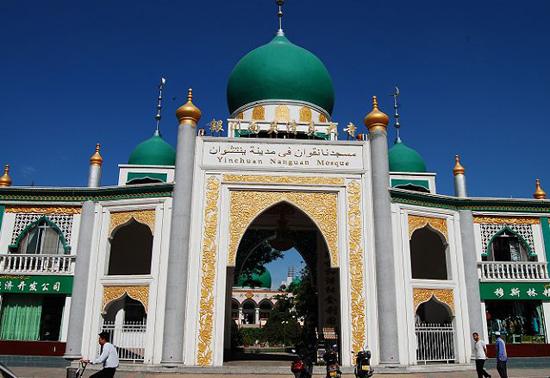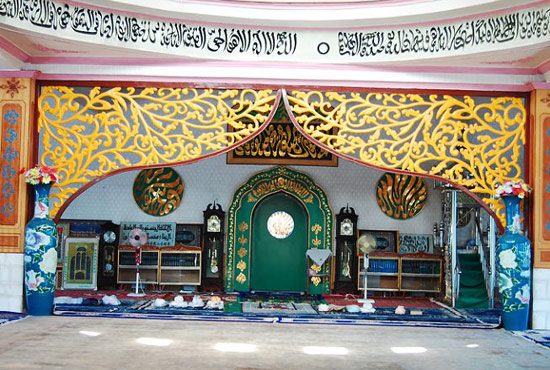 The Yinchuan Nanguan Mosque is an Arabic style Mosque located in the heart of a thriving metropolis, and is the home of the Islamic Cultural Center in Yinchuan, as well as the main location of prayer.
This Mosque itself is ancient in construction. Built during the final days of the Ming Dynasty, it was originally a much smaller construction; it wasn't until 1916 that the temple was internally redesigned to make it much large. The Mosque was then rebuilt in 1981 to create the structure that exists today; a two-story mosque that sits on almost an acre of land.
The Nanguan Mosque serves more than one function; the upper level was designed as the main prayer hall with balcony and the lower level contains a bath-house, small prayer halls, a female prayer hall, an Arabic study hall, living quarters, a conference room, etc. At peak times the temple can hold up to 1,300 people. Built in the style of a classical middle-eastern Islamic Mosque with 19 large palace lanterns decorating inside the main hall, the Nanguan Mosque is commonly accepted as the landmark of Ningxia Hui Autonomous Region.
The temple is stylishly outfitted with fountains adoring all the gardens, the walls are covered in marble and as well as several ancient artworks and frescos, many imported or inspired by works from the Middle-East. The temple was designed on a massive scale with everything exuding a sense of grandeur and enormity, there is also amazing attention to detail with intricacy of classical Arabic design being upheld throughout the temple, for tourists visiting this Mosque it is as if you have left China and enter the Arabic World.
Quick Questions
Our team is waiting for you questions. Please feel free to ask us any questions you might have about our China package tours, Chinese culture, or the sites available. We will gladly help you with any special needs you might have and all questions, like our trip designing is completely free of charge.