Zhaojun Tomb

More Photos

Chinese name: 昭君墓 (Zhaojun Mu).
Location: on the bank of the Dahei River, 9 km south of Hohhot City, Inner Mongolia Autonomous Region (aka. Neimenggu Province).
Opening time: 08:00-18:00.
Ticket: CNY65.
How to get there:
- take bus No.1 from the Hohhot Railway Station and get off at Nanchafang(南茶坊) or Xiaoheihe(小黑河), and then transfer No.10 or 44 to get there directly.
- take the regular buses or by taxi from Hohhot.
Best time for visit: April-October.
Travel tips: Travelers can also visit life of the herdsmen in the suburb of Hohhot and stay overnight in a yurt.
Brief Introduction to Zhaojun Tomb
According to historical documents and folklore, Zhaojun Tomb is the tomb of Wang Zhaojun, who was originally an imperial maid of the Western Han Dynasty (206BC-8AD) and then was sent to marry Huhanye, leader of the Xiongnu who lived in the Inner Mongolia area, to establish friendly relations between the two ethnic groups. Shaped like an inverted cloak, the tomb is a large man-made earthen tomb, covering an area of 13,000 sq meters. In summer, the tomb is covered with wild flowers and grass and the grass is still green and vigorous in winter, hence Zhaojun Tomb is also called Green Mound. Seen from far away, Zhaojun Tomb stands erectly in the holy place which looks like a beautiful picture.
With a history of nearly 2000 years, the tomb is one of the largest Han tombs in China and has been renovated for several times since the foundation of People's Republic of China in 1949. In 1964, Zhaojun Tomb was listed as one of the key culture relic units of Inner Mongolia Autonomous Region. Nowadays, Zhaojun Tomb is one of the eight most famous and popular tourist attractions in Hohhot.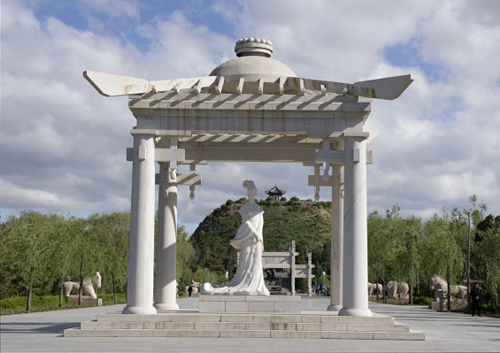 About Wang Zhaojun
In 33 BC, Huhanye ChanYu, leader of the Xiongnu (a nomadic ethnic group living in North China), came to the Han imperial court and asked for a peace-making marriage to maintain the friendly relationship between Han and Xiongnu. For the peace between the two, Wang Zhaojun volunteered to marry Hu Hanxie. Because of this marriage the peace between the Han and the Xiongnu maintained for over 60 years. This historical story is passed down from generation to generation and is widely known as "Zhaojun Chusai (昭君出塞, literally Zhaojun left for the north)" in China.
After Wang Zhaojun went to Xiongnu, the advanced culture and techniques of Han Dynasty were introduced to the local and promoted the development of the region. During her life in Xiongnu, she lived in yurt, wore blankets and furs, and drank milk, showing her respect for local customs. After her death, her children continued her work of maintaining the amicable relationship between Han and Xiongnu. And the story of "Zhaojun's life beyond the Great Wall" has become a household tale and a popular subject in Chinese poetry, drama and novels. Due to her beauty and contribution to the peace, Wang Zhaojun was regarded as one of the four beauties in ancient China.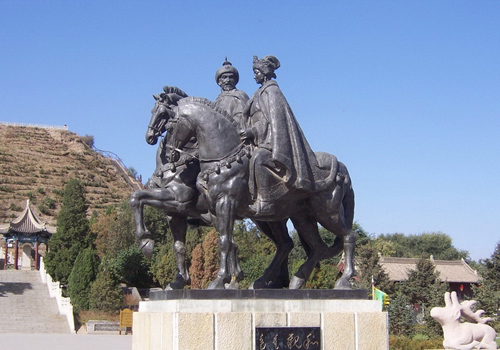 More about Zhaojun Tomb
The arrangement of Zhaojun Tomb is similar to that of the imperial tombs of the Han Dynasty. Stepping into the scenic spot, the vast bronze statues of the Huhanye and Wang Zhaojun on two horses come in sight first. The statues are 3.95 meters (13 feet) high above the ground and weigh 5 tons, symbolizing not only their love, but also the friendly relations between the Weatern Han Dynasty and Xiongnu.
In the front of the tomb is a courtyard, where there are two Culture Relics Exhibition Halls. The white-marble statue of Wang Zhaojun is enshrined in one pavilion. With long hair and bright eyes, the statue looks graceful and charming. In recent years, Zhaojun Tomb has been equipped with many facilities such as Reception Room, Exhibition Room and Painting and Calligraphy Room.
Walking northward, visitors will see a vast stele, on which a poem praising Wang Zhaojun's contribution to the peace is carved in both Han and Mongolian languages. There are steps leading to the tomb and visitors can climb up to the top of the tomb on foot. On the top of the tomb there is a pavilion, which offers tourists a perfect sight of the surroundings including the Mt. Yinshan.
To some degree, Zhaojun Tomb is considered a symbol of the national unity of China. Just as the modern historian Jian Bozan said: "Wang Zhaojun is not just a woman, she is a symbol of peace; Zhaojun Tomb is not just a tomb, and it is a historical monument between Chinese nationalities." The unique cultural landscape and nice tourist environment of Zhaojun Tomb have made it a well-known tourist attraction. After reconstruction and renovation, Zhaojun Tomb has become a patriotic education base.
Quick Questions
Our team is waiting for your questions. Please feel free to ask us any questions you might have about our China package tours, Chinese culture, or the sites available. We will gladly help you with any special needs you might have and all questions, like our trip designing is completely free of charge.