Ta'er Monastery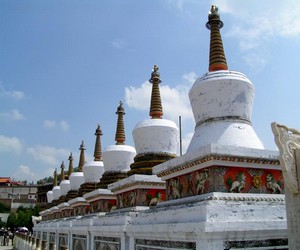 More Photos

Chinese name: 塔尔寺 (Ta'er Si).
Location: on the Lotus Mountain which lies in the south of Lushaer Town, Huangzhong County, about 25 km away from Xining City, Qinghai Province.
Opening time: 08:00-17:00.
Ticket: CNY80.
How to get there:
- Take bus No.1 from the Xining Railway Station to Ximen Bus Station.
- Regular buses to Ta'er Monastery are available at Ximen Bus Station (about an hour's drive), and tourists also can take a bus at the Huangzhong Bus Station for the return journey.
Best time for visit: May-September (also the best time for visiting Xining City).
Travel tips: No Photos inside Ta'er Monastery.
Brief Introduction to Ta'er Monastery
Ta'er Monastery is one of the six greatest monasteries of Gelug Sect (or Yellow Hat Sect, a branch of Tibetan Buddhism). The monastery is also one of the most popular scenic spots in Qinghai Province and has been listed as a state-level protected cultural relic. The monastery was built in 1577, in memory of Tsong Khapa (1357-1419), founder of Gelug Sect. Being the religious activity center of this sect, Ta'er Monastery is also considered as a sacred monastery in China.
Ta'er Monastery is a very large architectural complex, which includes Buddha halls, scripture repositories, pagodas, lama residences, as well as several religionary colleges. The whole Ta'er Monastery covers more than 144,000 square meters (about 36 acres) with 9,300 rooms and 52 halls. Dajinwa Hall, Xiaojinwa Hall, Dajing Hall, Mile Hall, Shijia Hall, Yigu Hall, Wenshupusa Hall, Darangla Palace, Puti Tower, Guomen Tower and Shilun Tower are the famouse structures in Ta'er Monastery. Some of these are built in a Tibetan architectural style and some are built in a Han architectural style.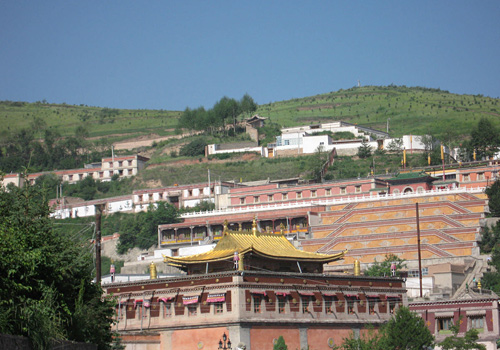 Dajinwa Hall and Dajing Hall
Among so many buildings of Ta'er Monastery, Dajinwa Hall and Dajing Hall are the main ones. Dajinwa Hall locates in the middle of the monastery. The gates of Dajinwa Hall, with different sizes and lengths, are carved with various flower patterns and painted with multifarious vivid colors. The surface of the walls are covered with green ceramic tiles and embedded with countless pearls, agates, and gem, which make the whole hall look sparkling and glittering. Inside the hall, there is a silver tower which is built to commemorate Tsong Khapa. This tower is also embedded with many kinds of jewels and wrapped with ten layers of pure white Hada (a kind of traditional ceremonial scarf used to express welcome and respect in Tibetan area). In front of the tower golden and silver lights and old flasks are displayed and more than 5,000 small golden figures of Buddhas surround them, which enhance the stateliness of the Tsong Khapa's statue in the shrine. Behind the hall, the treasures of the Gelug Sect are stored in an ark, which are considered as the most precious relics of the Ta'er Monastery.
Dajing Hall is the authoritative institution of the monastery as well as the biggest structure lying in front of Dajinwa Hall. Pillars in the hall are also carved with beautiful patterns and swathed with colorful Tibet felts which are decorated with embroidery and dragen-and-phoenix drawings. The lively and unique pictures, telling the story of Buddhism and religious life, are hanging on the walls and there is a pure-gold tower standing in the hall which contains the ashes of Tsong Khapa.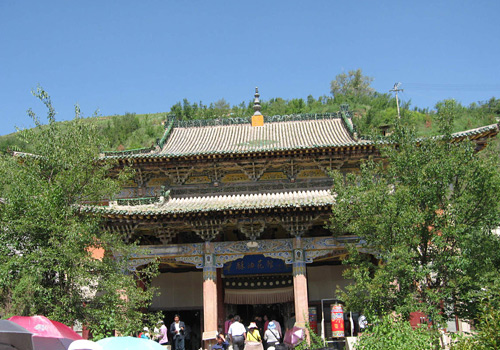 The Three Unique Artwork of Ta'er Monastery
Murals: Mural paintings are painted directly on walls, beams and fabrics. A kind of stony mineral dye is used in painting to keep pictures fresh for hundreds of years. There are countless murals in Ta'er Monastery. A large number of colorful and vivid mural paintings are displayed in Dajingwa Hall, Dajing Hall and Xiaojingwa Hall. The pictures of the image of flying Bodhisattva clad in transparent fine gauze are the masterwork among the temple murals.
Butter Sculptures: Several months before the Spring Festival, artists begin to make all kinds of butter sculptures with mountains, rivers, flowers, plants, elephants, white cranes, old folks, Buddha immortals, halls, towers, pavilions, terraces, stories of religious life, and so on. Butter sculptures are made of pure white butter and stony mineral fuels of various colors. Traditionally, such handiwork is exhibited on the night of the 15th day of the 1st lunar month only and then will be burned the next day. Now there is an exhibition center in Ta'er Monastery where visitors can appreciate all kinds of brightly-coloured butter sculptures.
Applique: Appliques fully demonstrating the artistic style and culture of Tibet are made of colorful silk-fabric cuttings which are in the shape of Buddha, man, flower, plant, bird, wild animal, insect and fish. The cuttings are stuffed with wool, cotton or other woolly materials to achieve three-dimensional effect and finally these cuttings are sewn on a large silk fabric. So, the appliques look vivid and lively.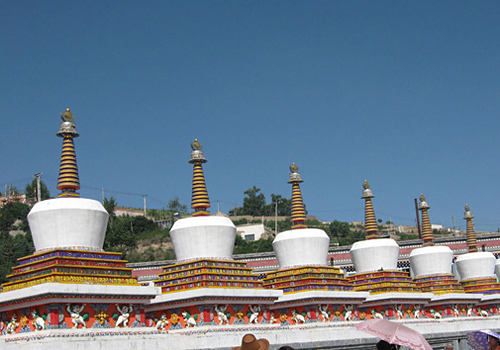 Ceremonies and Festivals
Several religious ceremonies are held in the monastery throughout the year and attract many pilgrims and visitors. On April 15 and June 6, a large embroidered picture of the Buddha is unveiled on Lotus Mountain. On June 8, a colorful sedan, mounted by a golden statue of Maitreya Buddha, is paraded around the building. On September 22, all halls are opened to reveal the numerous treasures of Ta'er Monastery. In Ta'er Monastery, a religious dance known as the Changmo (Sorcerer's Dance) is often performed. The Butter Lamp Festival is held on October 25 and a prayer festival is held during the Lunar New Year.
Quick Questions
Our team is waiting for your questions. Please feel free to ask us any questions you might have about our China package tours, Chinese culture, or the sites available. We will gladly help you with any special needs you might have and all questions, like our trip designing is completely free of charge.