China's Top 10 Food Streets Make Your China Tours Tasty
2014-10-17China Food
1. Zhongshan Road, Nanning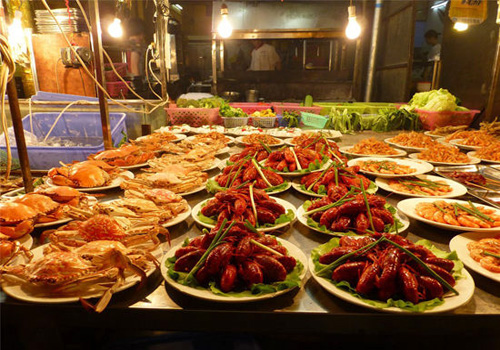 A famous street not more than 100 meters long but with over 200 cookshops and stalls, Zhongshan Road of Nanning is a genuine food paradise where you can find almost all China flavors that you may expected, from local snacks taro cake, rice starch rolls, dumplings made of rice powder, barbecue, vivipara, seafood, pickled vegetables and fruits, herbal tea, dessert and kinds of rice noodles to famous dishes nationwide, Wuhan's flavored duck necks, Hong Kong's Chinese Pudding, Beijing' fried chestnuts, Yunnan's steam chicken….
2. Hubu Lane, Wuhan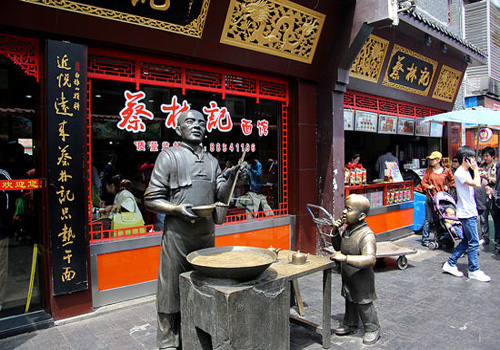 The No.1 Lane of Han flavor snacks Hubu Lane is a well-endowed golden inch of land circled by famous street, attraction and rover in the city; it depends on prosperous Liberation Road, faces Yangtze River and next to the famous Yellow Crane Tower. Here on the street you can find any delicious snacks of Han people.
3. Confucius Temple Street, Nanjing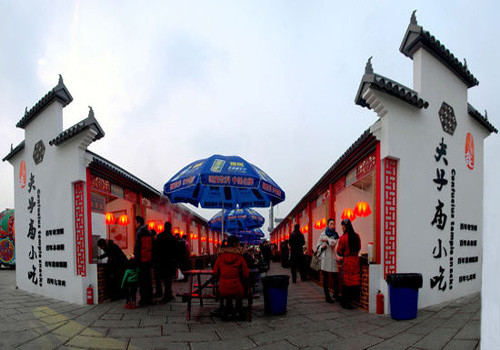 Nanjing is time-honored in the history, well known as a scenic area and a metropolis of past dynasties, while Nanjing snacks is more time-honored with more than 80 famous varieties, including meat and vegetables of the five flavors (sweet, sour, bitter, pungent and salty), and diversified shapes. The most unique are Qinhuai Eight Musts (referring to eight dim sum).
4. Pichaiyuan of Zhongshan road, Qingdao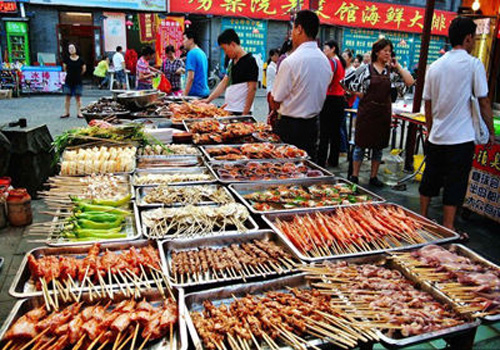 Pichaiyuan or Jiangning Lane is a food street lives up to its reputation. The street is occupied by various seafood stalls selling the delicacies freshly cooked. What is more, other delicious Qingdao food are also found and make your mouth watering, kinds of tasty dessert, fragrant barbecues…
5. Muslim Snack Street, Xi'an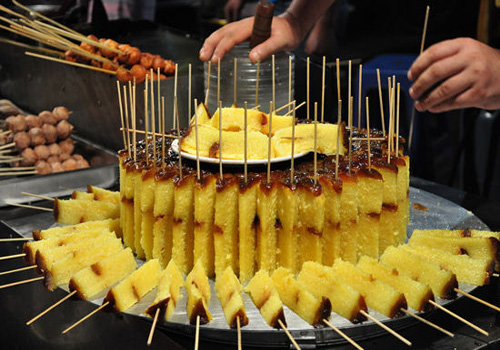 Muslim Street is a characteristic attraction in Xi'an tours, it is a favorite haunt for locals and a must-see spot for tourists.. Located in the city center, Muslim Street has been enjoyed a big reputation since over 1000 years ago; various mouthwatering halal foods and typical Xi'an snacks are sold here.
6. Pedestrian Street, Xiamen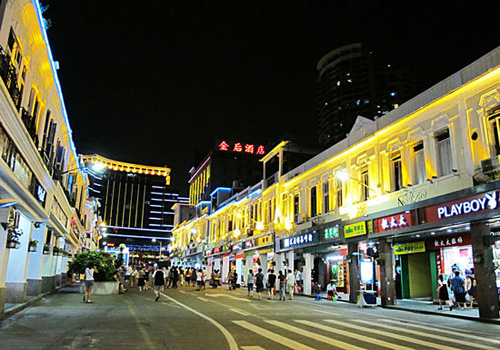 The Pedestrian Street of Xiamen is located on the most prosperous Zhongshan Road and shows various kinds of Taiwan commodities. It is a street well known among domestic tourists. People are attracted here for dazzling beautiful petty commodities and more important, on the street they can catch nearly all Taiwan specialties.
7. Jinli Street, Chengdu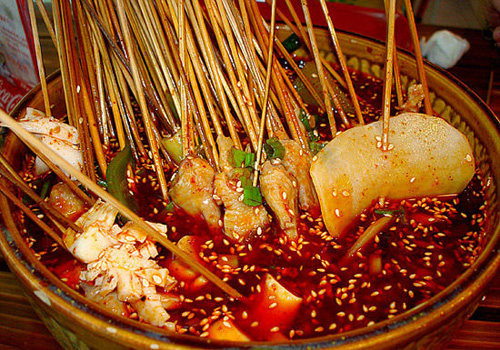 Jinli Street is a busy ancient street, showing almost all of the Chengdu elements to people, Chinese-style tea houses, inns, taprooms, opera stage, artworks, local dishes and snacks. Famous food found here are bean paste cake, Three Cannons (sticky rice rolls), Chinese crisp bead with beef, sweet soup noodles, fermented glutinous rice, cold noodles with sesame sauce, pot-stewed meat…
8. Square Street, Lijiang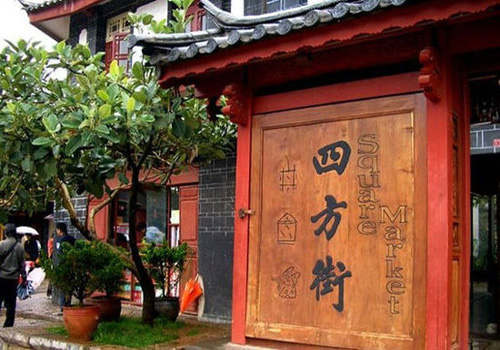 The Square Street is the center of Lijiang Ancient Town and a must-stop for all visitors to Lijiang. The street is also a famous snack street. Dozens of chophouses are standing on both sides of the narrow road, and each sells the famous Yunan rice noodles, though in kinds of styles; therefore, the street is also known as Lijiang Rice Noodles Street.
9. Town God's Temple, Shanghai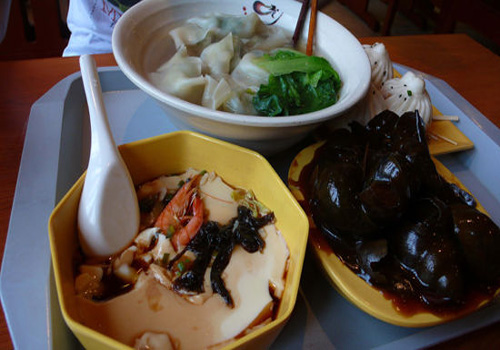 The area of Town God's Temple in Shanghai is bustling and popular among both locals and tourists, and the food street there is hailed as a snack kingdom, specialty of Lvbolang Restaurant, vegetarian buns of Songyue Building, eight-treasure rice pudding of Songyun Building, Nanxiang's small steamed buns, Ningbo style dumplings and glutinous rice dumpling in sweet rice wine… all are exquisite delicacies can not be missed in Shanghai.
10. Gui Street (or Ghost Street), Beijing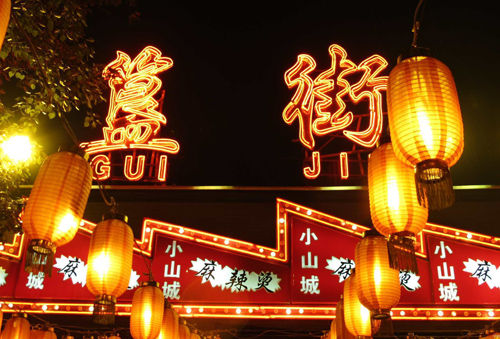 Guijie Street, the most famous food street in capital Beijing, is a complex emotion for Beijing people to taste pungent and spicy snacks at night. Hot and spicy crayfish and spicy fresh crab meat are characteristic dishes on Gui Street. However, on this less than 1.5 kilometers long street, nearly 200 restaurants operating various styles food, and you have the chance to taste authentic Chinese Eight Famous Cuisines here.
---By April (Visit Our China)
Comment