Jinli Street

More Photos

Chengdu, capital of Sichuan Province, is a city of passion and spark; but in contrast, Jinli Street, which is adjacent to the Wuhou Memorial Temple (the most famous relic museum of Three Kingdoms from 220 A.D. to 280 A.D. in China) and officially opened to the public on 1st December, 2004, is a busy ancient street in Chengdu. As one of the most flourishing commercial streets, this street had had earned great reputation around the whole country during the period of Qin, West Han and Three Kingdoms. Extending for around 350 meters and paved with flagstones, it shows almost all of the Chengdu elements to people, where is permeated with traditional Chinese-style tea houses, inns, taprooms, opera stage, artworks, local dishes and snacks. Thus, for those who have never been to Chengdu or who want to take a good taste of the traditional culture, Jinli Street is undoubtedly a right destination.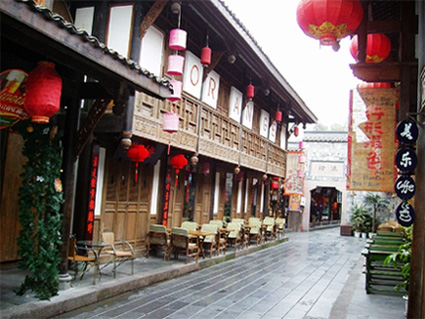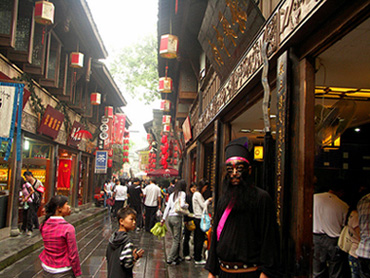 Promenading along the narrow street, you will find yourself surrounded by old-world stores selling Shu Embroidery, lacquer products, folk handicrafts, curios, or calligraphies and paintings of celebrities. All of these stores have their unique style but also have one thing in common: no matter how busy the street is, the stores are peaceful and relaxing. You can browse leisurely or purchase some souvenirs for your friends. Most of the special local products can be found. Despite the traditional atmosphere in Jinli Street, you can also sense something fashionable. There are many cafes and barrooms here, including Starbucks. They blend modern elements into the old town harmoniously. It's enjoyable to sit on a wooden bench with a cup of delicious coffee.
Chinese opera is worldwide famous, however, most people probably consider Beijing Opera as Chinese opera. As a matter of fact, Beijing Opera is just an important part of Chinese opera, which also involves Chuan Opera (Sichuan Opera), Xiang Opera (Hunan Opera), Yue Opera (Shaoxing Opera), Huangmei Opera, and so on. Since that Chuan Opera is among the Chinese treasured operas, it is recommended to watch it personally rather than just read some pictures in books or hear of it from others. Chuan Opera consist of folk music, actors and actresses dressed in costume apparel, singing, dancing, and sometimes some Kungfu performances as well as other Chinese operas do. Nevertheless, it is highly well known for its marvelous characteristic skill that people call "Bian Lian" in Chinese (Face Changing). The Face Changing is a challenge for the performers due to the difficult feat, that is, they have to change the facial make-ups quickly and continuously by screening their faces with they hands within one second! In a word, you will be greatly wowed if had a chance to watch it.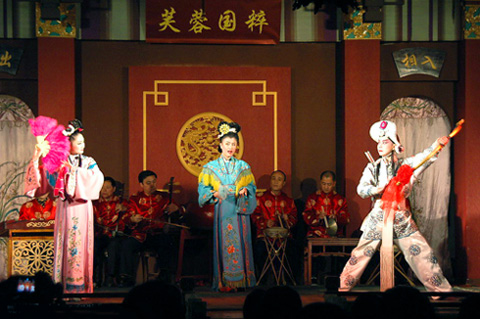 In addition to Chuan Opera, there are also Shadow Puppetry Show and Hand Puppet Show performed by folk artisans on the street. Moreover, some traditional arts such as paper-cut and clay figurines made by the skilled craftsmen could be seen there. They are so delicate and life-like that you might not be able to resist buying some. Despite of the traditional atmosphere, people can also sense something fashionable on Jinli Street --- many cafes and barrooms, including Starbucks, can found there. They blend modern elements into the old town harmoniously and it's very enjoyable to sit on a wooden bench with a cup of delicious coffee.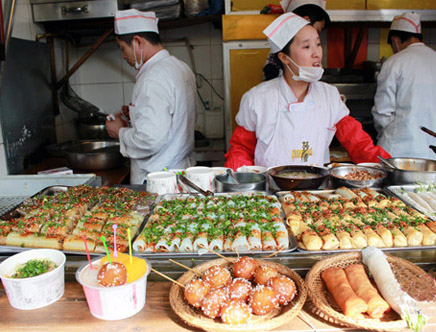 No matter wherever people travel to, they are usually lost in the flavorful local food. It is so on Jinli Street. When you reach the end of the street, you'll be tempted by the aroma of delicious local snacks. The Chengdu locals are born epicures and they are particularly fond of dining. There, restaurants as well as sidewalk booths offering local snacks will make your mouth water. San Da Pao, a distinctive snack of Sichuan Province, is made from sticky rice, brown sugar, sesame, and beans. And the sweet dried persimmon there is also considered a unique reflection of Chengdu food culture. Some other local delicacies like rice glueballs, wontons, boiled dumplings, and the famous "Dishes of Three Kingdoms" are also recommended.
Quick Questions
Our team is waiting for your questions. Please feel free to ask us any questions you might have about our China package tours, Chinese culture, or the sites available. We will gladly help you with any special needs you might have and all questions, like our trip designing is completely free of charge.