Qingdao Cuisine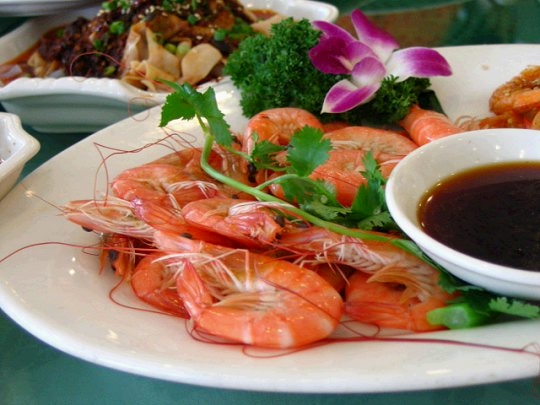 Located on the beaches of abundant Yellow Sea, the major food materials of Qingdao Cuisine are marine products. The best time to eat sea food is in spring and summer as the seafood tastes more tender and refreshing. A city world known for its Qingdao Beer, Qingdao is also a city producing kinds of drinks and beverage. For most locals and domestic visitors, it is indeed a great satisfaction to have a big meal in one of those popular food streets with delicate snacks and a glass of beer.
Drinks
Qingdao Beer, Laoshan Beer, Laoshan Coke, Laoshan Spring Water, Jimo Yellow Wine, Qingdao Grape, Langyatai Wine, Laoshan Green Tea and Haiqing Green Tea.
Top 10 Qingdao dishes
Minced Meat & Trepang, Boiled Fresh Abalone, Sauteed Conch Slices, Prawns and Chinese Cabbage, Stewed Chicken with Laoshan Mushroom, Stewed Yellow Croaker with Tofu, Vinegar-pepper Fish Ball Soup, Deep-fried Oysters, Crisp Fried Chicken, and Family Style Flounder.
Top 10 Qingdao snacks
Steamed buns stuffed with beer soup (in XinXing Restaurant), steamed dumplings with meat and vegetable stuffing (in Chunhelou restaurant), steamed shrimp dumpling (in Sifang Hotel), Yuanxiao (in Tianfu Restaurant), boiled dumpling with seafood stuffing (in Great Wall Hotel), noodles with pork ribs soup (in Guxiangcun Noodle Shop), steamed buns (in Qingdao Hotel), fried dumpling (in Guotie Shop in Central Siliu Road), wonton stuffed with seafood (in Wonton King Restaurant) and earthen pot rice with pork ribs (in Wanhechun Restaurant).
3 restaurants of time-honored brands
Chunhelou Restaurant (春和楼) in Zhongshan Road, Jufulou Restaurant (聚福楼) in Taidong and Sanshenlou Restaurant (三盛楼) in Cangkou, of which the first one was opened in 1897 specializing in Shandong Cuisine; it is the national research center of Shandong Cuisine and its many dishes has been included in China Cookbook.
Popular food streets in Qingdao
Picaiyuan Street (劈柴院) with many a time-honored restaurants and traditional Chinese folk art performances, Dengzhou Road (登州路啤酒文化街) for fresh beers from adjacent brewery, Yunxiao Road (云霄路) for various famous dishes and snacks of Shandong Province, Dagu Road (大沽路) and Maidao Road (麦岛海鲜美食街) for delicious seafood.