Wuhan travel guide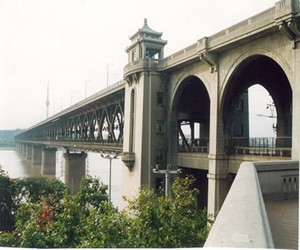 Wuhan, the provincial capital of Hubei Province, is the largest metropolis in central China. It was once lauded as the Chicago of the East. Divided by the worlds third longest river Yangtze River and its largest tributary Han River, Wuhan is made up of Wuchang District, Hankou District and Hanyang District. Hankou is the most bustling business quarter of Wuhan as well as the trading center of central China; Wuchang is the center of higher education institutions and the representative of cultural Wuhan; Hanyang is prime developing district.Wuhan occupies an area of 8,494 square kilometers with some 10.02 million residents. Dotted with almost 170 lakes, the city of Wuhan is also known as Riverside City. Located in the heart of China and crisscrossed by Yangtze River and Beijing-Guangzhou Raiway, Wuhan boasts an important industrial base and the transport hub of China. The Wuhan Yangtze River Bridge is the first bridge on Yangtze River. Wuhan is also a place where visitors will encounter with history and culture at each and every glimpse. It is the location where the classical allusion of High Mountains and Running Water (the story about Yu Boya found his bosom friend ... More information about Wuhan »
Top Attractions in Wuhan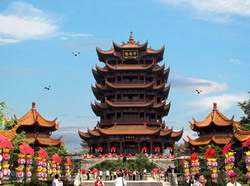 Yellow Crane Tower
Chinese name: 黄鹤楼 (Huanghe Lou). Location: on the top of the Snake Hill, near the southeastern end of the First Yangtze Bridge in Wuchang, Wuhan City, Hubei Province. Opening time: 07:00-18:30 (April 1st - October 31st), 07:30-17:30 (November 1st - March 31st). Entrance fee: CNY 80 (50% discount for students). How to get there: - by bus No.10, 61, 64, 108, 401, 402, 411, 413, 503, 507, 519...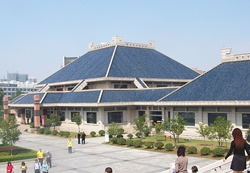 Hubei Provincial Museum
Chinese name: 湖北省博物馆 (Hubei Sheng Bowuguan). Location: No. 156, East Lake Road, Wuchang District, Wuhan city, Hubei province. Opening time: 09:00-17:00 (No admission after 15:30); The museum is closed on Mondays except on the public holidays. Entrance fee: -Free (500 people are allowed to enter for every half an hour and 5000 tickets are offered per day); -Chime BellsPerformance: CNY15 (for...