Town's God Temple

More Photos

Chinese name: 城隍庙 (Cheng Huang Miao)
Opening time: 09:00- 17:00
Ticket: CNY10
Best time to travel: all year long
A brief introduction of Town's God Temple
Town's God Temple, or Temple of the Town Gods of Shanghai is a main Taoism Temple in the city that enjoys a high reputation both at home and abroad by its long history and magnificent architecture. The Chinese name of the temple Chenghuang in Taoist means the guardian of the city. Originally built during Yongle Period (1403-1424) of Ming Dynasty (1638-1644), the foundation of the temple extended constantly over time, and in its heyday during Daoguang Period (1821- 1850) of Qing Dynasty (1638- 1911), the total area reached 8.2 acres. Today's Town's God Temple serves for Zhengyi sect of Taoism, occupying an area over 2000 square meters and including nine halls namely Grand Hall (Huoguang Hall), Yuanchen Hall (Jiazi Hall), the God of Wealth Hall, Zihang hall, Chenghuang Hall, Niangniang Hall (Goddess Hall), Fumu Hall (Parents Hall), Guansheng Hall and Wenchang Hall.
The Grand Hall was damaged by fire in 1924, and rebuilt in 1926 to be an armored concrete structure in the style of the ancients. It is a high-rise residence building with a height of 48 feet and a depth of 63.4 feet. In the front entrance, there are 3 gates and 4 gateposts. The Eight Immortals of the Taoism legends are engraved in the decorated archway. Inside the temple, there are large-scale colored rafters, green tiles, red eaves and painting houses.
Features of Town's God Temple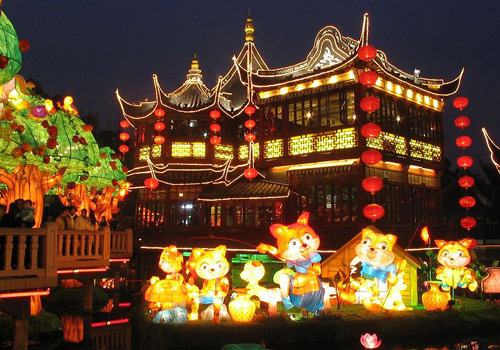 Just as the popular saying goes, "one in Shanghai must visit the Town's God of Temple to get to know Shanghai well" as except the vigorous joss sticks, the temple and the busy streets around as well as the adjacent beautiful Yuyuan Garden are simple the life reflections of local people as well as the traditional folk culture of Shanghai. There are kinds of cultural and recreational activities in this alive area such as various exhibitions of flowers, calligraphies, paintings, bizarre stones, excellent folk performances of cock fighting, acrobatic performance and handwriting performance, and featured recreations also occur during traditional Chinese festivals such as the ascending during the Double-nine festival, lantern show during the Lantern Festival, tea ceremonies and the like. Also, it is definitely a good stop for renowned snacks and delicacies of local Shanghai as well as a souvenir shopping site for boutiques, specialties and jewelry.
Location: No.249 Fangbang Zhong Road, adjacent to Yuyuan Garden, Huangpu District, Shanghai.
How to get to Town's God Temple:
- take buses No.930, 932 and get off at the stop of Cheng Huang Miao; or take buses No. 11, 26, 64, 66, 126, 715, 920, 926, 929, 930, 969, etc and get off at the stop of Yu Yuan (豫园, Yuyuan Garden);
- take subway No.10 and get off at the stop of Yu Yuan, and then walk about 600 meters to get to the spot of Town's God Temple.
Quick Questions
Our team is waiting for your questions. Please feel free to ask us any questions you might have about our China package tours, Chinese culture, or the sites available. We will gladly help you with any special needs you might have and all questions, like our trip designing is completely free of charge.