VOC's Travel BLOG
Our Travel Blog is the place to share our real life, travel experiences in China with you. Besides, we will provide information related to Chinese culture and China travel guide. "A bosom friend afar brings a distant land near." Traveling makes us to be closer, let's discover China together!
Bike tour to eastern part of Beijing, explore the intangible heritages of Old Peking
2014-09-26 | China travel Guide | Comments(0) Views(1181)
For a convenient exploration of the culture and traditions in the eastern part of Beijing, a district filled with old things and intangible heritages, the most favorable transportation means to get around is bicycle, a popular way among foreign travelers now in Beijing.
The first stop: Drum Tower, overlook the city's central axis and explore the secrets of ancient timing way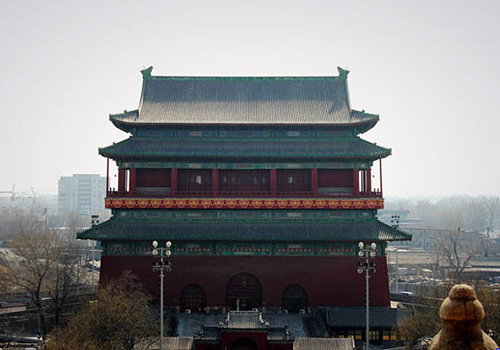 The Drum Tower of Beijing
The Drum Tower in the past has 25 drums, a main drum stands for a year, and 24 small ones stand for 24 solar terms. Now only the remains of the main drum can be seen which was last used in late Qing Dynasty (1644-1911). The new 25 performance drums in the tower at present are imitations of the ancient in the same size. Standing on the Drum Tower, you can see the most beautiful city central axis in the world, that of Beijing.
If catch early, you may come across the special drum performance, an imitated rite of sounding the night watches in Ming and Qing dynasties. In ancient times, the drum tower's main function was reporting the time by beating drums, and the time was reported every two hours in day time, only two times at night, first at 19:00, and the second at 05:00.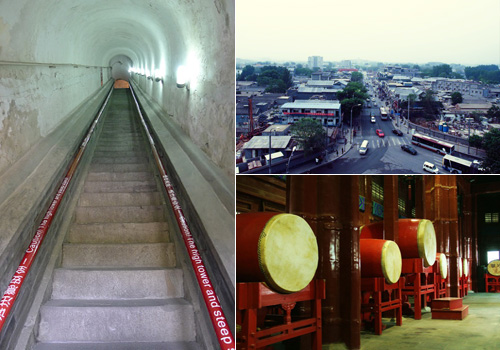 The inside views of Bejing Drum Tower, and an overlook of central axis
On the second floor of Drum Tower, you can find an exhibition of ancient timers, including stele clocks and copper clocks.
Tips:
- Seven drum performances are showed everyday every other hour, specific time please see the announcement in the attraction.
- The stairs inside Drum Tower is very steep, so comfortable shoes are recommended.
The second stop: Guozijian Street, the combination of ancient culture with the modern
Big red gate, stone seats, lollipop, children's innocent eyes… what can be better than these to portray the beauties of Beijing hutongs? Hutong, Mongolian language meaning alley, is a featured ancient lane, was strictly planed and scattered all over in Beijing like men on a chessboard. Among over 7000 Beijing hutongs, the famous ones, such as Yandaixie, Nanluogu, Legation, Guozijian…almost all are located in eastern part of Beijing.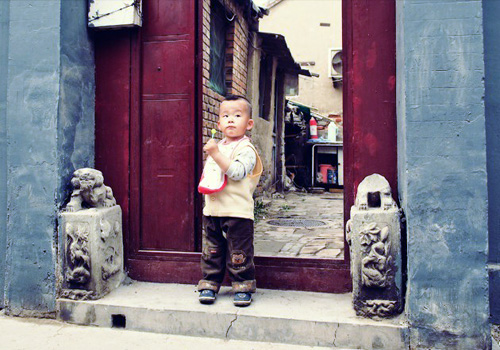 A view in Bejing hutong
Guizijian Street, took shape in Yuan Dynasty (1279-1368) and named after Guizijian (Imperial Collage), the highest institution in Yuan, Ming and Qing dynasties, now is a must-visit attraction in east Beijing. Guozijian and Confucius Temple (where ancient emperors worshipped the Confucius) were originally built in 1306, standing symmetrically on two sides of the central axis and constituting a complete magnificent ancient architecture complex. The most famous heritage in Confucius Temple must be the 198 steles inscribed by ancient scholars succeeded in the highest imperial exams.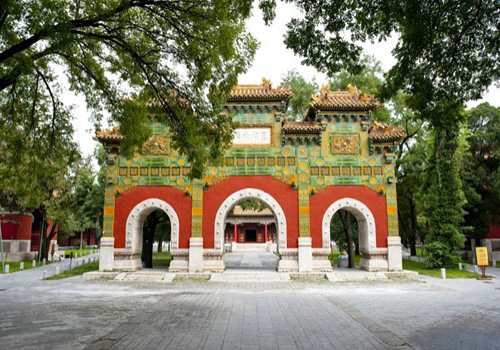 The architecture in Guozijian
Tips: There is a spectacular rites and music performance in Guozijian and Confucius Temple every afternoon at 14:00.
The third stop: Crafts Museum & Enamel Factory, magical fire painted cucurbit and complicated cloisonné making
Bike along with the old city district southward, comes to the Crafts Museum, the station of many an intangible cultural heritage master. Here, fire painting cucurbit is one of the unique folk crafts. With only a duriously-shaped cucurbit and an ordinary soldering iron, the master can create a distinct artwork, a combination of folk technique with fashion.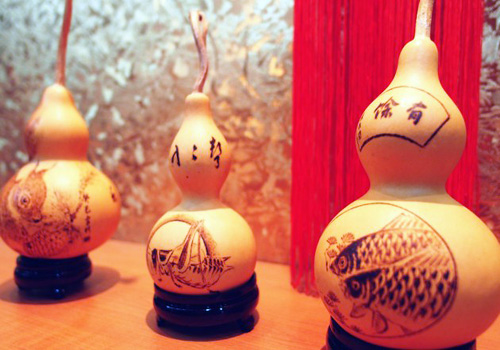 Fire painted cucurbit
Cloisonné is a traditional artware of Beijing, and Beijing Enamel Factory is the only time-honored brand. In the factory, you can watch the overall process, including more than 10 complicated working procedures, drawing, batting, wire inlaying, blue dotting & burning, polishing, gold plating…Whether an invaluable large bottle or a small hanging will not finished only when it has underwent all processes. It often takes nearly one year to complete a cloisonné art piece, so, after you seeing the whole process, you will really realize the art value of a piece of cloisonné. It is no doubt an article of luxury in China.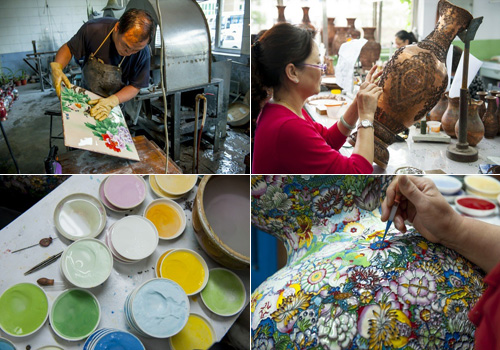 Cloisonné making processes
Tips:
- The museum opens free from 09:00 to 17:00.
- Enamel Factory locates in No.10 Yongwai Anlelin Road, Chongwen District.
- The factory allows visitors to visit technology exhibition on the first floor, but the workshops on the second and third floors are prohibited to enter in.
--- By April (Visit Our China)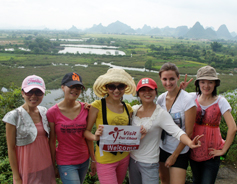 Calendar
Categories