Nanjing Cuisine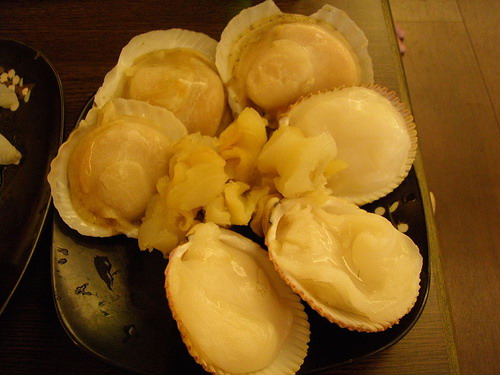 Nanjing Cuisine is known as Jingsu Cuisine (京苏大菜); it is famous because of strictly sorting of material, elaborate cooking, ingenious and exquisite shaping and beautiful colors. The dishes devote particular care to original flavors of the material, the taste of fresh, scented, crisp and tender.
Duck dishes of Nanjing has long enjoyed a good reputation nation-wide, and the crucian from Longchi (Dragon Pool) is also well known far and near for its small head, big body, and delicate fresh. In addition, Nanjing snacks enjoy widespread fame, such as fried wonton in chicken oil (鸡汤油炸云吞), little red cake with fillings, Changsheng porridge (长生粥), sticky rice and red bean porridge, and so on.
Nanjing Boiled Salted Duck (南京盐水鸭)
The unique making method of Nanjing Salted Duck has been recorded as early as in Southern Dynasty 1400 years ago. The variety of duck dishes are very rich, there are roast duck, dried salted duck, boiled salted duck, stewed duck with bean sauce, crispy dried duck, and so forth.
Shizi Bridge (Lion Bridge, 狮子桥) Food Street
The Dashiba Street nearby Confucius Temple, and the Lion Bridge in Hunan Road are the most famous food streets in Nanjing with numerous featured snacks, such as, Silk Noodles with Duck Blood Soup (老鸭粉丝汤), Pork Meat Patties (狮子头), Chicken Dumpling (鸡汁汤包), Boiled Fish with Pickled Cabbage and Chili, etc.
Eight Uniques of Qinhuai (秦淮八绝)
To be precise, there are 16 famous desserts in 8 restaurants:
- Tea Flavored Boiled Eggs and Spiced Beans from Kuiguange (魁光阁);
- Sesame Seed Cake with Crab Spawn and Dried Shrimp Meat from Yongheyuan (永和园);
- Fried Flour Cake in Duck oil and Shredded Meat and Vegetables Soaked in Sesame Oil from Qifanfge (奇芳阁);
- Scallion Cake and Jellied Bean Curd from Liufengju (六凤居);
- Buns Stuffed with Olla-podrida and Noodles with Shredded Chicken from Qifangge (奇芳阁);
- Fried Dumpling Stuffed with Beef and Slice Beef Soup from Jiangyouji (蒋有记);
- Dumplings with Thin Skin and Noodles with Quick-fried Fish from Zhanyuan Noodle Shop (瞻园面馆);
- Little Cake in Five Colors and Sweet Roll Dumpling Stuffed with Sweet-scented Osmanthus from Lianhu Cake&Cookie Shop (莲湖糕团店).