Two Days Warm Xi'an Winter Tour, Talk to the Flourishing Tang Dynasty
2014-11-07China travel Guide
Winter is coming but we are not ready… So what? To get warm and relax, Xi'an has hot springs. China's first hot spring was discovered in Shaanxi Province, and the province has many hot springs to offer. Only in peri-urban areas of Xi'an, we can choose Lintong, Xianyang, Lantian, Meixian…Spend a weekend, with several friends, we decided to take a two-day historical Xi'an tour, which is arranged with the last stop in hot spring. What else can be better than this?
Day 1: Big Wild Goose Pagoda – Tang Paradise – Muslim Street
Big Wild Goose Pagoda – its charm combined ancient with modern
It is said that a visit to Xi'an is not incomplete without a look at Big Wild Goose Pagoda. Being a symbol of Xi'an, the pagoda was built in 652 Tang Dynasty (A.D.618-907), still standing solidly today. The pagoda is located in Daci'en Temple, and a masterpiece of Tang Dynasty's Buddhism architecture art. The eminent monk Xuanzang, also the archetypal character in the exciting novel Pilgrimage to the West, once translated the Buddhist Scriptures here. The pagoda is a seven-storey square cone, equipped with wooden stairways inside for ascending to the top, where people can acquire a superb overlook of the entire ancient city Xi'an.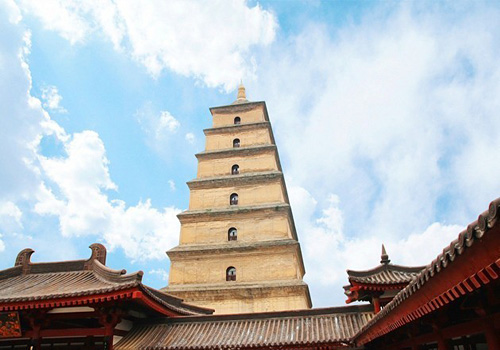 At the foot of Big Wild Goose Pagoda is a large Tang-Dynasty-culture-themed square, a cultural tourism attraction and an assembly place for local people. In the north of the square is a music fountain, known as the largest in Asia, offering performances at 12:00 and 21:00 at weekdays (except Tuesday noon), and 12:00, 14:00, 16:00, 18:00 and 21:00 at weekends.
Tips: extra CNY30 for ascending the pagoda.
Tang Paradise – an experience for the fleeting prosperous Tang Dynasty
Walk about 500 meters from the south square of Big Wild Goose Pagoda, we come to the Tang paradise. Constructed on the ruin site of former Tang Paradise, an imperial garden, the new garden is a large scale royal-garden-culture-themed park, showing the flourishing culture of Tang Dynasty with a series of ancient performances, advanced fire and water landscape performance, the longest Tang culture corridor in domestic and a magnificent show Dream Back Tang Dynasty.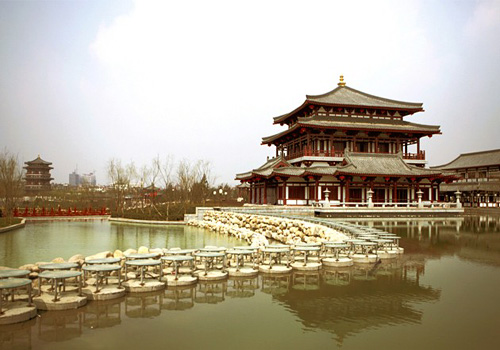 Tips:
- The park plays water screen film every night from 20:30 to 20:50.
- Most shows in the park are free, but Dream Back Tang Dynasty show extra charges CNY150.
Muslim Street – experience the national customs in the foodie paradise
After half day and more strolling, we feeled some tired. It' time for food. Of course, we started to Muslim Street, the famous snack street in local. Here, architecture is distinct in the style, various snacks from soup to nuts, everything can be found. Due to its location in the busy downtown area as a Hui people habitation, locals and travelers are coming and going in an endless stream. In fact, Muslim Street is also a must-visit stop in Xi'an, it was famous for a long history of more than 1000 years.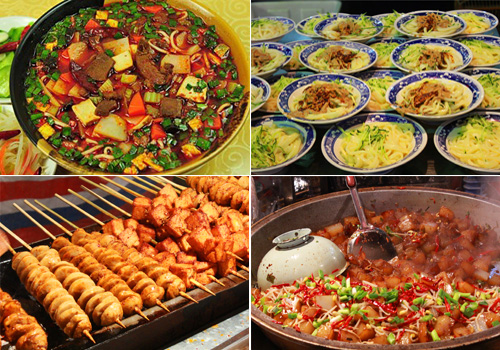 When we filled up our stomachs with kinds of delicacies on the street, it was late of the day, we went back to the hotel.
Day 2 Terracotta Warriors and Horses – Huaqing Aegean Hot Spring
Terracotta Warriors and Horses – uncanny workmanship at the foot of Mount Li
The second day after breakfast, we got on No.5 bus to Terracotta Warriors, which is at the foot of Li Mountain, east of Lintong, 30 kilometers from downtown Xi'an. The French former President Chirac visit terracotta Warriors and Horses in 1978, he was the first foreign politician to visit the attraction and hailed it as the eighth wonder of the world, and saying that a traveler who has not visited the Terracotta Warriors and Horses can not say he has been to China. Terracotta Warriors is a category of China's ancient tomb sculpture, it includes sacrificial objects troops and horses for Emperor Qin Shihuang (259-210B.C.). Standing in front of such a large incredible miracle, we could not find any suitable words to describe it. Just go to visit it.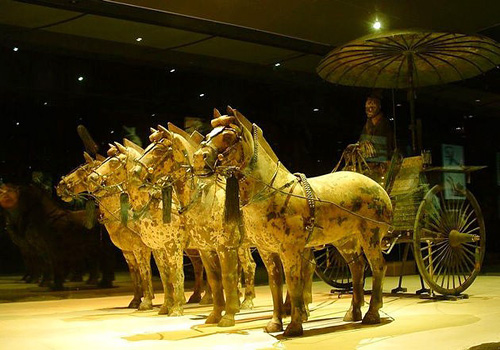 Huaqing Aegean Hot Springs – both well-being and enjoyment
After a memorable see in the museum, we got out and took No.5 bus again but for Huaqing Aegean International Hot Springs to take a warm bath. Aegean Hot Springs is not far away from both Huaqing Pool and Terracotta Warriors. It is said that hot springs are the gifts from nature. Aegean hot springs are in the outdoor with clean air and pretty scenery. The café nearby the pools offers free orange juice, pulm syrup and refreshments, So sweet!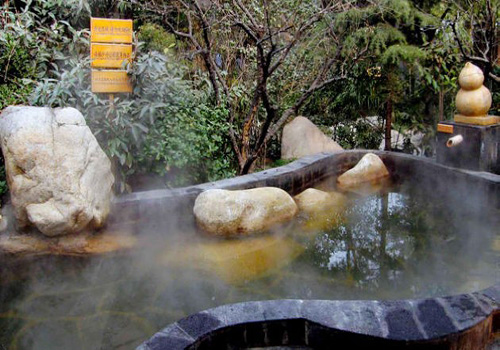 It must be our wise decision to arrange a warm bath in hot spring to end the trip. A warm and healthy bath in such cold weather really got rid off all tiredness of the two-day sightseeing. With great satisfaction, we took our return journey and the exciting weekend tour ended, but I looked forward to the next!

--- By April (Visit Our China)

Comment