Budget Travel to Yunnan and Tibet of China This Summer
2010-06-24China travel Guide
Entering June, it's possible to imagine a deep blue sky and plateaus covered in tall grass blowing in the wind, this is one of the most special and most untouched parts of China. One wishes that they could awake amongst the grand and looming mountains amidst a field of lush grass next to a river. Let's go to the beautiful western China!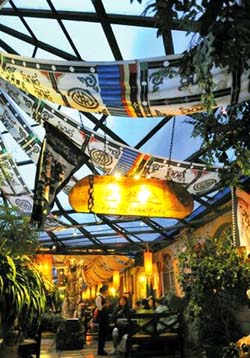 Western China has primitive sceneries and colorful life. The picture shows a Tibetan bar of
Shangri-La
Previously the western plain was one of China's poorest regions. However, after years of development and reform, this area has flourished and has given birth to the now thriving industry of eco-tourism.
At present, western China boasts wild and boundless vistas and panoramas of unparalleled natural beauty as well as a rich tapestry of cultural heritage and unique culture, making it an attractive destination for tourists who want to venture off the beaten-track. Travel to western China is also currently extremely affordable; but a word of warning: the increased exposure of western China to foreign tourists is not only pushing up the cost of travel but also altering the natural experience. This article will introduce some of the must-see locations around the vast land which is west China in the hope that you can travel there in the future.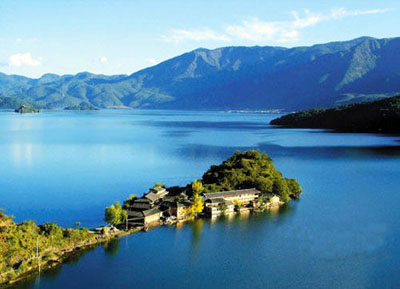 Yunnan – The land above the clouds
1. Classic travel route
Since ancient times Yunnan (clouds in the south) has been called the land above the clouds to describe the mystical Yunling Plateaus. Firstly, scenery aside, Yu Nan is home to 26 different ethnic minorities each with their own different language, culture, education, festivals, religion, dress and marriage customs. Among the most renown of these minorities include the Naxi people, Dali's Bai people, and the Yi people in Beima. Yu Nan also has annually celebrates the unique Water-Sprinkling Festival, the flare festival and the cutter bar festival.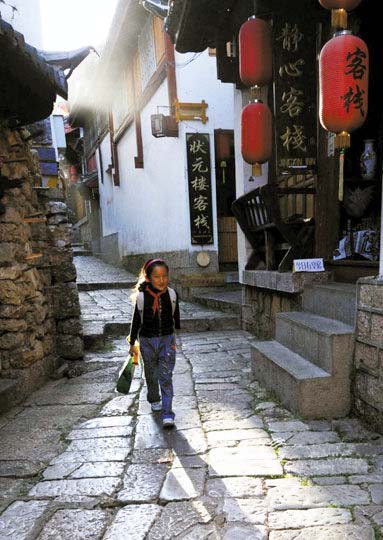 The classic travel route typically take by tourists includes Li Jiang, Da Li, Lugu Lake, Shangri-La and Xishuangbanna. Many tourists take this tour more than once, there's simply too much to see. Spring is the best time to travel in Dali, Lijiang and Xishuangbanna are suitable all year round and Shangri-La and Lugu Lake are best to visit during late spring or early summer.

2. Exploration Tours


1) Nu River


People say that
Lijiang
invokes the romantic and consumerist side of people, the Nu River does neither, it is a perfectly unspoiled haven of serenity. Located in the Northwestern Corner of Nujiang, Lisu Ethnic Minority Prefecture represents an amazing cross-road both geographically and culturally,
Yun Nan
to the North and
Tibet
to the West and the main channel to and from Burma. With the world heritage listed "
three parallel rivers
", this is really one of China's premier eco-tourist scenic spots and a key stop on the
Shangri-La
ecological tour route.
The Nu River originates the Tanggula Mountain range flowing right through Yunnan including the Mt. Fu Gong and Mt. Lu Shui and the finally meeting the Indian Ocean, one of the more amazing features of this river is a 300km canyon that runs through parts of Yunnan. This fertile yet rugged river valley has created a unique cultural melting-pot of different ethnic minorities, including the Bai people and Tibetan people, the rich mix of cultures and minorities seems as varied and colorful and the landscape that surrounds them.

Hot locations: Bing Zhong Luo Basin
While the Nujiang River gushes from the peaks of the Tibetan plateau to the Indian Ocean the Bingzhongluo River meanders and winds its way like a length of Chinese silk.
In the Bingzhongluo area, there live several ethnic minorities, including that of the Nu people, the DuLong people, the Lisu people and the Tibetan People. The river links these regions and seems to bring together a mix of different religions as well as a plethora of different unique animals and plants. The traditional architecture of these minorities is also something to be appreciated. This is really a region of amazing diversity which seemingly plays host to both man and spirit, who coexist together.
Horse caravan is a unique form of transportation in Yunnan; the Bingzhongluo River has traditionally been a pathway that leads these horse caravans from deep inside Yunnan to the lofty windswept plateaus of Tibet.
Hot locations: Nu River Canyon
Between the Nu River, the Lan Cang River and the Du Long River, the Nu River Canyon is the most breathtaking scenic location. Nu River Canyon is the longest, most mystical and most magnificent canyon in the world. The Nu River Canyon in ancient times was channel used by the emperor to travel through Yunnan to the Bingzhongluo River, with a length of 600 kilometers and 3,000meters at its deepest point this canyon is truly spectacular. Trips along the Nu River are so visceral because of the clean, glassy water, the sweet smell of flowers and the thick virgin forests which cover both banks, in the winter the forests are dusted in pure white snow. As a poet once quoted: "ten miles of every changing climate, a mountain of ten thousand different things".
The backpackers can get to the Gong Mountain by bus first and then hike to the Bingzhongluo district along the Nujiang River.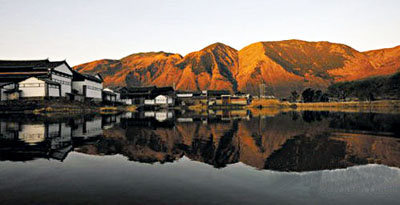 Unknown plateau with rivers and lakes-Eryuan West Lake
2) Eryuan West Lake
On the journey from Dali to Lijiang, you will pass through the Eryuan reservoir, 60 kilometers from Dali. The Eryuan West Lake boasts a magical pond and a vast plateau of rivers and lakes, a truly remarkable panorama of breathtaking views, its views are unparalleled but this area remains hidden for most tourists.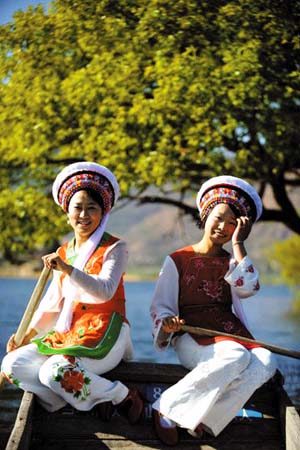 As a fresh lake on plateau, the Eryuan West Lake is comprised of West Lake, Jiangwei, Luoping Mountain and Snail River. In these parts the water is always inky blue with Chinese water reeds gently being tugged at by lapping waves on the lakeside. Most amazing there are minority communities who live on islands in the middle of these lakes, it's as you've wandered into a painting. There is not only the unique architecture of the Bai people to marvel at but also their unique and rich culture heritage to enjoy.
The Eryuan Wetland also in Yunnan represents the second biggest wetland in China and has a diversity of fish and birdlife, the temperate climate helps these species survive there all year round.
3. Current Season Information
Shangri-La Indian azalea
June is the season when the Shangri-La Indian azalea comes into bloom; there are over one-hundred varieties of this flow across the rugged terrain of Yunnan. These fragrant and colorful flowers bloom in such numbers that they block of the sky with an explosion of vibrant color. Purace Park is a great destination for tourists in Shangri-La because it has a myriad of different bird and animal species (i.e. squirrel); it truly is a haven of natural beauty!
1. Classic Travel Route
Traveling to Tibet always takes courage and the loss of inhibition. Sitting on the South-West border of China Tibet is a mix of natural beauty and mystical cultural uniqueness. It doesn't matter which one of Tibet's world famous landmarks you visit, whether it be Mount. Everest, Yaluzangbu Canyon, some sacred lake, the Potala Palace or the Virgin Forest all are unique to Tibet. As Tibet has been isolated from China for such a long time it still possesses highly unique culture and heritage.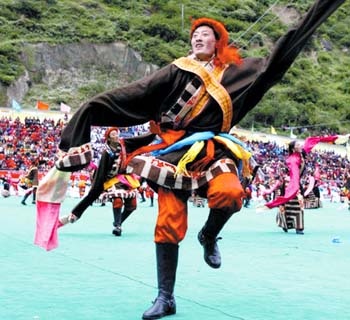 Tibetan man dancing happily on the Tibetan Kangba Art Festival

2. Exploration Tours


1) Northern Tibet Plateau


The best time to visit the Northern Tibet Plateau is in summer.
The Northern Tibet Plateau is often referred to within China as the QiangTang Prairie. Here weathered herdsmen making living by herding yaks and sheep. The wool from these animals spun to a high quality and then sold. Nylon tents with five colors are available here: red, blue, yellow, green and white. Ancient rock carvings and the skeleton of a wooly mammoth all exist in this amazing landscape.
Tibet festival clothing is noticeably unique especially amongst young to middle aged girls; these expensive garments include a full gown and several bronze and brass ornaments hanging from it. The unique sound of a ringing bell can be heard across Tibetan plateaus during festive holidays.

2) Grand Nianqing Tangla Snow Mountain
One-hundred kilometers north of Lhasa lies the Nianqing Tangla snow-covered mountain and on the north-side of the mountain is the famous Nam(ucuo) lake. The summit of the Nanqing Tangla Mountain reaches a height of seven-thousand one-hundred and seventeen meters and is capped in pure white snow all year round. The peak is always shrouded in fog, creating an illusion of a mighty deity adorned in grey robes towering over the vast Tibetan plains.
The Nianqing Tangla Mountain and Namucuo Lake is both the most attractive holy mountain and lake in Tibet and age-depend couples. They attract thousands of visitors every year and have become the largest religious holy land and scenic spot. Well worth visit. It's well worth a visit.
3 Current Season Information


Sagadawa Festival of Tibet
In sunny June of Tibet, the most ceremonious annual religious festival of Tibetan-Sagadawa Festival is coming. During the Sagadawa Festival, activities to memorize the Buddha Sakyamuni are quite a lot and offerings will be given to the poor. Visiting Tibet during this season is surely a good opportunity to experience the unique Tibetan flavor.

Travel Tips:


Accomodation: Hotels are quite easy to find in Lhasa. There are lots of hotels for accommodation from budge hotel to luxurious 4-star hotel.
Food:
The food in Lhasa mainly includes
Tibetan Cuisine
and
Sichuan Cuisine
. Nepal and India restaurant can also be found in Lhasa. You can try some traditional Tibetan food, such as Zanba, dried beef and mutton, barley wine and Buttered Tea.
Custom: Since there are many people attending the Sagadawa Festival for receiving offering. You should prepare enough small changes. When taking photos of people, please respect the subject.

Comments
Comment