Top Five Amusement Parks in China
2010-06-23China travel Guide
5. Merryland – Guilin (乐满地)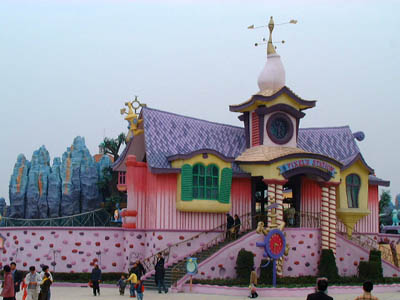 This theme park is literally located in the middle of nowhere, about two hours from Guilin; it seems somewhat peculiar that an amusement park can survive in such a remote location. The location does not however detract from the park itself with plenty to rides and activities to keep you busy for several hours at least. The park doesn't have any large roller-coasters but does boast a swashbuckling pirate-ship and a thrilling flume ride. If you're planning to head to Merryland I can only suggest that you go in good weather and early because many of the rides involve water and indeed the huge lake located in the middle of the park is perfect for summertime fun. A word of caution about the pirates of the Caribbean ride; I have never felt more sick after getting off a ride in my life!

4. Minsk World – Shenzhen(明思克乐园)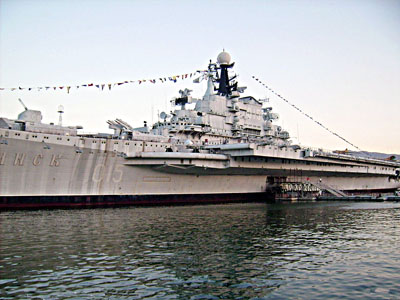 This is certainly one of the more quirky, unusual sights you'll see in China and indeed Minsk World may leave you giggling rather than trying to catch your breath. This theme park is called Minsk World because its centerpiece is a full-size Soviet aircraft carrier, Minsk, that was decommissioned and then eventually purchased by a Chinese consortium and moved to Shenzhen. The park is centered around the aircraft carrier but there is also an array of Chinese and Soviet artifacts as wells as the frequently held re-enactments of staff dressed in kitchen mock military uniforms. Despite this park somewhat showing its age it's defiantly worth a visit if only for the spectacle.
3. Dalian Discovery Kingdom- Dalian (大连发现王国)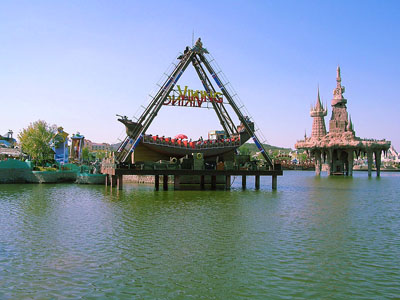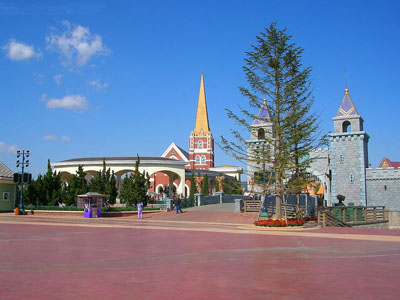 Dalian Discovery Kingdom is what could be referred to as a 'classic' theme park, no campery or staff dressed like colonel clink, just rides. Opened in 2006, this park is still relatively new and as such most of the rides offer a level of excitement above that of most Chinese theme parks. The park has three roller-coasters and two water-rides as well as a vertical drop tower and a plethora of smaller rides to suit stomachs of every size. This is by no means a seven-flags park but for those who get up to the harbor city of Dalian in Northeast China and have a day to kill Dalian Discovery Kingdom is well worth it. Discovery Kingdom only opens in the summer months (June-September).
2. Disneyland – Hong Kong (迪士尼乐园)
The opening of Disneyland in Hong Kong was considered to be a milestone of Chinese culture development, there was concern amongst some sections of Chinese society that Disneyland epitomized opulence and wastefulness of western society and that this was a slippery-slope that would lead to the degradation of Chinese culture; of course their fears were completely irrational. What Hong Kong now has is a shiny new Disneyland what almost perfectly replicates what you would find in California, complete with 'Main Street U.S.A'. This park usually gets incredibly crowded so be prepared to do your fair share of queuing, you'll find all the stock-standard rides that you're used to. A word of caution: after rain the walk ways around the park become soap-like and it's very easy to fall over!
1.
Happy Valley – Beijing (欢乐谷)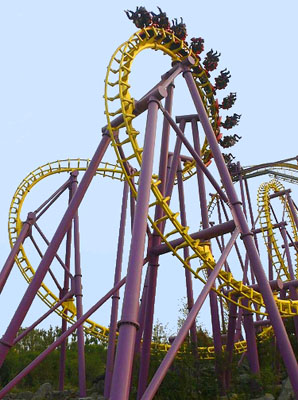 Happy Valley is possibly not as good as Disneyland but its located in Beijing which makes it largely more accessible for tourists visiting China, and it's a lot cheaper! This theme park is basically a Chinese imitation of Disneyland but with some improvements to make it adult-friendly as well. Located only 10kms from the centre of Beijing, Happy Village Park is complete with several different 'worlds' including Atlantis, the Lost Maya and Ant World etc. It is very easy to soak up a day wandering around and enjoying rides, there's more than one roller-coaster, several flumes, and IMAX theater and a shopping complex, as well as my favorite a little Disney-style train that encircles the whole park. I know that it may not be to everyone's taste to go to China and spend a day at an amusement park, but if the raft of temples, gardens and bridges are getting you down, then why not switch it up for a day?!

Comments
Comment