Three Parallel Rivers of Yunnan Protected Areas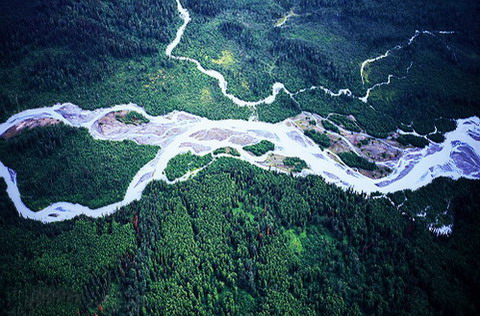 More Photos
This spot is especially famous for its daedal alpine topographies with a total area of 1,700,000 hectares. The three rivers referring to the Jinsha, Lancang and Nujiang rivers, originate from Qinghai-Tibet Plateau and they flow abreast southward from the Hengduan Mountains, northwest of Yunnan, with a closet distance of only 66.3 kilometers. Since this spot is in the junction of Southeast Asia, South Asia and Tibetan Plateau, the Three Parallel Rivers area is a rare representative district with alpine topographies and its geomorphic evolution. Moreover, there are diversified creatures in this area. The area almost has all kinds of landscapes included in Northern Hemisphere, really an imposing and majestic sight. It was put on the List of World Heritages by UNESCO in 2003.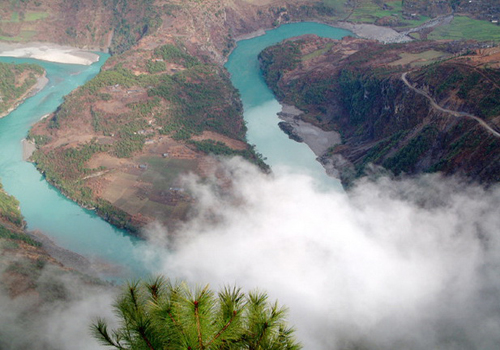 Known as one of the four sacred mountains of Tibetan Buddhism as well as the number one among the eight sacred mountains in Tibetan areas, Meili (or "Meili" in Chinese pinyin) Snow Mountain is the highest mountain of Yunnan Province, with its highest peak Kawagebo reaching 6740 meters and the other 12 peaks being over 6000 meters above the sea-level. Located in the junction of Jinsha River, Lancang River and Nu River, it stretches for several hundred kilometers and accounts for 34.5% of the total area of Deqin County.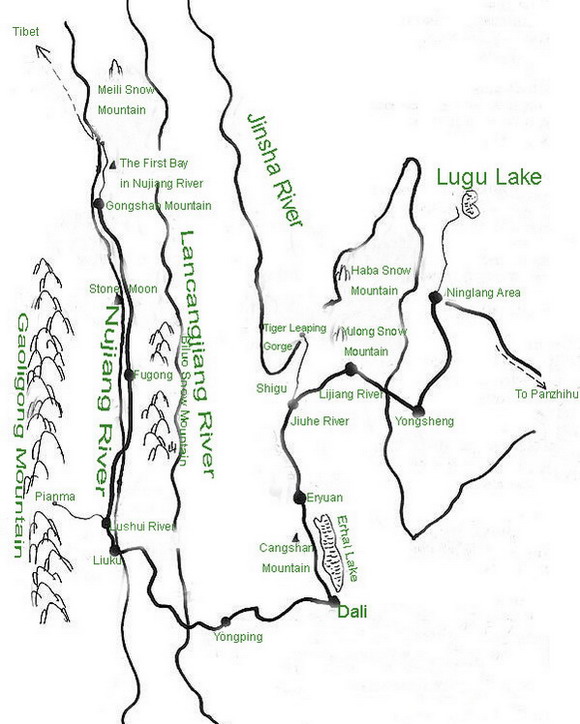 The whole spot is divided into eight major areas: Gaoligongshan Mountain area, Baimang and Meili Snow Mountain area, Haba Snow Mountain area, Laojunshan area, Yunling Mountain area, Hongshan Mountain area, Laos city and Diqing Tibetan Autonomous Prefecture and Nujiang Lisu Autonomous Prefecture area. Three Parallel Rivers of Yunnan Protected Areas is a "Geological Museum" with the richest resources. High mountains and snow capped peaks covering densely in the area and the altitudes distributing vertically, there appear diversified landforms like high mountains and gorges, snowy peaks and glaciers, plateau wetlands, forest meadows, freshwater lakes, etc.

Uniquenesses of this area:
1. Origin of the Ancient Tea Horse Road;
2. The largest world heritage place of China;
3. The richest museum of plants and landforms in the world;
4. One of the places in the world that have the most species;
5. It is considered as the Natural Alpine Garden.
Quick Questions
Our team is waiting for your questions. Please feel free to ask us any questions you might have about our China package tours, Chinese culture, or the sites available. We will gladly help you with any special needs you might have and all questions, like our trip designing is completely free of charge.