Our tour guide in Shanghai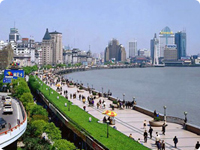 Welcome to VisitOurChina, an introduction of our Tour Guide staff
Shanghai: The financial center of China and its most developed city. Let our tour guide walk you through the development of this teeming metropolis from its colonial past to its cosmopolitan present.Experience the bridge between east and west as well as the spectacular World Expo 2010.
Working Staff
Lilian Niu

Chinese Name: Niu Aili (Female)
Graduated from Shanghai University
Lilian has being working as an English tour guide since 2007. She can explain every attraction in detail information, a very patient guide.

Karl Cai

Chinese Name: Cai Jie (Male)
Graduated from Shanghai Normal University
Karl has being working as an English guide since 2007. And he always has good interact relationship with his clients.

Jackie Zhang

Chinese Name: Zhang Chen (Male)
Graduated from Nanjing University of Science and Technology
Jackie is a humorous and sagacious guide who always gives vivid of the attractions, thus got the "Excellent Tour Guide" of Suzhou.

Cici Sun

Chinese Name: Sun Ling'er (Female)
With three years guide experience since 2007, Cici provide good service to her clients with meticulous explanation and great patience. So she always enjoy good customer responding.

Jack Yu

Chinese Name: Yu Shizhen (Male)
Graduated from Anhui Fuyang Normal University Jack is undoubtedly a good tour guide with rich experience since he started his work 10 years ago (from year 2000).
Quick Questions
Our team is waiting for your questions. Please feel free to ask us any questions you might have about our China package tours, Chinese culture, or the sites available. We will gladly help you with any special needs you might have and all questions, like our trip designing is completely free of charge.