Our tour guide in Guilin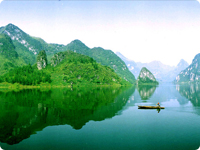 Welcome to VisitOurChina, an introduction of our Tour Guide staff
Guilin: Boasting the most stunning and awe-inspiring mountain and river scenery in China. Our guides will draw you into Guilin with a boat cruise up the amazing Li River, walk along the beautiful Dragon's Backbone Rice Terraces and spend a relaxing evening in an open air-cinema watching the award-winning production Impressions Liu San Jie.
Working Staff
Jack Zhang

My name is Jack Zhang. I graduated from Guangxi Normal University as a Tourism English major and has worked as an English and Guangdong language guide from 2003.I believe I am an all-around guide with some experience. Hope I could have the chance to give you professional explanation and qualified service.

Jasmine Mo

Hello I am Jasmine, an English tourist guide from VisitOurChina. My character is energetic, warm-hearted and patient. I really like the big family of our company and welcome to Guilin to meet us and begin your wonderful trip!

Janet Pang

"While the river seems to be a green silk ribbon hills here are just like jasper hairpins." How beautiful Guilin is! Hi I am Janet Pang, full of enthusiasm, active and humorous. I'd like to invite you to visit Guilin, a beautiful city with natural and amazing mountain and water sceneries!

Evelyn Feng

Hi I am Feng Luping graduated from Nanyang Normal University and now working as a tour guide in Guilin for VisitOurChina. I think I am a passionate, careful, considerate and responsible person. Trust me and discover China with VisitOurChina together. The real China is just in front of you!

Shirley Tian

I am Shirley with Tian Ying as my Chinese name. Now I am working for VisitOurChina as an English tourist guide. Because of my special experience, I have been to many places and have lots of things to share with my customers. Sincerely wish everyone from the abroad could enjoy memorable China tours!

Angela He

Hi I am Angela, working as an English tour guide for more than 10 years (from 1998). I like to make friends with my guests. I am striving to offer them a safe and wonderful China tour experience with my strong adaptability and by dealing with affairs in a mature and steady way.
Quick Questions
Our team is waiting for your questions. Please feel free to ask us any questions you might have about our China package tours, Chinese culture, or the sites available. We will gladly help you with any special needs you might have and all questions, like our trip designing is completely free of charge.