Our tour guide in Beijing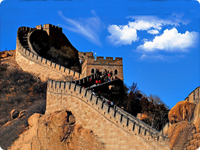 Welcome to VisitOurChina, an introduction of our Tour Guide staff
Beijing: The capital and China's most important political center. The host city of the 2008 Olympic Games offers an increasingly dynamic mix of ancient and modern. With our guide, you will have chance to climb the Great Wall, explore the Forbidden City, enjoy a traditional Peiking Duck Dinner and delight in a live Kung Fu Show.
Working Staff
Kattie Guo

I am happy with working outside in different sites of Beijing as I am good at dealing with people from other cultures; it makes the whole job very interesting. My tourists and all my friends said that I am innate in being a tour guide. I am a person with enthusiasm and my speech about landscapes is inspiring.

Harry Hao

I am easy-going, energetic, earnest, and have high sense of responsibility. I always enjoy of taking challenge. I have strong passion of working. I really wish that I could do something available for your company through my effort.Your trust and my ability will make us to create a new marvel together.

Yukun Chen

My name is Chenyukun ,I work from 2007 to now as the tour guide of in charge of the tour in Beijing. My character: Handsome enthusiasm sonsy and self-confidence PS: the most important thing is the ability. I believe that you will have a neat trip in China and better understanding in China.

Ginger Hu

"No pain no gain ." After four—years'working as a tour guide in BJ. I enjoy it very much, I have possessed the quality to be a qualified guide as well. Being a guide in BJ ,It acquainted me with western countries culture and custom Hard-working also rewords me with high reputation among tourists.

Bin Wang

As a local Beijinger, I could introduce Beijing to my guests from all aspect. For example, I could tell them what have happened to our capital in the past years according to my own experence. In order to improve the quality of service I also learnt two different English accent, so when I talk to them in their pronunciation and intonation, our relation was brought closer.

Steven Li

I was born in Shanxi province, graduated from Xi'an Fanyi university. English is my vice-major.I have been taking the domestic group for a whole year. Of course, I learned and experienced a lot, some of which might be helpful to take overseas groups.I still have a long way to go. Looking forward to be an excellent English-speaking tour guide for you!

Amy Hao

I have been a tour guide for two years. I like this job very much, because when I was young, my dream was to be a tour guide, now, my dream come true. My hobby is singing and reading, so it is easy for me to get colse to my visitor after we meet each other, I always sing a song for them show my welcome. I think tour guide is messenger of spreading culture, I will try my best to improve myself.
Quick Questions
Our team is waiting for your questions. Please feel free to ask us any questions you might have about our China package tours, Chinese culture, or the sites available. We will gladly help you with any special needs you might have and all questions, like our trip designing is completely free of charge.