Our tour guide in Huangshan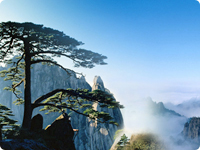 Welcome to VisitOurChina, an introduction of our Tour Guide staff
Huangshan: The most peculiar mountain in China, celebrated with its "four wonders" (legendary pines, picturesque rocks, the sea of clouds and hot springs). As a renowned Taoist holy place with long history, Huangshan possesses lots of historic relics. The Yellow Mountainis also an ideal summer resort.
Working Staff
Jerry Cao

My mission is to organize my group and introduces local nature landscapes and excellent culture. But this is not enough for 15 years of working experience. I just try to put my heart on them. Sharing your feeling to understand what clients want. Even make resolutions before they asked the questions. Everytimes meeting the guests is a new challege to me. Yes, capability of English is very important .But responsible two-way communication is the foundation for personal development of tour guide which have produced excellent results.

Jessica Xie

I havebeen as a guide for 3 years. With tremendous interest in being an English guide. As the saying goes "Knowledge makes a man elegant, but communications make him perfect. "It is my honor to introduce Mt Huangshan to you. Huangshan city played a very important role in Chinese history. And the people here are friendly, they welcome the travellers from all over the world. If you visit here, I will try my best to smooth your way, care for your welfare, try my best to answer your questions. I am sure it will be a pleasant trip!

Libby Cheng

Everytime when I meet people from different parts of the world, it is always a pleasant and interesting thing for me to let them know more about our history and today....I really come to realize that sometimes we are not just a tourguide in tourism business, we are people who can do something for the world peace. Because I believe if much more people travel to different countries, experience the different culture, and feel the different religions, it would be very helpful for people to understand each other and eliminate prejudices for each other.

Jason Yang

I have been climbing mount Huangshan more than 500 times, I am very lucky to be tour guide here, because huangshan is exactly like chinese landscape paintings, and also has beautiful ancient villages and rich culture, remember my name, jason. It will be very helpful. If you have any problem and requirement, tell me, I will do my best to help you!

Faerie Jin

I like traveling and dream that one day I can travel around the world. During my college life, I got much things about tourism and found that,to be a eligible guide, much knowledge and practices are necessary. Meanwhile, to be a bridge between different cultures and histories is my pursuit.Being a guide, I always be proud of this job, which can give more people help and joys.

Tony Li

I'm proud of becoming a member of this agency, I think it really like a warm family !! I have become a guide for 5 years, I love my job .It can give you more chance to make freinds with different country pepole, I can learn many things that you can't learn from books, and I also can introduce more chinese things to the foreigners, let them know chinese culture, know China. Then attract more pepole to China!!

April Yao

I'm April and the Chinese name is Yao rong. Huangshanis my hometown. She was listed as one of the World Nature And Cultural Heritage by UNESCO in 1990. The Yellow mountain is famous for the five scenic wonders. I love my hometown and my career. I would like to show the beautiful natural scenery and the splendid culture to my guests from all of the world.I will do my best to make a wonderful trip for you. Please come here,My hometown is waiting for your discovery!
Quick Questions
Our team is waiting for your questions. Please feel free to ask us any questions you might have about our China package tours, Chinese culture, or the sites available. We will gladly help you with any special needs you might have and all questions, like our trip designing is completely free of charge.