Our tour guide in Xi'an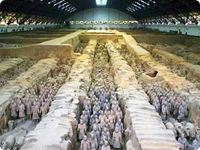 Welcome to VisitOurChina, an introduction of our Tour Guide staff
Xi'an: The ancient capital and the hub of West China. Xi'an offers a unique fusion of Islamic and Chinese culture, as well as history for thousands years. Witnessits wonders and mysteriousattractions, i.e.The Terracotta Warriors; share in an ancientTang Dynasty Performance that will transport you back to the time of the Tang Dynasty in Ancient Times.
Working Staff
Julie Chen

Characteristics: patience, warm service and helpful. Engaged in tour guiding after graduation,obtained junior guide certificate in 2006. I love history and geography, and I'd like introduce Chinese cultrue and customs to the tourists. I received the series tour groups and private groups. I was highly appraised by the clients.

Sandy Xu

So far I have had 5 years experience in my present post-as a tour guide. I like travel, I like communicate with different people. That's the reason I like my job very much. Because of my honest, patient and warmhearted personality, I treat my guests as my friends. A lot of my guests give me a high evaluation. Some of them send letter for thanks after they back to their country.

Lylian Li

I served as interpreter for Shi Da business firm after graduation in Da lian city for one year, interpreted for many exhibition. Since July 2007 I became an English-speaking guide officially, served for many travel agency and was highly appraised by the clients.

Ambrosia Gao

I was born on 23th, January 1980 and I graduated from Xi'an Foreign Languages University, majoring in English and Tourism. I have been worked as a tour guide for 8 years. I love the history, cultural and artful things. Xi'an is a lovely city, a "museum city", there are many attractive things you can enjoys here. Do you want to go with me? I'm sure you will fall in love with the splendid history and the culture of China with my work. Welcome to Xi'an.

Bobo Wang

Hello I am Bobo Wang and worked as a tour guide from 2004 after graduating from Xi'an Foreign Language University as an English major. Up to now, I have received many groups from different countries. I always treat my work carefully and try to make the explanation humorous. I think smile is a good tool for communication and I am willing to try my best to offer my friends unforgettable China impression.

Rose Zhang

My English name is Rose, I graduated from Shaanxi industrial and commercial college in 1984 in xian. I worked as a middle school teacher for many years. Now I am a full time English speaking tour guide. I enjoy my job. I love it.
Quick Questions
Our team is waiting for you questions. Please feel free to ask us any questions you might have about our China package tours, Chinese culture, or the sites available. We will gladly help you with any special needs you might have and all questions, like our trip designing is completely free of charge.