Our tour guide in Hangzhou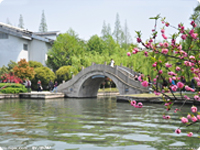 Welcome to VisitOurChina, an introduction of our Tour Guide staff
Hangzhou: A real hidden gem of China located just two hours from Shanghai, Hangzhou. Hangzhou is renowned for its beautiful scenery and rich cultural history. Let our guide share with you the secrets of brewing the perfect cup of the 'Dragon Well' tea, a famous China Tea. Experience a sail onthe beautiful West Lake of Hangzhou, and then explore its many corners and hidden cafes.
Working Staff
Jane

I am very interested in traveling. What is more, I want to express all the good feelings, which I felt of China, and all the beautiful sceneries to everyone that will come or is coming to China!

Charlie

I have been working as an English tour guide since I graduated from college in Augest 1997. And I was assigned by China Tourism Bereau to work for Tibet International Sport Travel as a professional English speaking tour guide and help them to train new tour guides in 2003.Now I am working as a senior tour guide in Zhejiang for VisitOurChina.

David

I'm David,24,living Hangzhou. After I Graduated from Guilin institute of tourism, I work as a full time English guide. I am open-minded ,quick in thought and very fond of history. I have broad interests like many other youngers,especially reading books, about history,philosophy. My city-Hangzhou is a historical beautiful city, paradise on earth. Also, I'm a good talker, from what's in chinese family's fridge to The Comparison and Communication of the ancien Chinese and Western Culture. So let me be your guide, I will help you have a experience more than the earth, wind, water and fire: discover the fifth element.

Tony

Just like my age, I lost my best time to have a good education at university due to the culture revolution, so my Englsh learnt at Hangzhou Qianjiang Evening School for 4 years, in 1987 I got a state-recognized diploma.I have been a tour guide for 8 eights, all my guists mainly from US, UK and some Western countries. In the past 8 years I received so many many guests, the frequent comments from my guests about my service are knowledgeable, helpful and the great sence of humour.

Yvonne

Hi, I'm Yvonne, English-speaking guide from Hangzhou. Here, you are looking at a sunshine girl with ability plus flexibility and high sense of responsibility. Willing to work under pressure and being highly organized and efficient. Getting on well with clients from every corner of the world and enjoying every tour. Believing that every problem is an opportunity in disguise.

Tony He

Work Experience: 4 years East China tour guide local arrangement. Have 3 years experience for VisitOurChina already. Once lived in New Zealand for a couple of years. Well trained for Europe & America culture. French is my second foreign language.
Quick Questions
Our team is waiting for your questions. Please feel free to ask us any questions you might have about our China package tours, Chinese culture, or the sites available. We will gladly help you with any special needs you might have and all questions, like our trip designing is completely free of charge.