Qingdao travel guide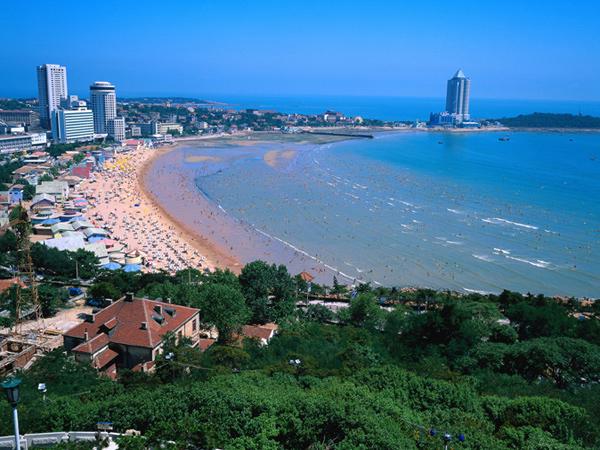 Qingdao, a beautiful seaside city located in southeast Shandong Province coast, is a charming place where travelers love to have a breath far away from China's dense urban interior. Situated not far away from Korea and Japan to the east, Qingdao represents an important city for international trade and is renowned for its typical seascape and European architectural style. Being a German colony for a while, the city has proudly kept these typical buildings' characteristics which grant it the name of the Orient Switzerland, a scenery rarely seen in all mainland China. In Qingdao, red roofs, green trees, blue sea, and azure sky form a bright and colorful picture that never let visitors down. History of Qingdao A German influenced city Qingdao's history is an important topic that explains today's influence of tourism. Being a colony under German and then Japanese settlements for thirty three years up to 1949, reminiscences of this alien past can still be seen everywhere, giving even more attraction to this coastal city. In order to enhance the importance of the Tourism Industry in the city, the Qingdao Municipal Government plans further developments of the city ... More information about Qingdao »
Top Attractions in Qingdao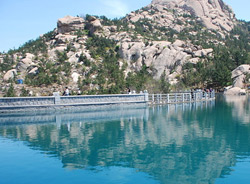 Mt. Laoshan
The only mountain rises by the sea among all famous Chinese mountains and surrounded by an 87-km coastline, Mt.Lao offers a wonder with majestic peaks, precipitous gorges, limpid waters, fancy clouds and 18 beautiful sea islets. Also a famed Taoist mountain, it once housed 72 temples and thousands of Taoist priests in its hey day.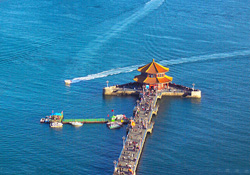 Zhan Bridge (Zhanqiao)
The icon of Qingdao, Zhan Bridge was originally established in 1892 with a width of 10m and a length of 200m and became the earliest military pier in the city. Starting from the end of Zhongshan Road and stretching above the shoal into the broad sea, it is now a paradise for human beings and creatures.