Qingdao Transportation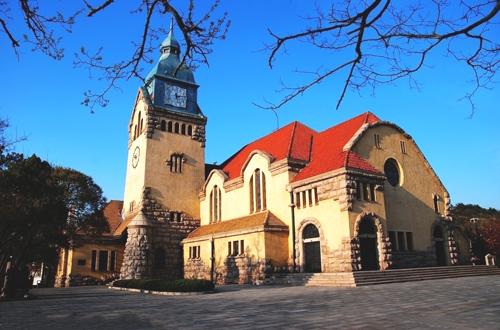 By Air
Qingdao Liuting international Airport, located in Chengyang District, some 23 kilometers from city center, has domestic flights to and from more than 30 cities and international flights to Hong Kong, Macao, Taipei, and foreign cities such as Tokyo, Osaka, Fukuoka, Seoul, Busan, Inchon, Daegu, Frankfurt, Singapore, Bangkok, New York, etc.
Airport special buses No.701, 702 and 703 are available to transfer passengers in between downtown area and the airport. Each cost CNY20/p. The departing time and departure interval are both keeping with the scheduled flights.
Moreover, in the airport, coaches are available departing for surrounding cities in the province from 05:00 to 22:30, like Rizhao, Yantai, Weifang, Jiaozhou, Zibo, Rushan, Rongcheng, Wendeng, Shouguang, Changle, Jiaonan, etc.
By Train
Qingdao Train Station is located in No.2 Tai'an Road, not far from the Zhan Bridge and only 300 meters to coastline. Here are trains driving up to most big cities and surrounding areas, e.g. Beijing, Shanghai, Guangzhou, Jinan, Taishan, Heze, Yantai, Weihai, Hankou, Nanchang, Xuzhou, Zhengzhou, Xi'an, Lanzhou, Xining, Chengdu, Taiyuan, Dandong, Tonghua, etc.
There are two ticket lobbies; the East Lobby opens 24 hours a day, while the West Lobby opens from 07:00 to 19:00.
Buses can reach the Train Station are No.2, 5, 8, 26, 218, 220, 223, 301, 303, 304, 305, 307, 311, 312, 316, 320, 321, 501, and 801.
By Bus
Qingdao has 8 coach stations, of which the Qingdao Coach Station located in No.2 Wenzhou Road, Sifang District is the largest. Coaches can take passengers to over 10 provinces, most of which are leaving in the morning. As for those buses to surrounding counties and towns, and some nearby cities around (e.g. Weihai, Yantai, Penglai), they departs at any time by daylight according to the number of passengers.
By Ship
The Qingdao Port is located in No.26 Xinjiang Road. It provides regular international ships to Inchon (Korea) with a 29-hour-sailing and Shimonoseki (Japan) with a 39-hour-sailing all year round. At home, it has ships to Weihai, and ships in flow line in day time to Huangdao (Yellow Island). In summer vacation time, ships are open to Shanghai (a 26-hour-sailing) according to the requirement. Furthermore, after arrive in Yellow River, people can choose ships to Rizhao, which will traverse the beautiful Jiaozhou Bay (Kiaochow Bay).
City transportation
Public bus- about 209 bus lines are quite convenient in Qingdao City. No.26, 201 and 202 run along the seaside and pass the famous attractions of Zhan Bridge and Badaguan Scenic Area; in particular the No.26 passes most of the attractions in city proper. Buses run via undersea tunnel can reach some new attractions in Development Zone or Jiaonan District, as well as to Yellow Island, Xuejia Island and some beach parks.
Taxi- there are standard taxi and luxurious taxi in Qingdao. The former price starts at CNY10 within 3km, and CNY1.4/km in subsequent 3 km, and CNY2/km after 6km. During nighttime from 22:00 to 05:00, additional CNY0.4 for each kilometer. Luxurious taxi charges from CNY13 within 3 km, and CNY1.9 for subsequent one kilometer.
Cruise- The marine sightseeing tourism port at Laiyang Road offers short cruises to Small Qingdao Island, Luxun Park and Taiping Palace. The Zhongyuan Tourism Port at Xilingxia Road opens urban beach sightseeing cruises to Wheat Island and cruises to Zhucha Island and Dagong Island of Yellow Sea.