Mt. Laoshan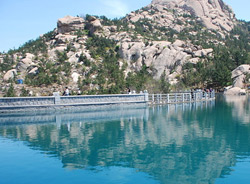 More Photos

Chinese name: 崂山 (Lao Shan)
Location: No.178, Hai'er Road, Laoshan District, Qingdao City, Shandong Province.
Opening time: 07:30-16:30
Tickets:
Peak season (April-October)
Jufeng sightseeing area (巨峰, Ju Peak)- CNY80;
Liuqing (流清)- Taiqing (太清)- Qipanshi (棋盘石)- Yangkou (仰口) sightseeing area – CNY90;
Beijiushui sightseeing area (北九水, Northern Nine Waters)- CNY65;
Hualou sightseeing area (华楼峰, Hualou Peak)- CNY10;
Taiqing Temple- CNY20.
Low season (November-March)
Jufeng sightseeing area (Ju Peak)- CNY50;
Liuqing- Taiqing- Qipanshi- Yangkou sightseeing area – CNY60;
Beijiushui sightseeing area (Northern Nine Waters)- CNY40;
Hualou sightseeing area (Hualou Peak)- CNY10;
Taiqing Temple- CNY20.
Cable cars
Jufeng cable car- CNY40 for one-way, and CNY80 for a round-trip;
Taiqing cable car- CNY45 for one-way, and CNY80 for a round-trip;
Yangkou cable car- CNY35 for one-way, and CNY60 for a round-trip.
Sightseeing bus
Liuqing- Taiqing- Qipanshi- Yangkou sightseeing area – CNY40;
Beijiushui sightseeing area (Northern Nine Waters)- CNY30.

How to get to Lao Mountain:
- To Beijiushui (北九水) & Hualou Peak (华楼峰)- charter a minibus or take buses No.110, 112, 311 or 365;
- To Yangkou (仰口)- charter a minibus or take buses No.106, 312, 371 or 383;
- To Jufeng Peak (巨峰) & Taiqing (太清)- charter a minibus or take buses No.104, 113, 304 or 802.
Recommended time for a visit: 5 hours.
Best time for visit: in spring, summer and autumn.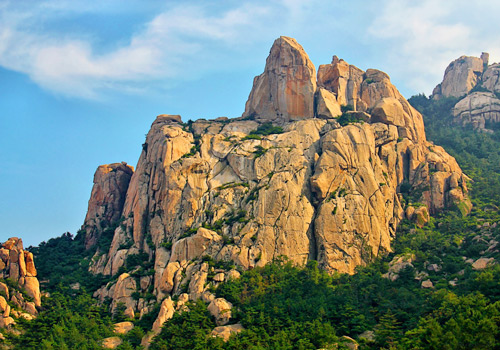 Introduction to Mount Laoshan
As the only mountain rises by the sea among all famous Chinese mountains, the Lao Mountain of Qingdao is the main mountain range of Shandong Peninsular. Its main peak, Jufeng Peak, 1132.7 meters above the sea level, is celebrated as the highest peak in China along the coastline. Surrounded by an 87-kilometer coastline, Mt. Laoshan offers marvelous spectacle on the sea with majestic peaks, precipitous gorges, limpid waters, fancy clouds and the beautiful sea with 18 islets.
Being a famed Taoist mountain in China, Laoshan Mountain once had 72 Taoist temples housing thousands of Taoist priests in its hey day in the history. Legend has it that Qin Shi Huang (259-210B.C. the first emperor of Qin Dynasty), Emperor Wu of Han Dynasty (156-87B.C.) once came to Lao Mountain to seek for immortality; moreover, the famous Taoist Kiu Chang Chun and Zhang Sanfeng (the Tai-chi Master) were once cultivated Taoism in Mount Laoshan. Most of the temples were destroyed while the Taiqing Temple is the largest reserved and the oldest one in Laoshan today.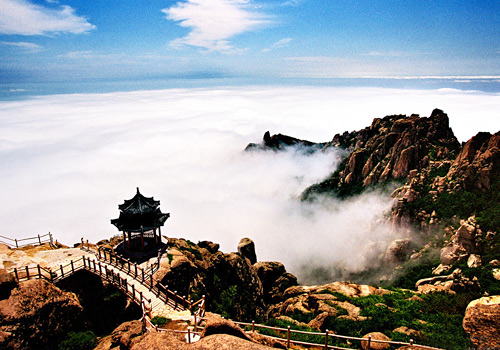 Inscribed a national 5A scenic area, the Laoshan Mountain mainly includes scenic areas of Jufeng (Ju Peak, the summit of Lao Mountain), Liuqing (the best site for sea view), Taiqing (the most famous Taoist temple in Laoshan), Qipanshi (with great Buddhist features), Yangkou (beach resort), Beijiushui (gorge scenery of waters and peaks), and Hualou Peak (with granite laying style).
Places of interest in Laoshan Mountain
Taiqing Temple (太清宫)
Also named Xiaqing Temple, the Taiqing Temple of Mt. Laoshan is the birthplace of the Taoism of the mountain which was built in 140B.C. in Western Han Dynasty (206B.C.- 24A.D.). Located at the southern foot of Laojun Peak, Taiping Temple is surrounded by mountains in three sides and faces the sea in the front. Its verdant beauty of four seasons is matched to that in south regions of Yangtze. Covering 30000 square meters, the temple has more than 150 rooms belong to three independent courtyards with respective enclosing walls and gate.
Taiqing, literally a site with extremely peace and quiet in Chinese, is the paradise for immortals according to Taoism. The three courtyards of the temple are Sanguan Hall, Sanhuang Hall and Sanqing Hall, of which the Sanguan Hall is the largest, in which are Taoist gods of the heaven, earth, water, thunder, Zhenwu, etc, and kinds of plants and flowers. It is worth mentioning that the two camellias in the front of the main hall were moved from an island by the Tai-chi Master in Ming Dynasty (1368-1644), flowers of one is in red and the other in white. In addition, the two ancient cypresses in the courtyard of Sanhuang Hall were planted during Han Dynasty (220B.C.-202A.D.)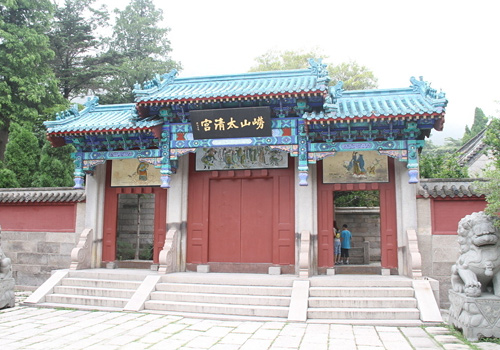 Being the scenic center of the Mount Laoshan, in the vicinity of Taiping Temple, there are many other attractions, stone inscriptions, picturesque peaks and rocks, ancient trees and clear springs. And in the temple, the extraordinary sight of mirage can be appreciated once in a while.
It is said that the writer Pu Songling (1640-1715) once lived in Lao Mountain, and many of the stories in his Strange Tales from the Carefree Studio (聊斋志异, a famous book of Qing Dynasty, which takes material from stories about ghosts and fox spirits to censure the evils of the society) were set in Mt. Laoshan. Inspiration of one of the stories, Xiang Yu (Fragrant Jade, a love story between a scholar and two girls who are transformed from a white peony and a red camellia), just came from the camellia and a peony in Taiping Temple.
Ju Peak (巨峰)- The Main Peak of Mount Laoshan
With an altitude of 1132.7 meters, the Jufeng Peak is the highest as well as the most precipitous peak in Laoshan Mountain. It is famous for three wonders, the sea of clouds, the morning sun and the colorful "fireballs" over the clouds. In particularly, the wonder of the morning sun was considered the top of 12 Laoshan Mount Scenes. Moreover, the Ju Peak is said one of the best sites for the earliest sun rising in China.
Hualou Peak (华楼峰)
Located on the southern bank of Laoshan Reservoir, the Hualou Peak is a square stone peak with a height of over 30 meters. Consisting of layer upon layer rocks and prominent just like a Huabiao (ornamental columns erected in front of palaces or tombs), the peak also called Huabiao Peak. It is one of the Three Bizarre Stones in Mount Laoshan, and was said to have close relationship with the Tai-chi Master.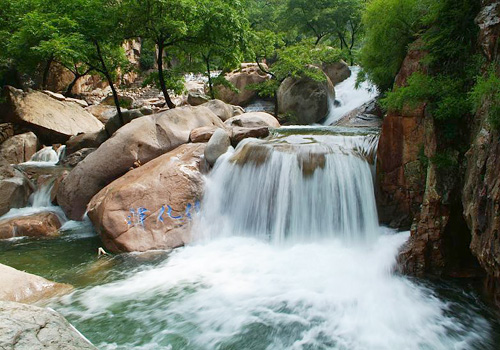 Beijiushui (北九水, Northern Nine Waters)
Originated from the northern foot of Ju Peak, the Beijiushui got its name due to its nine turnings along its way to the gorge. Enjoying the fame as Jiushui Gallery, it offers too many beautiful sceneries on both banks along its 9.5-kilimeter way. Divided into internal nine waters and external nine waters, as a matter of fact, there are totally 18 turnings and 18 corresponding pools. In this scenic area, a tourist resort and a sanatorium were also built.
Longtan Waterfall (龙潭瀑, Dragon Pool Waterfall)
Located in the middle reaches at southern foot of Lao Mountain, the Longtan Waterfall is consists of tens of streams which converge to a riffle and flying down from a 30-meter-high cliff terrace. With a height of 30 meters and a width of 5 meters, the flying down waterfall resembles a strong and vigorous dragon, hence its name and the name of the Dragon Pool. The platform under the waterfall serves the majestic view of the spurting waterfall and the beautiful scenery of the surrounding peaks.
Quick Questions
Our team is waiting for your questions. Please feel free to ask us any questions you might have about our China package tours, Chinese culture, or the sites available. We will gladly help you with any special needs you might have and all questions, like our trip designing is completely free of charge.