Badaguan Scenic Area

More Photos

Chinese name: 八大关景区 (Badaguan Jingqu)
Location: in Shinan District, east of Qingdao City, Shandong Province.
Ticket: Free for the area and CNY5 for the Hua Shi Villa.
Opening time: all day long.
How to get there:
-take buses No.26, 31, 304, 223, 316, 321, or 501, get off at Wu Shengguan Road Station (武胜关路站);
-take bus No.219 and get off at Zheng Yangguan Road Station (正阳关路站).
Best time to visit: all year round.
Introduction to Badaguan Scenic Area
Situated in the east of Qingdao City of Shandong province, Badaguan Scenic Area occupies an area of more than 70 hectares and is renowned as a building group of distinctive exotic architectural styles in China. It is named after eight famous military forts and consists of eight streets (10 streets now) including Shaoguan Road (韶关路), Jiayu Road (嘉峪关路), Han Guguan Road (涵谷关路), Zheng Yangguan Road (正阳关路), Lin Huaiguan Road (临淮关路), Ning Wuguan Road (宁武关路), Zi Jinguan Road (紫荆关路) and Ju Yongguan Road (居庸关路).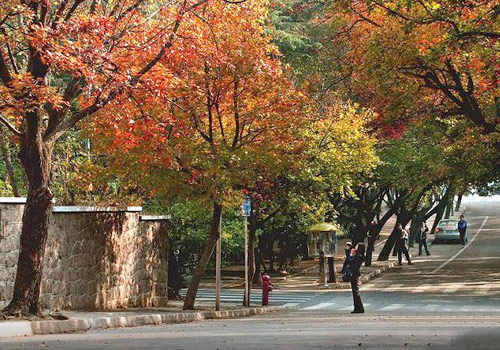 Badaguan Scenic Area of Qingdao City starts from #1 Beach in the west and ends in #3 Beach in the east. It was a villa area for bureaucratic capitalists before liberation. The full reformation and improvement in this section by Chinese government after liberation has evolved it into a wonderful tourist attraction and a resort for making holidays. Many of its residents are leaders of Communist Party and important oversea friends. Badaguan Scenic Area is characterized by the fantastic mixture of garden scenery and courtyard beauty. Thick green trees are everywhere and gorgeous flowers of four seasons capture every sight of visitors: a pink sea of peach trees is displayed in Spring at Shaoguan Road, impressive soft lavender Myrtle flowers blossom in Summer at Zheng Yangguan Road, Charming bright yellow maples rule the world in Autumn at Ju Yongguan Road and majestic evergreen cedar trees stand on the two sides at Zi Jinguan Road. A wide range of architectural styles can be found here. They are in various shapes, sizes, styles and exhibits different architectural designs from more than 20 countries, such as, Russian, England, French, German, Japanese, Danish etc. Hence, Badaguan Scenic Area of Qingdao City is also known as "Exhibition of the World's Architecture". The diverse building styles in this area became the ideal outer door scenes for many famous movies, television dramas and music television videos. It is widely acclaimed as one of the must see tourist spots in Qingdao City.
Main Attractions in the Area
Hua Shi Villa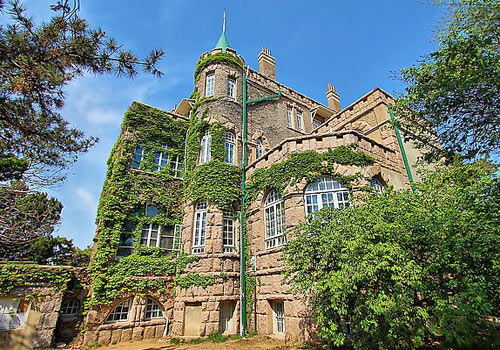 Hua Shi Villa is located in the east side of #2 Beach (No.18 HuangHai Road) and is regarded as the most well-known and representative villa in Badaguan Scenic Area. It spans an area of 753.7 square meters with 5 storeys. The most lauded is the terrific view of Taiping Bay from the top of villa. The name "Hua Shi" derived from its construction materials -- granites and cobblestones in Chinese. Built in 1932, it originally belonged to a Russian. The unique castle absorbs the architectural essence from European, Greek, Roman and Gothic styles. It has been converted to be a luxury hotel for the famous and foreign guests after liberation. Due to a myriad of surrounding plants and magnificent architectural features, Hua Shi Villa is often used as the setting of wedding photographers and film productions. The villa is opened to the public daily for tours and CNY5 is needed as admission fee.
No. 2 Bathing Beach
No. 2 Bathing Beach is an open scenic spot and located in Taiping Bay of Qingdao City. Providing a good view of immense blue sea, it is however valued for the unusual historical background. In 1957, Chairman Mao (Mao Zedong or Mao Tse Tung, the founder of the People's Republic of China), has come to the beach frequently for swimming when working in Qingdao city. Favored by Chairman Mao, it is chosen as a peaceful relaxing resort. Many visitors including famous guests all over the world are attracted to come here by its reputation. The beach is only opened to public in summer. When summer comes, thousands of people take their beach vacation for sun bathing, swimming or wedding photography. Well-graded pebbles, soft sand, flat slope, gentle waves, clean water and wide beach area create a comfortable and free atmosphere for total relaxation.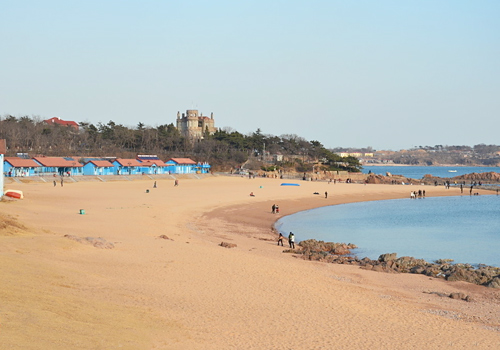 No.5 Shan Haiguan Road
Same as Hua Shi Villa, No.5 Shan Haiquan Road remains in use and is currently served as a reception facility. It was constructed around 1934 with more than 1.688 hectares and 603.84 square meters is used for the house area. Designed in the modern Japanese style, the villa exudes a quiet and mysterious atmosphere. Its wall is decorated with green glazed tile, which is climbed and covered with fragrant and graceful purple, lavender, blue and white wisteria. The villa holds appeal for famous guests, such as Mr. Deng Xiaoping (leader of China and reformer who led China towards a market economy) and Tan Zhenlin (political commissar in the People's Liberation Army during the Chinese Civil War).
No.1 Shan Haiguan Road
Situated in No.1 Shan Haiguan Road, the villa was built in 1933. It is an exotic French countryside style building and covers an area of 702.88 square meters with two storeys. Special arched door, chic half-round shape balcony, baroque style columns and fragrant garden display an amazing foreign ambience. For decades, many famous guests were invited to take up residence here and then fell in love with it soon.
Princess Villa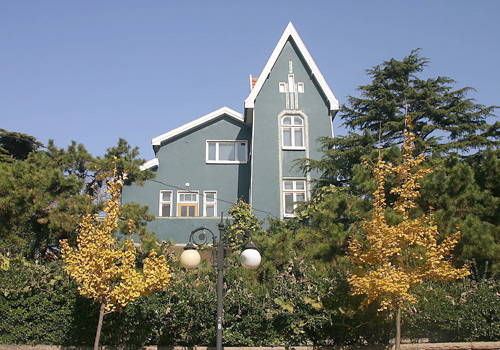 Princess Villa is a building which truly lives up to its name -a lovely dreamlike house from the Danish architectural style. It was built in the mid of 1930s and set in more than 1000 square meters of landscapes. Being fascinated by the picturesque city, Danish prince decided to establish a house here for relaxation and pampering. It is said that the prince planned to invite princess of Denmark for summer vacation. This is how the name "Princess Villa" came from, even though the princess did not show up at last. Similar to the typical north European seaside style villa we often see, its top is a standard sloping roof in timber structure and wonderful sea views can be seen out of windows. The great mix of dark and light green walls make an unexpected delight. This 4-storey villa comprises a wide range of sophisticated facilities and fully reflects owner's good taste.
Diaoyu Island of Qingdao City
No.9 Shan Haiguan Road is on the west and has a long history of welcoming big names, from Kirk (Admiral of United States Seventh Fleet), Gil White (commander of United States Pacific Fleet) to Mr. Liu Shaoqi (Chairman of the people's Republic of China from 27 April 1959 to 31 October 1968), Zhou Enlai (the first Premier of the People's Republic of China). Hence, it is also well-known as "Diaoyu Island of Qingdao City". Two villas were built in this site. A 4-storey American style villa stands on the right side in the yard and evokes a feeling of timeless beauty for its simple and practical style. With an area of 1226.22 square meters, it is rather refined for the asymmetry design. Unlike normal buildings, most of its walls were replaced by glass brick and provide excellent panoramic views out of villa. The other building on the left side is a 5-star luxurious villa offering a wide range of facilities including indoor swimming pool, gym, Sauna room, bowling ball and billiard room etc.
Marshal Mansion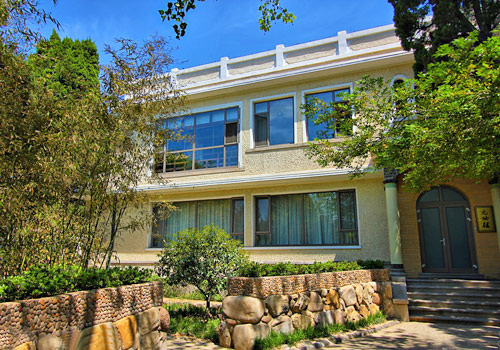 The Marshal Mansion got its name for being spotted by many famous Chinese Marshals. It is Japanese architectural with an original style of Qingdao buildings. Although the total area is 929.53 square meters with only 2-storey, the villa creates a unique and tranquil place to stay. 3 guest rooms are available and a 1.93 hectares garden with rockery, pond, and curved bridge is around. The natural beauty and fantastic history are undoubtedly the focus of every guest's visit.
Quick Questions
Our team is waiting for your questions. Please feel free to ask us any questions you might have about our China package tours, Chinese culture, or the sites available. We will gladly help you with any special needs you might have and all questions, like our trip designing is completely free of charge.