First Bathing Beach

More Photos

Chinese name: 第一海水浴场 (Diyi Haishui Yuchang)
Location: No.23 Nanhai Road, Shinan District, Qingdao City, Shandong Province.
Opening time: all day long.
Ticket: free.
Recommended time for a visit: 1 day.
Best time for visit: in summer.
How to get there: take buses No.6, 15, 26, 31, 202, 214, 219, 223, 228, 231, 302, 304, 306, 311, 312, 316, 321, 368, 370, 501, 604, 605, city sightseeing buses No.1, 3, or tunnel buses No.2, 6 and get off at the stop of Bathing Beach (海水浴场, Hai Shui Yu Chang).
Travel tips:
1. From July 1st to September 25th, it is the best season to enter the water in the First Bathing Beach. During the time, the services of changing rooms, valuables deposits, lifesaving and medicine treatment are available at the beach.
2. Other famous bathing beaches in Qingdao are the Second Bathing Beach located in Badaguan Scenic Area, the Third Bathing Beach located in Zhanshan Bay which has extremely clear sea water though not large in scale and the largest bathing beach of Qingdao- Shilaoren Bathing Beach.
Introduction to First Bathing Beach - the best bathing beach in Qingdao
The First Bathing Beach, also called Huiquan Bathing Beach, is a 580-meter-long and over 40-meter-wide sand beach located in Huiquan Bay in Qingdao. Once the largest bathing beach in Asia, the beach can accommodate tens of thousands of people at a time. As a bathing beach, the First Bathing Beach enjoys superior natural conditions with beautiful sceneries. It is embraced on three sides by green hills; it has clear water, gentle wave, flat beach, slow slope and soft sands.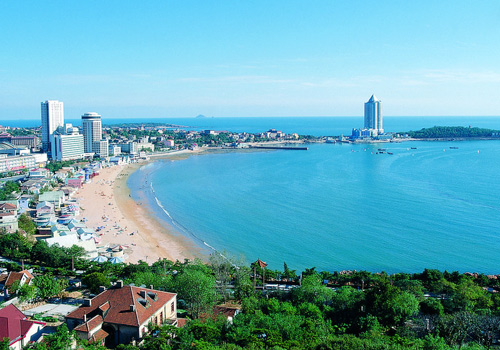 Qingdao is a city warm in winter and cool in summer; it has only several days with a higher temperature more than 30 Celsius degree. Therefore, Qingdao is served as one of the best summer resorts in the country, attracting many a family or group from all directions each year. It is a vivid fascinating scene in midsummer on the beach- the refreshing dressing, multicolored swimsuits, rows of beach umbrellas, the joyous people in the water…Even in winter, the beach is never lonesome with visitors and winter swimmers.
The history of First Bathing Beach- once the largest and best bathing beach in Eastern Asia
One hundred years ago, the beach was the site for berthing ships and drying the fish nets. When the German occupied Qingdao in 1897, they opened up this beach with buildings of dozens of changing rooms and equipments of lifeboats and some recreational facilities; they constructed a hotel (present Huiquan Hotel) to receive overseas visitors; advertised in Japan, Hong Kong and other Asian areas, the bathing beach became a well-known public place for entertainment in eastern Asia. After that, they also built restaurants, ballrooms, bars, coffee shops, bandstands around the beach in succession, constructed diving platforms, pontoons and wharfs on the sea, and perfected emergency and lifesaving facilities.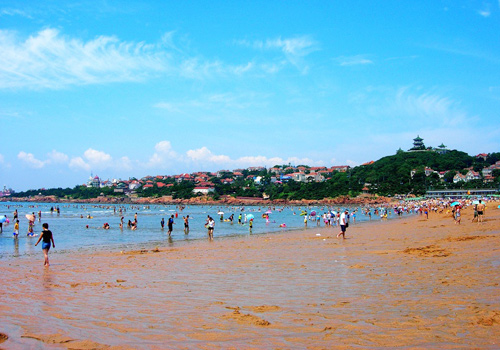 In 1940s, because of the new built fortifications by Japanese and the typhoons, the First Bathing Beach suffered heavy damages. After liberation in 1949, the government had the beach repaired for times; and it is in 1984 that Qingdao Government had a large repair and expansion for the beach. With the construction, the structure area of First Bathing Beach has been expanded to 20 000 square meters from 7000 square meters and the beach area has been doubled to 2.4 hectares. New ingeniously designed changing rooms are setting up, with rich shapes of tower, round, square, polygonal, and beautiful in colors. In the meantime, all supporting facilities are completed, plant roads, water supply and drainage channels, street lamps, as well as afforestation, colorful wall carving and fountain sculpture.
Quick Questions
Our team is waiting for your questions. Please feel free to ask us any questions you might have about our China package tours, Chinese culture, or the sites available. We will gladly help you with any special needs you might have and all questions, like our trip designing is completely free of charge.