Tianzhu Jiaotang (Catholic Church)
Catholic Church (St. Michael's Church)
Chinese name: 天主教堂 (Tianzhu Jiaotang)
Location: No.15 Zhejiang Road, Shinan District, Qingdao City, Shandong Province.
Opening time: on Saturdays and Sundays.
Ticket: free.
How to get there: take buses No.2, 5, 6, 25, 301, 305, 316 or 320.
Travel tips:
The church opens to visitors only on weekends. The weekdays mass begins at 06:00, and the Sunday mass happens from 08:00 to 09:00 in the morning on Sundays; it use pipe organs only in Sunday mass.
Introduction to Catholic Church of Qingdao- a landmark of Qingdao as well as a required background of wedding dress photos in the city
Constructed in 1932 and completed in 1934, designed by German designer in the light of Gothic and Romanesque, the Catholic Church of Qingdao, with the autonym being St. Michael's Church, is the largest Gothic architecture in Qingdao, the only consecration church in China, and a masterpiece of Christian architecture art.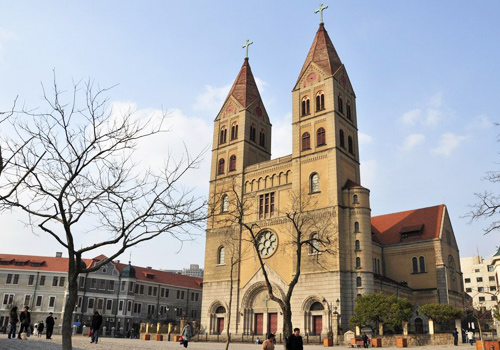 Covering 11480 square meters, the Catholic Church is imposingly and elegantly built with yellow granites and reinforced concrete, with concise and graceful patterns carved on the wall surface. Windows are of solemn and simplicity which are designed in semi-circle arch with simple lines. Above the gate is a huge rose window, and on two sides are two bell towers, on each of the red tile-covered cone spires is a 4.5-meter-high cross. Each tower is 56 meters high, with 4 bells hanging inside. Entering the church, it is a spacious hall which is 18 meters high and can hold 1000 people each time. On the corridors on two sides of the hall are two big altars and four small altars. The dome of the church is dignifiedly painted icons, and dazzling lights brimming with strong religious atmosphere.
Adopting the style of Italian Renaissance, the church was said to be built with a height of 100 meters, which later had to be revised to be present size because of the outbreak of the World War Ⅱ. During the Cultural Revolution (1966-1976), the church suffered a heavy damage. It was desterilized till April in 1981 and at the same time inscribed as a cultural site under the provincial protection. Today, the new renovated Catholic Church is not only an outstanding cultural relic opening up to visitors on weekends but also resume the normal religious activities as the most important religious venue in Qingdao City.