The Day and Night of Watertown Suzhou- three best ways to taste the city's lasting appeal
2013-04-12China travel Guide
Watertown Suzhou, a delicate city from the traditional Chinese paintings in the southern regions of Yangtze River, is synonymous with small bridges, water alleys, classical gardens, deep humanities and literary quotations in almost every street. To taste its lingering charm, spring, especially the month of April should be the best period due to less visitors and travel cost. Just please well-prepared ahead of your exploration, as the delicate beauty and fine details of the city require a more tranquil, tender heart and more perceptive eyes.
To appreciate the gardens with an expert eye
Suzhou Gardens, celebrated by its ingenuity, started from Spring and Autumn Period (770-476 B.C.), flourished after the Grand Canal was opened in Sui Dynasty (581-618), and achieved continuity all the time thanks to the city's location which protected it from the flames of wars in the central plains. Though always presented as being exquisite with similar pavilions, terraces and rocks, for most travelers, Suzhou gardens is hard to appreciate as they have no idea from which aspect to do that.
To enjoy the water, the Humble Administrator's Garden is the solid choice. A garden considered containing all features of classical Suzhou gardens, it was built focusing on a central pond and divided into three parts. Upstairs of Yuanxiang Hall, which stands just on the central axis of the garden, offers a bird's-eye view of the entire garden. To learn stones laying, it should be in Huanxiu Mountain Villa in Jingde Road. Ignored by most travelers, the scenes in the villa are changeable with every move of a step. Its rockery is regarded as the summary of all pilling of rockeries of Qing Dynasty (1644-1911). With a few stones and almost all professional means, its large rockery was created without any artificial traces.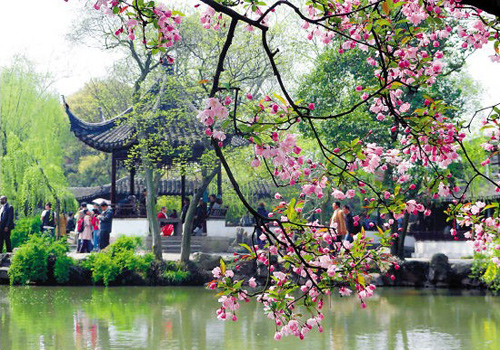 If you are fond of ancient trees and rocks, the Pavilion of Surging Waves is the masterwork. Being the existing oldest garden (built in Song Dynasty, 970-1279) in Suzhou, Surging Wave Pavilion is characteristic of natural water but give the priority to rockeries and a long enclosing corridor. To see a model which does more with less, absolutely it is Master-of-nets Garden. One of a few gardens open to the public also in the evening, the ingenuity of the garden is its layout of stream mouth, bayhead and rocky ledge. What is more, all its pavilions, terraces, halls and corridors were built face the water.
To roam on the Pingjiang Road (平江路)
Located in the northeast of the ancient city of Suzhou, Pingjiang Road historical block boasts three times as large as Zhouzhuang Watertown. A water street with most antiquities, present Pingjiang Road still keeps its basic chessboard-pattern as it was 800 years ago. Different from other ancient towns, like Fenghuang, Lijiang, both of which have been completely commercialized with travelers, the old district of Suzhou is still the haunt of local people as before, though various romantic and exotic teahouses, cafés, postcard shops and the like have stepped in it.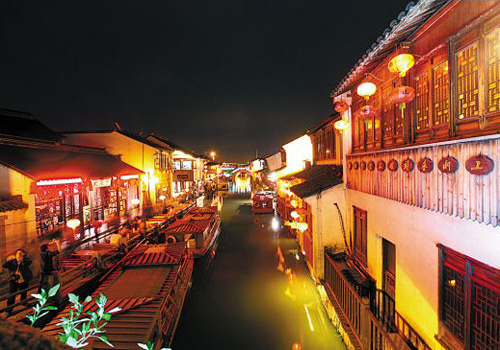 On both sides of the main stem are successively ancient water alleys. On those bluestone-paved alleys, like Xuanqiao (Hanging Bridge) Alley, grandpas and grannies often sit on their bamboo chairs at their door with a glass pot of green tea on the floor, cozily chat and listen the traditional Kunqu Opera or Pingtan (storytelling and ballad singing in Suzhou dialect) from their aged radios. Maybe the refined and elegant temperament of Suzhou people just developed from such cozy but particular about every detail in their life.
To get an in-depth knowledge about Suzhou Pingtan or Kunqu Opera, the Zhangjia (Zhang family's) Lane is the right place. Here are the Pingtan Museum and Kunqu Museum of the city. Both have performs in the afternoon; if with no time for performs, the exquisite stages and roles' miniatures of the two arts also worth a savor.
To enjoy the night scene in 7 Li Shantang Street (七里山塘)
Shantang Street, praised as the "No.1 Ancient Street of Suzhou", has accompanied the city moat for over 1100 years. Built by Bai Juyi, a far-reaching Chinese poet of Tang Dynasty (618-907), the Shantang Street, starts from Chang Men in the east and westerly about 7 li (3.5 kilometers) to Wangshan Bridge of Tiger Hill. The east section of the street is more bustling with shops and residences. And small bridges are everywhere along the street. Interestingly, unlike other Chinese bridges which have stone lions guard, the bridgehead beasts of Shantang Street are all civet cats.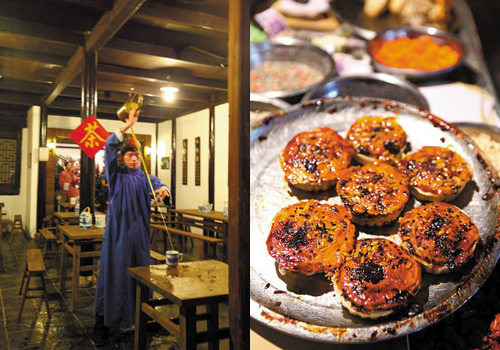 A Baigong Ancestral Hall (in memory of Bai Juyi) is found here; the Songhe Tower, a time-honored restaurant is also located in the street. Dongwu Noodle Shop, in the vicinity of Songhe Tower, is another popular restaurant in Shantang Street. The night Shantang Street, with delicious traditional dishes and snacks, lighted hanging lanterns and tricks of shadows, sometimes people wearing ancient clothing passing by, often creates optical illusions that people can not tell exactly at what eras they are in.
Suzhou Travel Tips:
1. Souvenirs- silks and confectionaries are famous Suzhou specialties. Best confectionaries are made by time-honored brands Cai Zhi Zhai(采芝斋) and Dao Xiang Cun (稻香村), which have stores in Guanqian Street. In addition, Biluochun tea, Song brocade (of Song Dynasty), preserved fruits, Suzhou embroidery and New Year paintings from Taohuawu are also popular souvenirs.
2. Transportation- Suzhou has no civil airport; travelers can fly to Shanghai first and then transfer to Suzhou by shuttle bus, which departs every 40 minutes in the daytime both in Pudong Airport and in Hongqiao Airport.
3. Food- popular foot streets of Suzhou are Tajian Lane, Bifeng Lane in Guanqian Street District, Shiquan Street, Fenghuang Street in Panmen District, Xueshi Street, Ganjiang Road between the above districts and the Jinmen Food Street in Shi Road.


--- By April (Visit Our China)

Comment