Zhouzhuang Water Town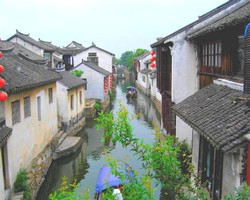 More Photos

Chinese name: 周庄水乡 (Zhouzhuang Shuixiang)
Location: 38 kilometres from the southeast Suzhou City, Jiangsu Province.
Admission fee: from 07:00 to 16:00, 100 yuan (including the Zhang's House, and the Shen's House); from 16:00 to 21:00, 80 yuan (including the Zhang's House, and the Shen's House).
Opening time: 07:00-21:00.
How to get there:
- From Shanghai. Get on the tourist special line at Shanghai Stadium (上海八万人体育场), which takes about 90 minutes. Get on tourist special line at Shanghai Hongkou Stadium (上海虹口体育馆), which takes about 120 minutes.
- From Zhejiang. Get on tourist special line at Hangzhou Dragon Sports Centre (杭州市黄龙体育中心), which runs at 08:00 every Saturday.
- From Nanjing. Get on tourist special line at No. 400 Zhongshan South Road (中山南路400号), which runs at 06:30 every Saturday and Sunday.
- From Suzhou. Get on tourist special line at Suzhou North Bus Station (苏州汽车北站), which will take you about 90 minutes.
- From Kunshan. Get on tourist special line at Kunshan Bus Station (昆山汽车站), which will take you about one hour.
Best time to visit: All year round.
Recommended time for a visit: two days.
Introduction to Zhouzhuang Water Village
Zhouzhuang, a typical water town, is located in the southwestern part of Kunshan affiliated to Suzhou, at the junction of Shanghai and Kunshan. It is about 45 kilometres away from Suzhou, and about 100 kilometres away from Shanghai. Built in the year of 1086, it was named after the local - Mr. Zhou Digong who donated his land to repair the Quanfu Temple, while in the before it was called Zhen Feng Li (贞丰里).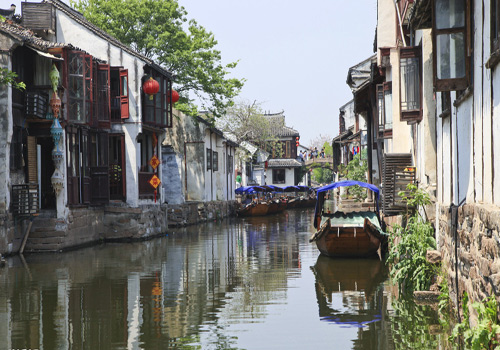 As one of the six great ancient towns in the south of the lower reaches of the Yangtze River, Zhouzhuang enjoys its good reputation as "the first water town in China". To some extent, it is on par with Venice in Italy, recounting its thousand-year history, displaying its gentle spirits, unique human landscapes and unsophisticated folk customs. Nowadays, it has become the gem of the orient and one of the most popular scenic spots for travelers to vacation and take their leisure.
Shen House (沈厅)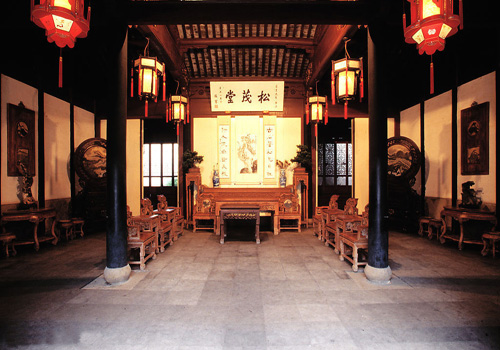 The Hall of Shen's Residence, originally known as Jingye Tang, was built by Shen Wansan's (a legendary tycoon in the south of the lower reaches of the Yangtze River) descendant Shen Benren in the year of 1742. Shen House is divided into three parts. The former part is water gateways and wharves for the locals' daily chores like washing and anchoring. It is typical architecture of water village of the south of the lower reaches of the Yangtze River. The middle part is the hallway, main hall, and tea room. Meetings, funerals, weddings can be held here. The third part is the back hall and some rooms for the locals' living. All rooms and halls are connected by corridors. If travelers are fond of engravings, they can find many masterpieces in Shen House. Having been devastated during the year of 1966-1976, the residence relived after restoration since 1983. And now, as a Major Historical and Cultural Site Protected at Jiangsu provincial level, it enjoys great popularity amongst visitors.
Zhang House (张厅)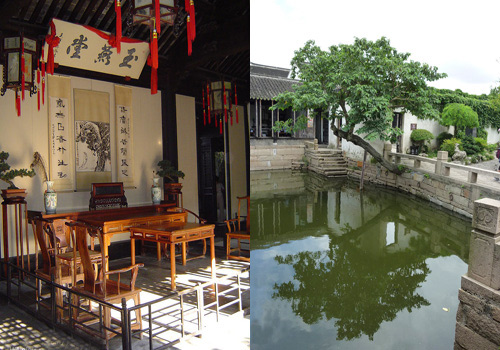 As one of the few architecture of Ming Dynasty style, Zhang House, covering an area of 1800 square metres and boasting over 70 rooms, is listed as a Major Historical and Cultural Site Protected at Jiangsu provincial level. It is said it was construct in the Zhengtong Period (1436-1449) of Ming Dynasty and was sold out to a Zhang's family, thus changing its name from Yishun Tang to Yuyan Tang (commonly known as Zhang Ting). Through five hundred plus years, the Zhang House still remains grand as a dwelling of the well-off. For those who come from metropolises, sauntering inside is by no means seeking sheer thrills, but dissolving frustration or wretchedness in the beauty and peace of the house.
Residence of Shen Wansan (沈万三故居)
This attraction, based on relevant stories of Shen Wansan, vividly displays how he obtained his wealth, his bumpy experience, legendary lifetime and the daily life of the whole family via bronze statues, brick carvings, carved lacquerware, realistic models, comic strips, clay sculptures and any other means of aesthetic expressions. It is no doubt that it is a human landscape of moment in Zhouzhuang.
Twin Bridge (双桥)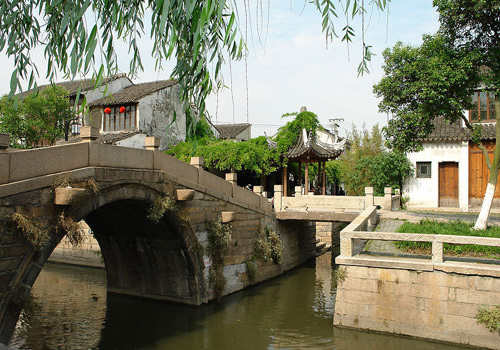 Twin Bridge is made up of a stone arch bridge – Shide Bridge (世德桥) and a stone beam bridge – Yong'an Bridge (永安桥). The locals also refer to it as Key Bridge (钥匙桥) because of the shape of the two bridge holes, one being round, the other square, much like the keys people use in the ancient times. These two stone bridges was first constructed between 1573 and 1619, and then renovated several times later. Shide Bridge spans 16 metres, 3 metres wide, while Yong'an Bridge is 13.3 metres long, 2.4 metres wide. Every year, numerous art college students will come here to fill their sketch books with drawings of the splendid scenery of Zhouzhuang. Photographers prefer this magic place, too. Finding a vintage point, you can fix your experience with your camera.
Fuan Bridge (富安桥)
Located in the east end of Zhongshi Street (中市街), the bridge was originally known as Zongguan Bridge (总管桥). At first, it was made of bluestones, but after years' of restoration, it is now made of granites. Shen Wansi (沈万四), Shen Wansan's brother was said to have contributed to the bridge, and the name of the bridge was the best exemplification of his wish for wellbeing when he became rich. Since the year of 1988, four bridge houses had been repaired where tea house, souvenir shops are available. Not only can travelers take some rest, but also appreciate and shoot pictures of the water village. If you are carefully enough, you can discover pieces of Wukang stone, which is the positive proof of the long history of Fuan Bridege.
Mi Building (迷楼)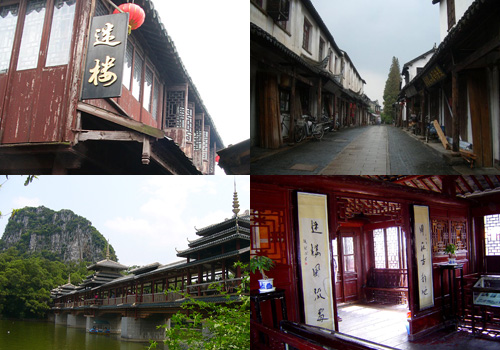 Standing along Zhenfeng Bridge, built in the Guangxu Period (1871-1908), the building was once called De Ji Hotel (德记酒店). Actually, at that time, Zhouzhuang had already been a commercial port where pyramids of stores were set up and De Ji Hotel can remain to be an outstanding one is owing to its ideal location. Besides, the founders of Nan She, a cultural organization in modern and contemporary Chinese history, Liu Yazi, Chen Qubing once wrote a hundred more poems in the building, which were compiled as An Anthology of the Mi Building (《迷楼集》).
Quanfu Lecture Temple (全福讲寺)
Built in 1086, the main architecture was Hall of Mahavira, in which the Buddha was enshrined, guarded by Ma?ju?rī and Samantabhadra. The mere sight of the grand temple inspired a calligrapher Li Xiangen of Qing Dynasty to inscribe "Buddha Kingdom in Water" on the horizontal board. However, in the 1950s it was converted into a grain depot with most figures of Buddha and invaluable items destroyed. Fortunately, with the reform and opening-up policy, the new Quanfu Lecture Temple was completed. The erstwhile magnificence and exquisiteness are unfolding just before your eyes.
Zhouzhuang Boat/APEC Boat (周庄舫/APEC会议船坊)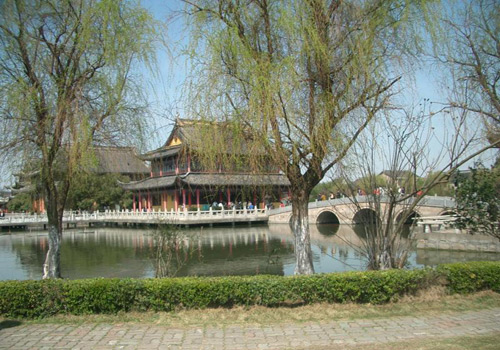 The boat, 49.71 metres long, 15.68 metres wide, 1.48 metres deep, is sort of south China. The main body is a conference room of 240 plus square metres, which has a capacity of holding 150 people at the same time. Cozy and classical chairs, hand-made carpet, French windows are all in sight. The upper part is a café of 50 square metres and an open-air lounge bar. Staying in the boat, you cannot help utter an exclamation because of its natural combination of tradition and modern! For your information, the ticket price is 10 yuan, which is not included in the admission fees.
Nanhu Park (南湖园)
Laying on the south of Zhouzhuang village town, Nanhu Park is also known as Nan Bai Dang (南白荡). One third of it belongs to Zhouzhuang, the other to Wujiang City. Nanhu Park, covering 8.9 acres, is divided into four scenic areas, namely, Spring, Summer, Autumn, and Winter. The Spring scenic area and Summer scenic area feature water and hill garden; architecture in the style of the ancients can be found in the Autumn scenic area; the Winter scenic area has a concentration of religious architectural complex, drawing countless devotees every year. For your information, cruises are available; the price is 40 yuan per boat for sightseeing, 80 yuan for surfing; each boat is limited to six persons.
Pailou and Quanfu Pagoda (牌楼塔影)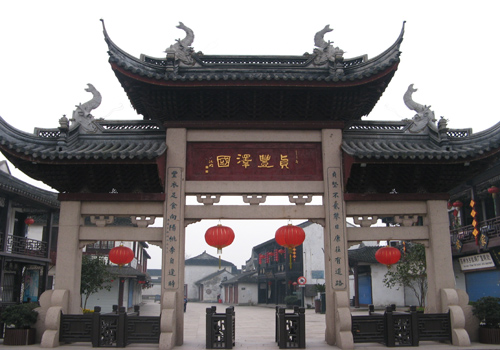 On the junction of the new and old town on the south end of Quanfu Road stands a mock-Ming Dynasty pailou. It is so solemn that it looks like a gate of the village town. On the north, a horizontal board inscribed with "贞丰泽国" is glaring. On the west, there stands a pagoda called Quanfu Pagoda (全福塔). Built in 1987, 33 metres tall, the pagoda has five tiers. Seen from atop, the vista of the town will shock you! No wonder it has become an emblem of Zhouzhuang. Besides, some festivals or events are often held around pailou and Quanfu pagoda. Most travelers will commemorate the moment in a photo as long as they are in Zhouzhuang.
Chengxu Taoist Sanctuary (澄虚道院)
Chengxu Taoist Sanctuary is also known as Sheng Tang (圣堂). Built in 1086 to 1093, it has a history of more than nine hundred years. Taoist rites have always been popular since the Ming Dynasty. 21st to 22rd June of every lunar year will see Taoist rituals in the sanctuary. In 1993, it was listed as Major Historical and Cultural Site Protected at Kunshan level. One year later, it was open to the public. To a large extent, Chengxu Taoist Sanctuary is not only symbolic of Taoism of the town, but also furnishes visitors with a place to appreciate art of the Ming Dynasty.
Zhenfeng Bridge (贞丰桥)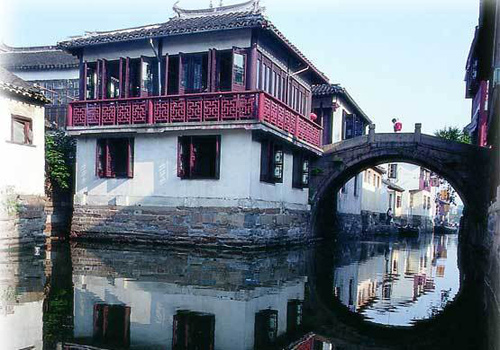 Connecting Xiwan Street (西湾街) and Zhenfeng Alley (贞丰弄), the Zhenfeng Bridge is a stone arch bridge, 12.2 metres long, 2.8 metres wide. It takes its name from the former name of Zhouzhuang –Zhen Feng Li.
Grave of Shen Wansan (沈万三水冢)
The grave of Shen Wansan is under the bottom of Yinzibang, north of the town. Laying in the water, the coffin containing Shen Wansan glitters like silver, giving a sense of mystery to the town…
Shows – Siji Zhouzhuang / the Four Seasons of Zhouzhuang (四季周庄)
Siji Zhouzhuang is the first live action about the original culture of the south of the lower reaches of the Yangtze River, depicting the harmonious life of the locals and the water. Undoubtedly, it is a window to showing the tradition of Zhouzhuang. The performers are professionals and farmers, citizens, fishermen, in a large proportion. Whether in terms of aesthetics or grassroots, it is absolutely a spectacle. For your information, the ticket price is 250 yuan per person, including the admission fees and the show; it is staged from 19:00 to 20:00, on 10th April to 31st October. The venue is the water stage of Jiangnan Renjia (江南人家).
Quick Questions
Our team is waiting for your questions. Please feel free to ask us any questions you might have about our China package tours, Chinese culture, or the sites available. We will gladly help you with any special needs you might have and all questions, like our trip designing is completely free of charge.