Suzhou Transportation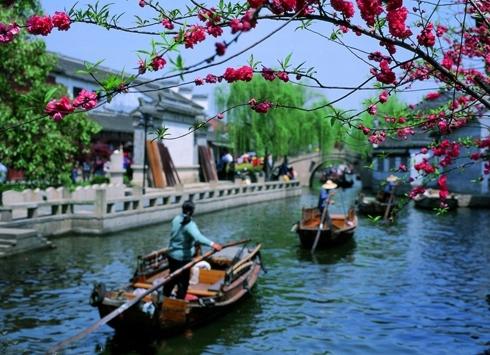 By Air
There are no civil Airports in Suzhou, so visitors have to reach the city by way of Shanghai Hongqiao International Airport, Shanghai Pudong International Airport and Wuxi Shuofang Airport in Jiangsu province. Airport shuttle buses are frequently running between the airports and Suzhou, and to some extent, it is quite convenient though lack of its own civil airport.
Suzhou - Shanghai Airports
It usually takes visitors about three hours to arrive at Shanghai Pudong International Airport and costs 84 yuan, while it takes visitors about two hours to reach Shanghai Hongqiao International Airport and the ticket price is 53 yuan. Visitors can get on the shuttle buses at the No.115 West Ganjiang Road (干将西路115号) in Suzhou, or the exit of shuttle buses parking lot on the second floor of Terminal 1 Shanghai Pudong International Airport, or the parking lot on the east of the guesthouse of Shanghai Hongqiao International Airport.
For your information, if you are decided to take shuttle buses from Suzhou to Shanghai Hongqiao International Airport, you are advised to book the ticket before hand. The first bus runs at 6:20 in the morning and stops at 15:30.
Shuttle buses begin to run from Shanghai Hongqiao International Airport to Suzhou at 10:00 in the morning, with the last bus at 21:00, while they are running from Shanghai Pudong International Airport at the same time but stop running at 20:00. Of course, visitors can first take Airport Line 5 to Shanghai railway station, which will cost them 18 yuan, then transfer to Suzhou.
Suzhou - Wuxi Shuofang Airport

It takes visitors about one hour to get to Suzhou with one-way ticket 30 yuan. Visitors can get on the bus at the No.115 West Ganjiang Road (干将西路115号) in Suzhou or thirty metres away from the right of the exit of Wuxi Shuofang Airport. The bus begins to run from Suzhou at 6:15 and stops at 18:10, while it runs from Wuxi at 10:30 and stops at 20:20.
Suzhou - Xiaoshan International Airport
After covering 183 kilometres, the plane will bring visitors to Suzhou from Hangzhou in about 2.5 hours and the one-way ticket price is 95 yuan. Visitors can get on the bus at the No.1685 Renmin Road (人民路1685号). The time of the shuttle bus from Suzhou is 6:45 to 16:00, while from Xiao Shan International Airport 10:30 to 21:00.
By Train
Suzhou railway station is located on the north bank of the mote in the north of Suzhou city, that is, on the No.27 Chezhan Road, Pingjiang District (平江区车站路27号), Suzhou city. Almost all trains of the Beijing-Shanghai railway will stop here except through trains. Generally speaking, trains run between Suzhou and Shanghai every 20 minutes, but during the Tomb-Sweeping Day the bus will increase. It will take visitors about thirty minutes to ninety minutes to cover the distance.
Tickets are available on the No.8 Taijian Long, Guanqian Street (观前街太监弄8号), consolidate ticket office on the No.566 Renmin Road (人民路566号联合售票处), No.50 Jinmen Road (金门路50号), No.22 Beiju Road (北局路22号), No.18 Shi Road (石路18号), No.120 Sanxiang Road (三香路120号).
No.2, 3, 5, 6, 10, 44, 64, 82, 85, 202, 317, 518, 529 buses will pass Suzhou railway station. for your information, although trains running between Shanghai and Suzhou are quite a few, you had better buy tickets in advance if possible in that it seem impossible to leave soon after you buy the tickets.
By Bus
Suzhou has the advanced highway system. There are three main bus stations in the urban areas, that is, North Bus Station, South Bus Station, and West Bus Station. In its Wuzhong District, traveling special lines of Wuzhong District Bus Station can transfer passengers to scenic areas in towns and villages.
Suzhou North Bus Station
It is located in the No. 29 Xihui Road (西汇路29号) and buses are bound for Anhui province, Shandong province, Hubei province, Henan province, Zhejiang province, Shanxi province, Fujian province, Shanghai province and other cities within Jiangsu province.
Buses to Nantong run every thirty minutes from 5:40 to 17:50, to Jiaxing every fifty minutes from 6:30 to 17:10, to Hangzhou every thirty minutes from 5:30 to 17:30. Express buses running on highway and coaches to other provinces depart from the station too, except to Anhui province, Henan province and Shandong province. Minibuses to Kunshan, Taichang, Changshu, Zhangjiagang are also available.
Suzhou South Bus Station
It is sited at the intersection of Yinchun Road, South Road, South Loop (南环东路迎春路口). Buses to Changshu, Kunshan, Shengze run every twenty minutes, to Hangzhou, Zangjiagang, Wuxi, Zhenjiang, Tongli, Nanxun, Huzhou, Jiaxing every thirty minutes. Minibuses to towns and villages in Wujiang are also available here. Coaches bound to Zhejiang province depart from the South Station, too. Besides, express buses to Nanjing are within reach.
Suzhou West Bus Station
It is situated in the intersection of Jinshan Road, Yangtze River Road, Xin Distric (苏州新区长江路金山路), and buses are bound for Changshu, Zhangjiagang, Kunshan, Zhenhu, Wuxi, Nantong, Hangzhou, Nanxun. To arrive at Anhui province, Henan province and Shandong province, visitors can take buses here.
Wuzhong District Bus Station
It is located on the No.10 Guangjian Road, Wuzhong District (吴中开发区广建路10号), and travelling special line buses bound for Luzhi run every twenty minutes from 7:00 to 18:00, for Tongli from 6:40 to 17:15, Zhouzhuang from 7:00 to 17:00. A few coaches depart from here to Zhejiang province and the north of Suzhou.
For your information, ticket prices range from 26 yuan to 30 yuan if you decide to make a trip to Shanghai from the North Bus Station.
Cruise
Tourist cruises are Grand Canal Cruise and Suzhou ancient city moat. The Beijing-Hangzhou Grand Canal Cruise departs at 17:30 in the afternoon, and arrives in Suzhou at 07:00 the next morning. Reaching the pier of Qiaotuku Canal, Panxu Road travellers can have a good time on boat to enjoy the city moat.
City Transportation
Bicycle – due to the concentration of the scenic spots in Suzhou, travellers can choose bicycles to discover the lovely city. Around the Pingmen Bridge which is on the east of railway station, many leasing companies are in sight. After showing your ID card and paying guarantee deposits 100 yuan to 200 yuan, you can rent the bicycle immediately. Generally, 2 yuan for 4 hours, 3 yuan for 5 or 6 hours, 5 yuan for a whole day.
Taxi – pricing starts at 10RMB (including 3 km), 3 kilometers after additional 1.8 RMB for one kilometer, and 5 kilometers after, 50% no-occupancy surcharge. Waiting for more than 5 minutes, the driver has to charge you by converting 5 minutes into 1 kilometer. Extra fees have to pay if you take taxi from 23:00 to 5:00.
Bus – for ordinary bus, the ticket price is 1 yuan; for air-conditioned bus, the ticket price is 2 yuan. Some suburb buses charge travellers of fees according to the covering distances.
Travelling Special Line Bus – it can take you the almost all scenic spots in Suzhou. There are five lines in total.
Rickshaw – when buses can not bring you to some scenic spots, it is fantastic to reach them by rickshaw, starting price being 2 yuan, after 1 kilometer after additional 2 RMB for one kilometer.