Featured Inns of Beijing Flavor in the Hutong Nanluoguxiang
2013-04-03China travel Guide
Almost all visitors who have lived in Hutongs of Beijing will take a fancy to Chinese quadrangle courtyard and old Beijing culture. For them, to go deep into Hutongs, the past memories and traces of Old Beijing, is the only way to a real Beijing. Nanluoguxiang (南锣鼓巷), or South Luogu Lane, a hutong built 700 years ago in Yuan Dynasty (1271-1368), has become a popular haunt for both domestic and foreign travelers today with many distinctive bars, stores and galleries. Inside Nanluoguxiang as well as its surroundings, there are many hotels and inns featured with strong old Beijing flavor, and here are five recommended for your reference.
Former Beijing Inn (北京紫地客栈)–the graceful flavor with caved beams and painted rafters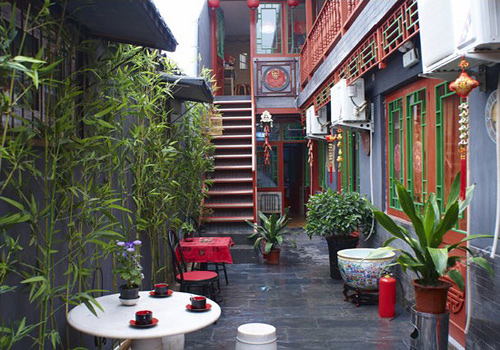 A hotel just transformed from a typical Beijing dwelling, Former Beijing Inn is the right place to get back to the old Beijing times- the delicate courtyards, carved beams and painted rafters, neat rooms of primitive simplify, carved wooden beds of antique beauty inside, and outside crisscross Hutongs, old Peking snacks, vendor's cries, bustling residents...
Former Beijing Inn not only stands among the age-old architectural complex but also connects the prosperous modern blocks of the city. It is adjacent to hot tourists' attractions, Tiananmen Square, Place Museum, Houhai Bar Street, Prince Gong Mansion, and so forth.
Beijing Traditional View Hotel (北京古韵坊怡景酒店)- quadrangle courtyard of antique flavor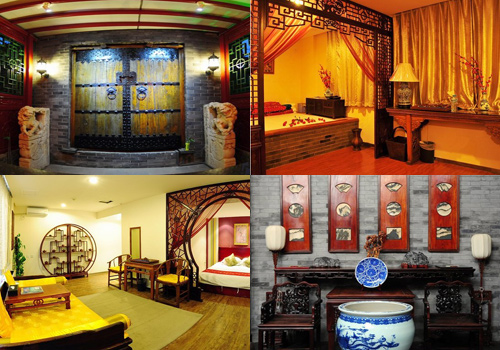 Adhering to Chinese ancient culture, Beijing Traditional View Hotel is designed with rich Chinese elements; in the meantime, it is more practically adopting the simple and comfortable western concepts. Outside the window of its rooms, it is the vivid old Beijing life scenes, while in its restaurants are qualified modern equipments. With walking distance, guests are easily to explore the old Beijing in Drum Tower, Gui Street (a famous food street), the Imperial College, and famed quadrangle courtyards.
Duge Courtyard Boutique Hotel (杜革酒店)- a big art flavor in a small courtyard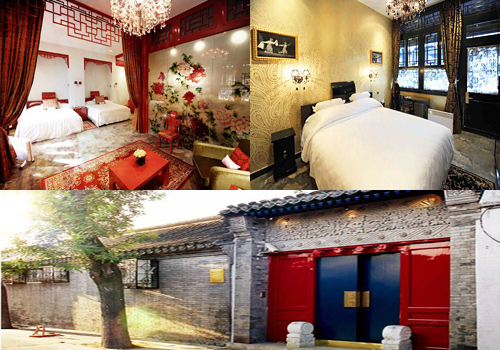 Part of the residence of Suo Family (one of the four greatest families in 18th century), the Duge Hotel reserves the courtyard's original layout, the black gate and red walls, wood-carven lattices, and the vigorous bamboo grove... Boldly using colors in the western way, rooms are decorated with diversified Chinese articles, the hostess's paintings and calligraphies, collected photography works, ethnic headwear, porcelain paintings, facial makeup in Peking Opera, Old Shanghai posters, and so on. To demonstrate the statement "Art and Culture are interlinked", the Duge Courtyard Boutique Hotel is just the perfect example.
N.E.Hotel Beijing (王家客栈)- traditional Chinese paintings are the themes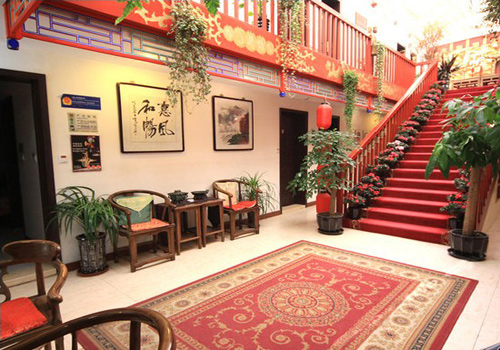 An antique quadrangle courtyard with red walls and gray tiles in Yueya Hutong, N.E.Hotel Beijing is absolutely a Chinese traditional cultural hall. Whether in site selecting, orientation, material selecting, or in decoration, the designer had taken great pains to make the hotel a veritable Chinese culture courtyard. Wooden carvings are the representative Chinese patterns with dragons and phoenixes, couplets on cylinders are Chinese propitious words, and what make the hotel more distinctive are its large amount decorations of Chinese paintings and calligraphies with typical Chinese themes.
Hutong Impressions Beijing Guesthouse (胡同印象客栈)- the memories of ordinary Hutong inhabitants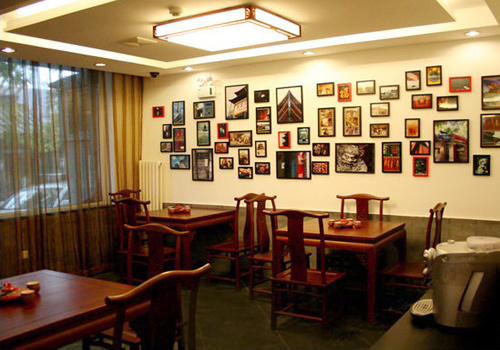 Live in Hutong Impression Beijing Guesthouse is live in an ordinary Hutong family decades years ago. The shiny Permanent Brand 28 (inches) bike (a fashionable vehicle in 1960s and 1970s in China) pauses at the guesthouse gate, couples of bamboo birdcages hang under the eave, the ding-dong copper bells tie on the door handle, and amiable aunt coming out with warm smile and Beijing style greetings creates an illusion of a past scene years ago.
Each room is named after a Hutong in Luogu Lane, and each room is arranged simply but attentively. On the clean walls are decorated paintings of bamboo, birds, wintersweets...and the paper-cut lamps on the head of the bed give out warm light. When opening the window, the truest Hutong life scene just leaps to your eyes.


--- By April (Visit Our China)

Comment