Tiger Hill

More Photos

Chinese name: 虎丘 (Hu Qiu)
Location: No.8 Tiger Hill, Qilichu, northwest of Suzhou City, Jiangsu Province.
Opening time: 07:30-18:00
Ticket: CNY60 during high season (Apr.16th-Oct.30th), CNY40 during off season (Oct.31st-Apr.15th); additional CNY50 for bonsai exhibition in Wanjing Mountain Villa.
How to get to Tiger Hill: take tourist lines No.1, 2, buses No.32, 146, 816 and 949.
Recommend time for a visit: 3 hours.
Introduction to Tiger Hill of Suzhou
Located some 5 kilometers northwest of Suzhou City, the Tiger Hill is only 36 meters high and covering about 20 hectares. Though small in size, Tiger Hill is provided with a great many gorgeous scenes, historical sites, numerous towering ancient trees, and a Tiger Hill Pagoda on the top of the hill.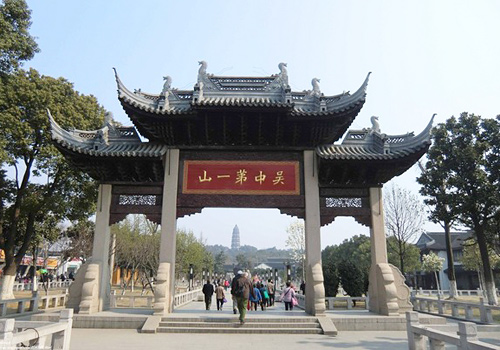 According to legend, the king of Wu Kingdom during Spring and Autumn Period (770BC-476BC), He Lv, who built his capital in Suzhou, was buried on the hill; and three days after this burial, a white tiger was found sitting there, hence the name. The great poet of Tang Dynasty (618-907), Bai Juyi had a canal and a dyke build during his terms of office in Suzhou, which added more appeals to the hill; and the great poet of Song Dynasty (960-1279), Su Shi had wrote some praised verses for Tiger Hill, and acclaimed it as a must for Suzhou tour . The elegant natural beauty and centuries-old cultural landscape just endows the Tiger Hill with a good reputation as The No.1 Scenic Spot in Wuzhong (one of the districts in Suzhou). In 2002, Tiger Hill was inscribed as one the first batch of national AAAA scenic spots, and later in 2010, it became an AAAAA one.
Today's Tiger Hill is not only a popular tourist attraction for travelers, but also a major assembly place for locals. Every spring, there is an Art Flowers Show held in the scenic area for a large quantities famous and precious flowers and plants, such as peony, tulip, Rhododendron hybridum, lily, etc. Every autumn, there is a temple fair with rich folk customs and folk shows from both south and north China. Furthermore, other shows are also irregularly scheduled in Tiger Hill, like Spring Festival Special Flower Show, Mid-autumn Festival lantern Show, and so on.
Architecture Features and Main Attractions in Tiger Hill
Architectures with various styles and long history are the core elements of cultural relics in Tiger Hill. There are pagodas, halls, bridges, pavilions, and tombs, covering the history from the Five Dynasties (907-979) to modern times; and some of them are listed as key heritage sites under state protection.
Tiger Hill Pagoda, also called Yunyansi Pagoda, is a brick-timberwork pavilion pagoda in octangle with 7 storeys. It is the only existing multistoried building of the Five Dynasties (907-979) in south regions of the Yangtze River. Built on the hill slope, the pagoda slants to the northeast when it was completed, but it has survived for over 1000 years.
Jian Chi, literally Sword Pool, is the most mysterious and attractive spot in Tiger Hill. It is deep to 7 meters, and the water is crystal clear to the bottom and never dried all year around. According to the record, it is under the pool that Wu King He Lu was buried. A bridge named Shuangjing (twin-well) span over the Jian Chi, a single-arched one made of large blue stones, was built in Southern Song Dynasty (1127-1279). Two round holes paralleling on the bridge is the site for carrying water from the pool with buckets; it is a noted historic sightseeing in Tiger Hill.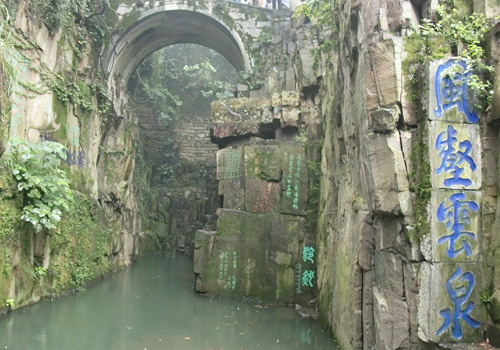 Luyu Well, a stone well on the hill, is said to be dug by Lu Yu in Tang Dynasty (618-907). Lu Yu is the writer of the Classic of Tea (茶经), the first book about tea in China. According to historic records, Lu Yu once lived on Tiger Hill for a long time, and researched the tea and wrote the book, and he found the springs on the hill were nice and sweet, served as some of the best waters for teas.
Yongcui Villa, approximately a rectangle, covers about 7 acres, is an exquisite garden built on Tiger hill. It has well arranged buildings, among which are dotted peaks, rocks, flowers and plants. Smartly incorporate with the hill landform, the villa ingeniously borrows in the natural beauties of Tiger Hill and offers a good view for Tiger Hill Pagoda and the surrounding sceneries of the hill.
The Wanjing Mountain Villa-Bonsai Exhibition
The Wanjing Mountain Villa is a unique collection of the essence of Suzhou-style bonsai works, which ranks top in China. Cherished as national treasures, 90% of them are created by great masters of successive dynasties in Suzhou. There are tree bonsais and landscape bonsais. Tree bonsai is imitating the natural beauty by artistic designing of miniature potted trees, while the landscape bonsai is the magic and miraculous representation of natural landscape by the artistic recreation of bonsai.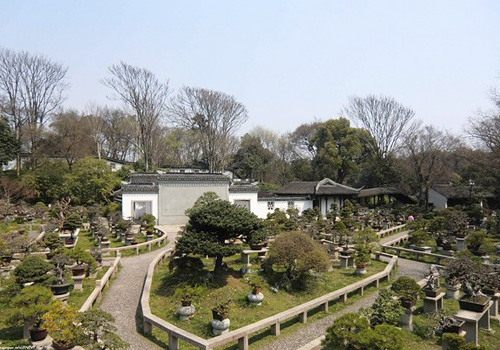 In the Bonsai Exhibition Hall, while appreciating the exhibits just like enjoying "the beauty of lofty mountains and running water as well as rhythms of book-reading and music-playing", we can have a deeper insight into the cultural background embodied in bonsai art and also have a better understanding of Chinese scholars' hermit culture.
Furthermore, in the bonsai garden, visitors can enjoy the live creation of bonsai works by masters, which reveals the miraculous changes from a most common tree into an exquisite and elegant bonsai masterpiece.
Quick Questions
Our team is waiting for your questions. Please feel free to ask us any questions you might have about our China package tours, Chinese culture, or the sites available. We will gladly help you with any special needs you might have and all questions, like our trip designing is completely free of charge.