Changjiang Overseas Cruise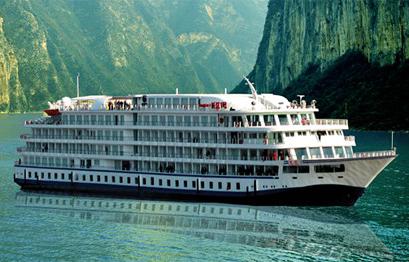 Changjiang Cruise Overseas Travel (also referred to as CCOTC) is a subsidiary to the Sinotrans Changjiang Shipping (Group) Co., Ltd, and is China's largest luxury cruise liner on the inland rivers.

CCOTC is based in Wuhan, Hubei Province,P.R.China. It has an extensive network with both domesticand international branches and representative offices, covering chongqing, Shanghai, Beijing, Shenzhen, Yichang, Jiujiang, etc, and serving major countries across the world. Its business covers a wide range of services, including Yangtze cruises, inbound and outbound tours, China domestic journeys, trips to Taiwan, hotel management, car rentals, air ticket consolidating, etc. Since the1980's the company have served more than 3 million Chinese and foreign tourists. CCOTC is the undisputed pioneer of the voyages on the Yangtze, and has played a leading role in the tourism of the Yangtze Three Gorges and development of the local economy.

CCOTC's Yangtze cruise fleet boasts 12 luxury cruisers, plus one additional top deluxe vessel currently under construction. The fleet is divided into two series: Yangtze Premier Cruise Series and Yangtze Classic Cruise Series. Combined, the company serves an annual capacity of 120,000 passengers, the largest among all the cruise lines on the Yangtze. In 2010, all of the vessels underwent major renovations and upgrades. The newly refurbished cruise ships set the leading standard for luxury cruising on the Yangtze. Ships' staffs and crews have all undergone intensive training to provide you with unmatched, quality service. All the vessels have passed the star rating and safety qualifications set by the China National Tourism Administration, the China Ministry of Transportation, and the China Marine Bureau.

Known for their luxurious features, Yangtze Premier Cruise Series and Yangtze Classic Cruise Series are among the most famous on the Yangtze. All rooms are spacious providing comfort and enjoyment. Each room also has its own private balcony. It would be like living on a deluxe floating five star hotel complete with a gorgeous view. As the pioneer on the Yangtze River, the company now operate multiple voyages throughout the year from Chongqing to Shanghai. The signature voyages include the Yangtze Three Gorges Highlight from Chongqing to Yichang, the Yangtze hree Gorges Round-trip from Yichang to Fengjie and the Yangtze Exploration Voyage from Chongqing to Shanghai. In addition to being an ideal way to explore the beauty of the Yangtze, the ships are also an ideal setting for holding conferences.

CCOTC is an allied member of the USTOA (United States Tour Operators Association) and is a member of the PATA (Pacific Asia Travel Association). It also serves as the executive director of CATS (China Association of Travel Services), the vice president of CTACA (China Tourism Automobile and Cruise Association), and the executive director of the Hubei Association of Travel Services.