9 Days Beijing and Lhasa Train Tour
Tour Code: CTT11
Tour Duration: 9 Days
Tour overview:

This train tour takes you from Beijing, through to Lhasa, the capital city of Tibet. The train ride between Beijing and Lhasa is truly incredible. It passes through some of the most beautiful scenery in China, and scenery that few people ever see. Although it takes longer than an airplane flight, the things you will see on your way are truly worth it. Once in Tibet, you will see the culture and sites that have made it one of China's most popular destinations for centuries.
Tour Summary
Day by Day Itinerary
Reviews
B=Breakfast,L=Lunch,D=Dinner
Tour Dates
Destinations
Services Provided
Meals Included
Day 1

Beijing

Arrive in Beijing, be met and transferred to hotel.

| | | | |
| --- | --- | --- | --- |
| Hotel: | First Class | Deluxe Class | Tourist Class |
| | Crowne Plaza Hotel Beijing Wangfujing | Sunworld Hotel Beijing | Redwall Hotel |

Day 2

Beijing

Full day visit The Temple of Heaven , Tiananmen Square , Forbidden City .

| | | | |
| --- | --- | --- | --- |
| Hotel: | First Class | Deluxe Class | Tourist Class |
| | Crowne Plaza Hotel Beijing Wangfujing | Sunworld Hotel Beijing | Redwall Hotel |

Day 3

Beijing

Full day visit Mutianyu Great Wall , Ming Tombs , The Sacred Way .

| | | | |
| --- | --- | --- | --- |
| Hotel: | First Class | Deluxe Class | Tourist Class |
| | Crowne Plaza Hotel Beijing Wangfujing | Sunworld Hotel Beijing | Redwall Hotel |

Day 4

Beijing/Lhasa

In the morning, visit Summer Palace , Hutong Tours in Rickshaw , Xiushui Street .Then be transferred to railway station to take Overnight train to Lhasa.

Day 5

Lhasa

On the overnight train to Lhasa.

Day 6

Lhasa

Arrival at Lhasa at 20:00 and transferred to your hotel in Lhasa.

| | | | |
| --- | --- | --- | --- |
| Hotel: | First Class | Deluxe Class | Tourist Class |
| | Lhasa Manasarovar Hotel | Lhasa Hotel | Shangbala Hotel |

Day 7

Lhasa

Full day tour to The Potala Palace , Jokhang Temple , Barkhor Street .

| | | | |
| --- | --- | --- | --- |
| Hotel: | First Class | Deluxe Class | Tourist Class |
| | Lhasa Manasarovar Hotel | Lhasa Hotel | Shangbala Hotel |

Day 8

Lhasa

Full day tour to Sera Monastery , Norbulingka (the Summer Palace) , Drepung Monastery .

| | | | |
| --- | --- | --- | --- |
| Hotel: | First Class | Deluxe Class | Tourist Class |
| | Lhasa Manasarovar Hotel | Lhasa Hotel | Shangbala Hotel |

Day 9

Lhasa

Free at leisure till be transferred to airport for your flight departure.
-NOTE:
1. Normally hotels allow a maximum of 3 adults per room with an extra bed, at extra charge. Some hotels will allow three adults and a small child.
2. Tour price is indicative only, please enquire for a detailed quotation.
3. More people more discounts. Please enquire for more details.
Price Includes
A. Entrance fees:To scenic spots as listed above in the itinerary.
B. Meals: All meals as specified in the itinerary.
C. Private Transfers: Among airports, hotels and scenic spots while sightseeing in the above cities by the private air conditioned vehicle.
D. Guide and Driver: As outlined in the itinerary, a well selected English-speaking guide and driver will accompany you throughout the entire tour in that city. They do not fly with you from one city to another.
E. Hotels: Hotel Based on two persons sharing one room with twin beds. All hotels as listed in the above itinerary serve daily western or Chinese breakfast. All rooms are air-conditioned with private facilities unless specified.
F. Luggage Transfers: Between airports and hotels.
G. Service Charge & Government Taxes.
H. Travel insurance in mainland China during the above travel period.
I. Arrangements: The tour cost includes planning, handling, operational and communication charges.
B=Breakfast,L=Lunch,D=Dinner
Day 1
Beijing Arrival
Transfer via: Flight on your own arrangement
Upon your arrival, our local guide will meet you and escort you to your hotel. Then you will spend the rest of the day exploring the nearby streets, or resting and catching up on your jet lag.
Day 2
Beijing (B, L)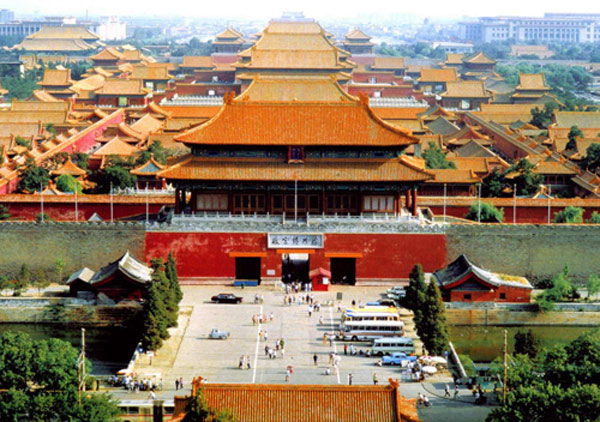 Sightseeing: Temple of Heaven, Tiananmen Square, Forbidden City
This morning our Beijing tour will begin with a visit of the Temple of Heaven, which was completed in 1420, and expanded over the years by two Qing Dynasty Emperors. It was the place where the Emperor came every winter solstice to worship heaven and to solemnly pray for a good harvest. With the three blue-tiled cone-shaped roofs, a unique wooden and blue-tiled structure built without a nail, it has become a worldwide symbol of Beijing. In the park nearby local people practice Tai Chi or sing and dance relaxingly. They will invite you to join in with these activities which will become a very worthwhile and unforgettable experience.

After lunch, we will go on our city tour to visit Tiananmen Square, the symbolic heart of China and gathering place for the masses. It is the biggest public square in the world, which can hold one million people.

From here we will walk across the Golden River Bridge to visit the Forbidden City and experience the ancient Emperor's daily life. For 5 centuries Chinese emperors carried out their administration here. With almost 10,000 rooms, it was the centre of the Ming and Qing dynasties, a massive complex of palaces, pavilions, courtyards and gardens where 24 emperors used to live. (Also Bertolucci's film "The Last Emperor" was produced here). Forbidden City was the largest palace in the world, and in the past it was indeed a forbidden place for commoners. Your tour here will include private access to the Emperor's palace.
Day 3
Beijing (B, L)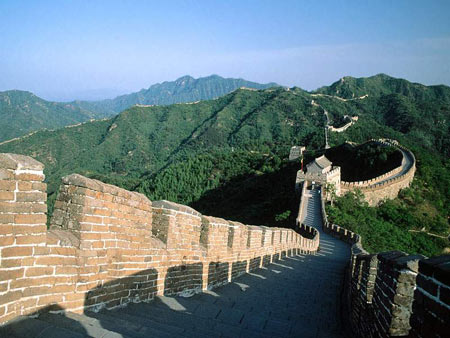 Sightseeing: Badaling Great Wall, Ming Tombs, Sacred Way
After experiencing the royal lifestyle, today we will be transferred to the surrounding countryside of Beijing and visit the Badaling Great Wall, the pride of China and one of the Seven Wonders of the World. Whereas Genghis Khan contemplated it as a military obstacle, Richard Nixon described it as one of humankind's greatest achievements. You will be able to climb and walk one of the best preserved sections of the 2,000 years old ancient wall, admiring the splendid mountain views. Bring a jacket and layer- although it is breezy, the climbing is tough. So be in a good shape!

In the afternoon we will visit the legendary Ming Tombs, which are situated at the foot of Heavenly Longevity Mountain, Changping, northwest of Beijing. Since there are 13 Ming emperors buried there, this place was called the 13 Ming Tombs.

You will walk along the Sacred Way, a road guarded by stone statues on both sides, as the ancient emperors did to hold a memorial ceremony for their ancestors. Finally, you will encounter the marble tombs of the Ming Dynasty emperors and visit one of the spectacular tombs, indeed an underground palace.
Day 4
Beijing / Lhasa (B, L)
Transfer via: Overnight train (soft sleeper class)-on our arrangement
Sightseeing: Hutong Rickshaw Tour, Xiushui Street, Summer Palace

We will experience a unique Hutong tour by taking a men-driven rickshaw this morning. Hutongs are a kind of ancient city alley or lane and are very typical for Beijing. Most of them can be found close to the Forbidden City, and were built during the three dynasties of Yuan, Ming and Qing. Today, the Hutong is a living museum of Beijing history showing the traditional lifestyle of Beijing people. We will make stops to visit a local family and experience how the people of Beijing live.

Then we will visit the Xiushui Street, which is a market located nearby the embassy area where you can find a number of duplicates of clothing in traditional Chinese style. Here you will mingle with Beijing people, overseas and local art dealers as well as farmers who import goods from the countryside. Therefore you may find some interesting things and enjoy your bargaining with shopkeepers.

After having lunch at a local restaurant, you can spend the whole afternoon to visit the famous royal garden-Summer Palace. In 1888, the notorious Empress Cixi used the money intended for the Chinese Navy to build this opulent summer retreat for herself. Have a lakeside cruise on the lovely Kunming Lake and enjoy the magical views of the temples, pavilions and covered corridors around.

Late in the evening you will be transferred to the railway station for your overnight train train No.27 starting at 21:30 for Lhasa.
Day 5
On the train
Your train passes by Xi'an when the sky turns bright. So you are in the daytime during the journey of Xi'an - Lanzhou - Xining. But the Xining to Golmud part of the train journey is mostly in the dark.
Day 6
Arrive in Lhasa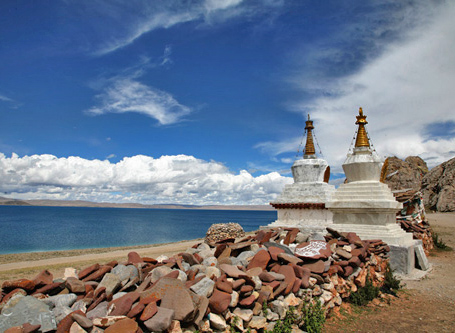 You are in the daytime during the journey from Golmud to Lhasa. Golmud-Lhasa section of the railway is above 4000m above sea level, reaching the highest point at 5,072m above sea level. Highlights of the trip includes snow-capped mountain peaks, the beautiful Conag (or Tsonag) Lake, and in the very high elevation sections of the railway, snow-covered landscapes. There are long stretches of barren land. There are also rivers (the largest was Tuo Tuo River, which is the upper reaches of Yangtze River).

Arrive in Lhasa at 20:00 and transferred to your hotel in Lhasa. Free for rest of the day to acclimate to the climate and altitude.
Day 7
Lhasa (B, L)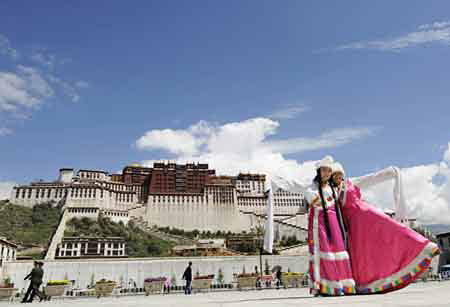 Sightseeing: Potala Palace, Jokhang Temple, Barkhore Street
We will go on a full day visit of Potala Palace. It is the greatest monumental structure all over Tibet. This ancient architectural complex is considered as a model of Tibetan architecture. Located on the Red Hill in Lhasa, it is 3,700 meters above sea level and covers an area of over 360,000 square meters. The palace has 13 stories, and is 117 meters high. In 641, Songtsan Gambo, ruler of the Tubo Kingdom, built the Potala Palace for Princess Wencheng of the Tang Dynasty, whom he was soon to marry.

Then we'll visit the Jokhang Temple, the spiritual center of Tibet. Every day, pilgrims from every corner of Tibet trek a long distance to the temple. The sacred image of Jowo Sakyamuni is the most venerated and beautiful image all over Tibet.

After lunch in a local restaurant, we will visit Barkhor Street, which is the oldest street in Lhasa as well as the center of old Lhasa which remains very traditional. Located in the old area of Lhasa City, Tibet, Barkhor Street is a very ancient round street surrounding the Jokhang Temple. Tibetan people are very proud of it. As a symbol of Lhasa, this street is also a must-see place.
Day 8
Lhasa (B, L)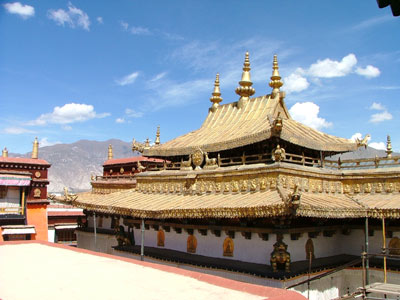 Sightseeing: Sera Monastery, Norbulingka, Drepung Monstery
In the morning we will visit the Sera Monastery, around 5 km north of central Lhasa, which was, along with Drepung, one of Lhasa's two great Gelugpa monasteries. Its once huge monastic population of about 5000 monks has now been reduced to several hundred.

Then we will visit Norbulingka Park; Norbulingka meaning "Jeweled Garden", the Summer Palace of the Dalai Lamas. The gardens are poorly tended and the palaces themselves are something of an anticlimax, especially as most rooms are currently closed to the public.

Our next stop will be Drepung Monastery. It is known as the most important monastery of Gelugpa in Tibetan Buddhism. It is considered as one of the'Three Great Monasteries' (the other two are the Ganden Monastery and the Sera Monastery).

At last we will arrive at a local Tibetan Family. Common Tibetan people will welcome you to their homes; greet you in their traditional way and you will taste their typical food. You can feel Tibetan culture and religion vividly.
Day 9
Lhasa Departure (B)
Transfer via: Flight on your own arrangement
Enjoy some leisure time until our local guide will transfer you to the airport where you will take the flight to your next destination.
Quick Questions
Our team is waiting for your questions. Please feel free to ask us any questions you might have about our China package tours, Chinese culture, or the sites available. We will gladly help you with any special needs you might have and all questions, like our trip designing is completely free of charge.