Sera Monastery

More Photos

Chinese name: 色拉寺 (Sela Si)
Location: at the foot of Pubuchok Mountain, about 5 km north of Lhasa City, Tibet Autonomous Region.
Entrance fee: 55 Yuan.
Opening time: 09:00-16:00.
How to get there: The way for foreign travelers to enter Tibet is booking a Tibet tour or a China tour containing Tibet with a Chinese travel agent in advance.
Brief Introduction to Sera Monastery
During Ming Dynasty,Sakya Yeshe (1355–1435) once went to Nanjing on behalf of his tutor Tsongkhapa (founder of Gelugpa) to pay a formal visit to Emperor Yongle (1360-1424), who titled him "national Buddhist master" and rewarded him a great number of Buddhist sutras, sculptures, cloister cloth, wands, silks and satins, gold and silver. With the help of the awards, Sakya Yeshe founded a monastery in 1419 at the foot of Pubuchok Mountain. After the construction was completed in 1434, the monastery was named after "Sera" ("wild roses" in Tibetan) because of the mass of wild roses nearby.
Smaller than Drepung Monastery in size, Sera Monastery had over 8000 monks live there in its heyday. Today many of the treasured gifts from emperors of Ming Dynasty are still well kept at Sera Monastery.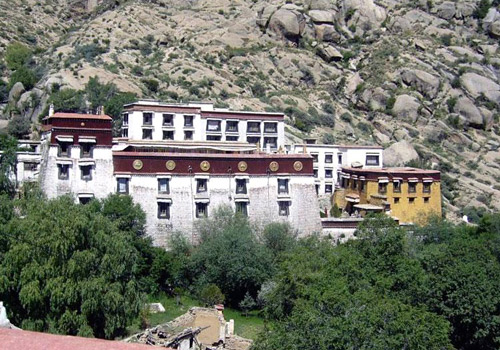 Main Structure of Sera Monastery
Short for Sera Mahayana Monastery in fact, Sera Monastery is known as "three great monasteries of Lhasa" together with Drepung Monastery and Gandan Monastery (also Ganden or Gandain). It covers about 110,000 ㎡ and comprises three major sections: the Tsochen (Great Assembly Hall), 3 Tratsang (Buddhist schools), and 29 Khangtsen (monks' dormitory).
The Great Assembly Hall is the main hall as well as the activity center of the whole monastery. Inside the hall there are 4 Lhakhang (Buddha hall), where Buddha statues and sutras are enshrined and monks' assemblies are held. Tratsang, place for monks to study sutras, is a smaller unit than Lhakhang; and Khangtsen are Sera's basic unit where monks dine and live.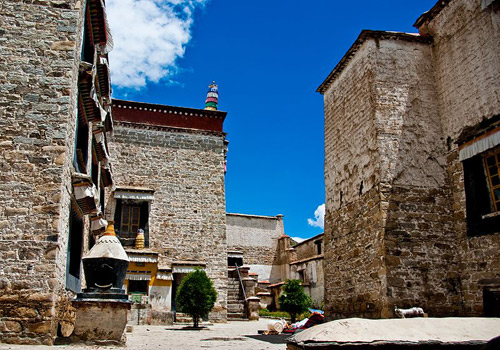 - Je Tratsang
Je Tratsang, the largest Buddhist school and the second structure of Sera Monastery, is a 4-floor building with a sutra hall which is supported by 100 pillars and is embellish with colorful Thangkha, canopy, curtain and Buddhist painting. This school was established in 1435 by its first abbot Gongjiuluozhen Renqinsengge, who acknowledged Sakya Yesheas his teacher at his young age and afterward studied sutra with Tsongkhapa.
Inside its main hall there are many Buddhist pagodas and sculptures; the second floor is a hall for enshrined the Avalokitesvara and the God Horsenecked; the third is a hall which has lost the original enshrined Buddha; the middle part of the fourth floor is a room for Dalai Lama when he comes to Je Tratsang to lecture sutra, and the wing-rooms are the bedrooms of the abbot and other administrative staff.
- Me Tratsang
Being one of the oldest buildings of Sera Monastery, the Me Tratsang was built in 1419 is said to have been destroyed by lightning stroke and was rebuilt in 1761. Just like Je Tratsang, statues of many Buddhas and Dalai Lamas can be seen in the main hall of Me Tratsang. Its second floor is divided into Temple of Sun and Kangyur Hall (Khangyur is an old Buddhist sutra in Tibetan), with about 1000 Buddha statues. The function of the third floor is similar to the fourth floor of Je Tratsang.
- Ngkapa Tratsang
Built in 1419 by Sakya Yeshe as the Tsochen (Great Assembly Hall), Ngkapa is now the one of the first structures as well as the Esoteric Buddhism of Sera Monastery. It began its history as a Tratsang after the current Tsochen completed in 1710. Today this 3-storey Buddhist school is divided into a sutra hall and 4 Buddha halls, enshrining Sakya Yeshe, Tsongkhapa, the Thirteenth Dalai Lama and some other Buddhas. Without exception, its second floor is the place for the many Buddha statues and the third floor is used as the bedroom of Dalai Lama.
More to see Sera Monastery
1. Shoton Festival (or Basking Buddha Festival): It happens from the end of the sixth month to the beginning of the seventh month in Tibetan Calendar. At the festival, a large satin with portrait of Sakyamuni is basking on the specific stage of the monastery and a crowd of pilgrims come to pray.
2. Sutra Debate: Sera is one of the monasteries in famous for sutra debate in Lhasa even Tibet. The debate site is at the northern side of the main passageway of the monastery, and the debate usually starts from 15:00.
3. Sera Monastery has unique festival, which has been held for hundreds of years in honor of a vajra that is said to come from India in the 15th century and was enshrined in Sera on the 27th day of the twelfth month in Tibetan calendar. According to tradition, on the morning of this day, the vajra will be escorted to the Potala Palace for Dalai Lama, who will do some ceremony to it before it is sent back to Sera Monastery. On this day, tens of thousands of pilgrims will wait at the monastery to catch this yearly chance to pray and make a wish.
Quick Questions
Our team is waiting for your questions. Please feel free to ask us any questions you might have about our China package tours, Chinese culture, or the sites available. We will gladly help you with any special needs you might have and all questions, like our trip designing is completely free of charge.