Take a visit to Yangtze River
created: 2013-06-19
China Travel Depot, June 18, 2013

Yangtze River is the longest river in Asia and third longest river in the world only after Nile in Africa and Amazon in South America. Rising high from the Tanggula range in Qinghai-Tibet Plateau, it flows for 6,418 kilometers eastward across most southern part of China.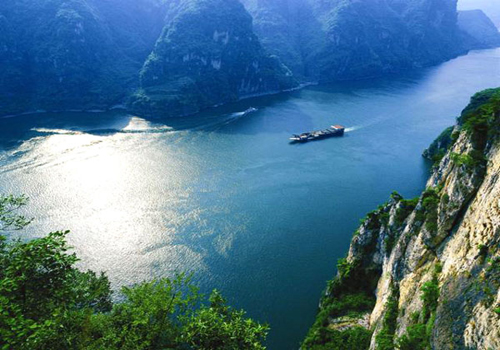 Before it empties itself into East Sea in Shanghai, Yangtze River traverses 11 provinces and cities including Qinghai, Tibet, Sichuan, Yunnan, Chongqing, Hubei, Hunan, Jiangxi, Anhui, Jiangsu and Shanghai. Along with the Yellow River, Yangtze River is considered the most important river in China and the cradle of Chinese civilization.

Yangtze River is blessed with many beautiful gorges, big or small. Some gorges are remarkably magnificent, some are intimidatingly precipitous and some are just amazingly beautiful. Most attractive part of the river is the Three Gorges: the Qutang Gorge, Wuxia Gorge and Xiling Gorge. The three Gorges is a 400 mile (650km) stretch of the river starting from Chongqing down to Yichang, Hubei province. Among this stretch, the Yangtze River winds its way through the limestone cliffs and high mountains above raging rapids.

You can select a 5-star international cruise ship or a budget ferry which suite your pocketbook best. No matter which one to choose, you will find a good value for what you get. Have a drink and soak yourself in the magical sights of Yangtze River, which will present diverse layers of landscapes with clean water, vibrating waterfalls and green peaks.

Besides its picturesque scenery, The Three Gorges area has been a rich and fertile land since ancient times. Here people can experience unique and colorful culture. You will find the Tujia Ethnic Minority's culture enjoyable and interesting. Before marriage, women of Tujia ethnic group sing wailing songs for one month to show their gratitude to parents' love and care and their reluctance for leaving home.

The Jingchu culture, mainly regional culture of Hubei province and Hunan province, is famous for its various food specialties, local languages and dialects, and handcrafts, and so on. When you cruise along the Yangtze River or just travel in the Three Gorges area, don't forget to visit famous historical attractions such as the Ghost City of Fengdu, Guan Yu Temple and the Three Gorges Dam. They are treasures of Yangtze River which will complete and make your trip perfect.

Recommended China Guide:
1.Yangtze River Cruise
2.Shanghai Tours
3.Tibet Tours
4.Ethnic Minority Tours
5.Chongqing Tours