Picturing a different dream
created: 2013-06-19
China Daily, June 18, 2013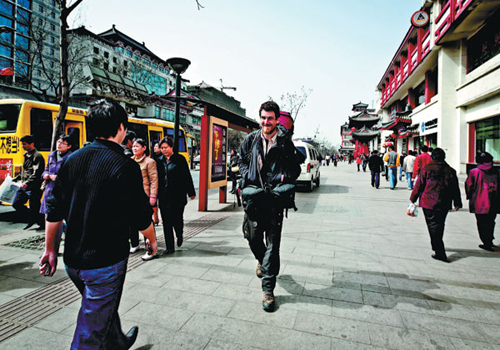 (Christoph Rehage walks on the streets of Xi'an, Shaanxi province. Photos Provided to China Daily)

He started with one vision, but life played a joke on him, and he took a surprise turn in life. Chen Yingqun finds out how a young man from Munich began a chronicle of his Chinese journey.

Christoph Rehage stepped out of his apartment in Beijing on his 26th birthday with the romantic notion that he could walk home to Munich, where his girlfriend was waiting.

Carrying a backpack filled with a sleeping bag, two tents, a laptop and a camera, he set off on Nov 9, 2007, intending to take photographs, keep a blog, and grow his beard and hair along the way.

Halfway through the journey when he was in the northwestern city of Urumqi, his plans were halted when his girlfriend called to break off their relationship. Heartbroken, the German cut his long and straggly hair, shaved off his beard, and flew back to Munich to try to pick up the pieces.

All he had from his sojourn across China was a collection of more than 30,000 photos, and he had also started a blog. Rehage made a video with the photos and posted it online, where it chalked up millions of clicks. As more and more people became interested, a German publication asked him to write his story.

The Longest Way was published in German, but the author was in Beijing recently to introduce the Chinese edition.

"I had just wanted to record what I saw and felt, and I didn't expect so many people to be interested," says Rehage in a cafe in Beijing, after going online to meet with enthusiastic Chinese netizens.

Xiao Yunke, an editor at China South Booky Culture Media, the publisher that brought his book into the Chinese market, says it sold at least 50,000 copies in the first month.

"Rehage's book is more than a travel journal. It offers a fresh eye on life in China and we are often touched by his encounters," says Cai Jinghui, a Chinese travel writer.

"The lifestyle of the ordinary people has always been neglected, whether in Germany or in China," Rehage says. "But in ordinary life, you can find interesting things and touching moments. I want to record these real and precious moments.

"Sometimes I see a mountain, and wonder what's on the other side. I walked 5 to 10 km there and there is another horizon. I keep seeking what's behind. It doesn't have to be beautiful, but you could always see something new."

Rehage's very first walking trip was from Paris to his hometown Hannover in north Germany, when he was 22. When it was time to go home to college, he decided to walk home.

Recommended China Guide:
1.Beijing Tours
2.Xian Tours
3.Urumqi Tours